Simon Moorman - Interview with GUKPT Manchester Champion Simon Moorman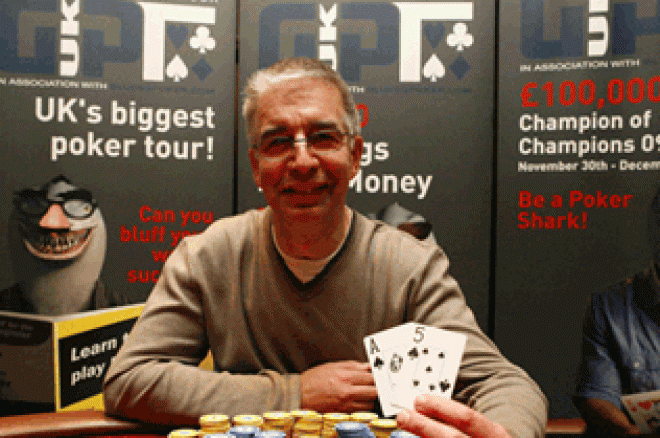 Poker at times can be very samey: Phil Ivey never stops winning, Phil Hellmuth never stops telling people how many bracelets he has, some government somewhere tries to ban people playing poker and an unknown online qualifier wins the latest high stakes tournament somewhere in the World.
But every now and then, poker throws you a curveball, and when poker surprises you it really surprises you, perhaps none more than the story of Moorman's Dad. When most of us were looking at last month's Manchester GUKPT Live Updates, we assumed that it was a clerical error when we saw Simon Moorman at the top of the chip counts. We all came to the conclusion that online MTT giant Chris Moorman was in fact the person with the big stack, and that he was on his way to his first major live win.
Step aside sonny, as it turned out to be none other than Chris's Dad, Simon Moorman, who bulldozed his way through the final table to lift the trophy, the £88,630 first prize and make us now understand why Chris calls himself Moorman1 online, because there quite clearly is a Moorman2. We caught up with him after his big win:
Pokernews: So Mr Moorman (Can we call you Simon?) did you get Chris into poker, or did he get you into it?
Simon Moorman: Both actually, we always played card games as a family, so Chris was used to that at a very young age. Then he went to University and, like most people do, he did as little as possible while he was there. He started playing poker in his 2nd year when he was about 19, which is round about the time most people are buying suits for job interviews and working on their CVs.
Then he came to me one day when he was 21 and said 'look Dad, I want to be a professional poker player". It was a shock at first but after that we had a good chat about it, he would have done it anyway, so I may as well get in with him so he can an infrastructure to work with rather than pushing him underground. He showed me that he had made about $50,000 from nothing after winning a freeroll, so it wasn't like he was paying for it on a credit card; if he went broke it didn't really matter.
I told him to pay off his student loan first and foremost and then we would review it in 6 months. Chris has always been very analytical anyway, he practices correct bankroll management and really studies the game, my only concern would be the dangers that await him in Las Vegas. Having said that, he doesn't really bet on things he doesn't understand, so I don't have to worry too much about him losing at Roulette or anything like that.
PN: So that's what got you into poker?
SM: To understand what he was doing, I had to learn for myself. The first site he played on was BlondePoker so I did the same, playing in small $5 games mainly and showing a little bit of a profit. I tend to play online two or three times a week, mainly speedy tournaments because obviously I have a job to go to which meant I couldn't really play in long MTTs. The biggest win I had was in a fast rebuy tournament which was about $8900.
PN: We hadn't seen you on the circuit before, what made you play in the GUKPT with Chris last month?
SM: A week before he told me he hadn't got me a birthday present yet, then he said he had a brainwave; "Come to Manchester with me" he said "We can play in the GUKPT"
"What do you mean we?" I thought.
I had only played live poker once before, a £10 rebuy event and I didn't enjoy it that much. He told me not to worry, he said the structure is slower and I would enjoy it much more and I could take my time. My main concern was that I would let him down; he is obviously one of the top online players in the world, so I didn't want to bust out right away.
PN: The GUKPT Main Event is a tough place to play your first big live tournament, how was it once you got going?
SM: I took it easy, got settled and after a while i was comfortable enough to make some moves. My only goal at the start was making it past the 3rd level, which was ok as by the 3rd level I was the chip leader. After that I felt no pressure at all, there was a bit of banter of course, everyone was taking the piss at how I stacked my chips, but I just laughed it off, you can't take yourself too seriously. The first half hour of each day there were a few nerves, but I soon settled in again, and I just made small targets for myself like having an average stack at the end of each day.
PN: Still, from a novice online player this must have been a real step up in class for you?
SM: I play a high standard of bridge, which really helped my reads on people, but what won it for me was that I had no fear. There was no expectation on me, I didn't take myself seriously, I wasn't looking at the next payment level or had the pressure of doing it for a living, I was there to win and nothing else.
PN: You had a stunning live debut and are £88,000 richer, does this mean we will see you on the poker circuit more?
SM: The thing I enjoyed more than anything was playing with my Son, I loved things like going up to each other during breaks and checking on each other's progress, comparing chip stacks and all the banter that came with it, like his mates doing last longer side bets between us. I don't think I would get that if I played all the time, I don't really like the idea of doing the daily grind and playing for a living. The money is going on all the usual stuff – mortgage, home improvements etc. The one thing I might do is replicate the gesture with Chris and the next time I play a GUKPT, I pay him in and we play together again.
It was an amazing result and I think it's just one of those stories, something that probably won't be replicated again. One thing is for sure, I must have one of the best live ROI's in the world!
Picture courtesy of GUKPT/Quentin Kozma