Johnny Moss - Poker Legend Johnny Moss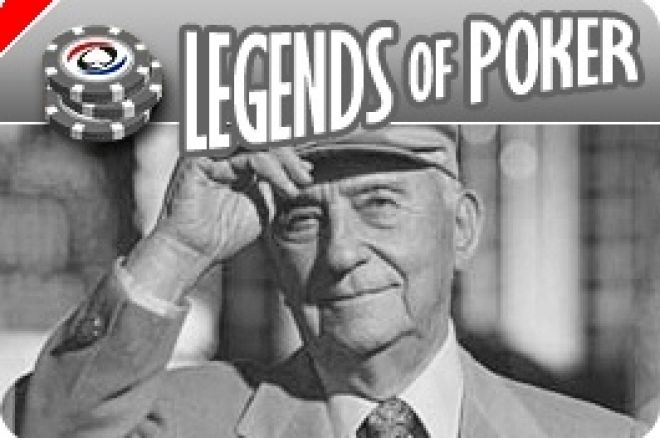 While some of our previous Legends of Poker editions may have led to some debates about whether or not the player in question actually deserved the title 'poker legend', there can be little to no doubt whatsoever that this week's player is one of the greatest poker legends of all time. If you would ever meet this man outside of his natural environment, you might get the impression that he is an innocent, fragile old man. Secluded, watching the world go by while enjoying his retirement. Nothing could be further from the truth. The eyes of this man have seen things that most of us have only seen happen in movies. From small scale scams to the most brutal acts of violence. Johnny Moss was there when people bet millions on the turn of a single card.
Johnny Moss[/H] was born May 14th, 1907 in Marshall, Texas. He started playing poker at the age of 12 when he was living in Dallas. Not much is known about the youth of Johnny Moss, but we do know that he learned poker from the biggest cardsharper of his time. During this time it was more the rule than an exception for people to cheat when playing in casinos.
As a result of these somewhat peculiar circumstances under which Johnny Moss came into contact with poker, his thoughts initially did not revolve around becoming a professional poker player. Moss enjoyed his job as a casino employee, where he could watch people play poker for hours everyday and spot the cheaters.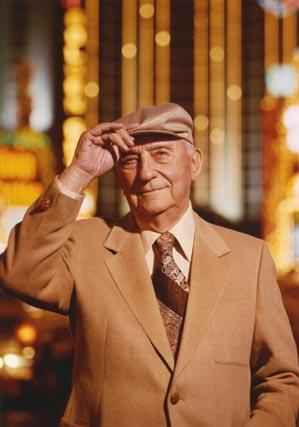 After sticking with this job for some time, Moss started to see the advantages of playing himself, and thanks to the all the experience he was able to gather over the years, this opened the door to a whole new world for Moss.
He joined a High Stakes game which took place in Oklahoma, and it didn't take long for him to realise that not everyone was sticking to the rules of the game. There was a spy hole in the ceiling above the poker table through which someone could see the hole cards of all the players at the table. Moss pulled his gun, which in those days was a normal accessory, and asked ''Now fellas, do I have to go and shoot a bullet in the ceiling? Or are you going to send your boy down without any harm?" The others thought he was bluffing, but he ended up firing a bullet in the mans butt. A journalist once asked him if he had ever killed a man and he answered "I don't know if he died from it."
Just like many of the high stakes players today, the "Grand Old Man of Poker" was a gifted golfer. Together with bowling, a game he was also very good at, Moss won about $2 million from bets on the golf course. Backed by a couple of gangsters, Moss once made a bet with a wealthy business man which involved playing for $50,000 a hole. Towards the end of the match Moss was losing, and while the gangsters were already digging a grave for Moss's opponent, the poker player got his act together and started hitting one birdie after the other to eventually end up winning about $100,000. After the match was over, the business man congratulated him and said "Moss, you're the luckiest man alive", to which Moss replied "no, sir, you are". With his last birdie, Moss saved the life of the business man without the man even being aware of it.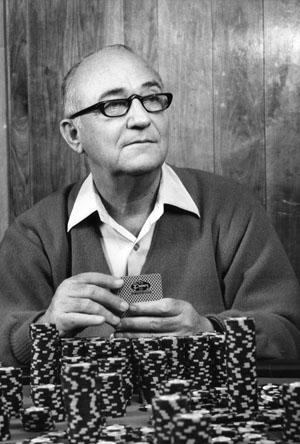 Over the years Johnny Moss started to get a reputation as being one of the best players in the world. The fact that Doyle Brunson sees him as his poker mentor pretty much says it all. In 1949, Nick "The Greek" Dandalos visits Benny Binion's casino. He wanted to play poker for $250,000, and through Binion he is introduced to Johnny Moss. In order to attract the attention from people walking by, the table was set up right at the entrance of the casino. Five months passed until "The Greek" finally threw the towel into the ring. "Mr. Moss", he said, "I must let you go". Johnny Moss had won roughly $2 million from "The Greek", which was an astronomical amount of money in those days.
But things weren't always so rosy for Johnny Moss, and although he won a lot in his days, he also lost a ridiculous amount of money. He would often gamble away the money he had just won by playing dice or by betting on sports. He once gave his wife $200,000 with which to buy a house, but that same night Moss gambled away all the money he had left and asked his wife to give him the money back. According to estimates, Moss gambled away roughly $8 million in his lifetime.
In 1970, Casino-owner Benny Binion had the idea to organise a world championship of poker. He invited the top eight players of that time over for a high stakes cash game, and by the end of it, the players themselves had to decide who deserved to win the title. The players had to write the name of the player they chose on a piece of paper, but unsurprisingly every player voted for themselves. Only when they had to choose the second best player at the table, Johnny Moss was elected the winner of the very first World Series of Poker.
In the following year Binion organised a $5000 freeze-out event, which was a lot of money in those days. Johnny Moss also managed to win this event, and did it again in 1974, after his friends Thomas Preston and Puggy Pearson had won the title in 1971 and 1972 respectively.
Between the years 1970 and 1995, Johnny Moss was present at every single World Series of Poker and was able to win a total of nine WSOP bracelets, including three main event titles and four victories in the 7-Card Stud event. Until his death on December 16th, 1995, Johnny Moss lived in Las Vegas, where he still regularly played poker with his good friend Doyle Brunson. With the death of Johnny Moss the poker world lost it's greatest legend, who, for almost a whole century, lived through all the ups and downs a poker player can possibly experience.