John Phan - Poker Legend John Phan
Bon Phan was born on October 10th, 1974 in Da Nang, Vietnam. John (who, back then, still went by his Christian name Bon) spent the first years of his life growing up on the Vietnamese plateau, where he was surrounded mainly by poverty. When the Phan family decided to move to the United States in 1982, John started a whole new chapter of his life with different standards.
The reasons behind the move to the United States were political, and after having spent almost a whole month on a little boat with roughly 40 refugees they were eventually picked up by a freighter. The freighter dropped them off in Hong Kong, from where they travelled to the Philippines, and after a trip of almost two years, the Phan family finally arrived in the United States.
Although
John Phan
is only eight years old at this point, he already comes into contact with poker and gambling. Most of us know that gambling is part of the Asian culture, but for John Phan it was poker that really caught his attention. In Phan's family, poker was seen as more of a family game, which is a completely different approach than the one we're used to. Over the years Phan started playing low limits like $2/$4 and $3/$6 Limit Hold'em, also receiving some tutoring by his uncle, who was somewhat of a card player himself. Because his whole family always seemed to be busy with gambling, it didn't take long for Phan to realise that he could really make some nice money with poker, at which time Phan started to approach the game more professionally.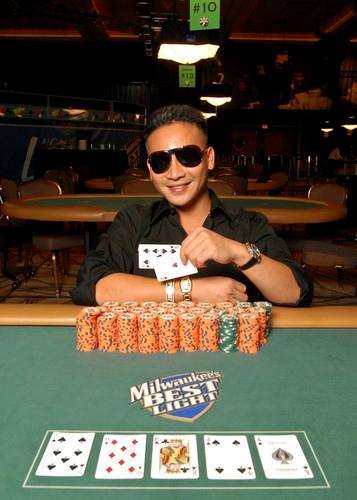 At the start of his professional poker career, Phan also spent some time as a dealer during the World Series of Poker, where he managed to finish 13th in the $500 Dealer's Tournament during the WSOP 2000. The funny thing was that Kenny 'sick call' Tran finished that event in 14th place, and seeing as both of them are now amongst the best players in the World, it shows that working as a dealer for a while can be very valuable for ones poker career.
As we can see, poker has always played a big role in John Phan's life, especially in the form of cash games during the first couple of years. His first cash in a tournament occurs on October 3rd, 1998 after he takes down a $200 Seven Card Stud event for $6,080. Phan's versatility becomes apparent right from the start, as even towards the beginning of his tournament career, he is able to win tournaments in all kinds of poker variations. His very aggressive and, according to some, very self-destructive playing style makes Phan very popular with the audience during his first televised tournament, but the swings that this playing style brings with it are almost unbearable for any player.
John's first cash of more than $100,000 came about in 2004 after he managed to win a $500 Limit Hold'em event at the Binions Horseshoe and took home $160,000. Only 5 days later John was able to take down the $500 Pot Limit Hold'em event of the same tournament series, bagging him another $85,000, suddenly giving him an incredible bankroll boost.
It is generally known that the super aggressive style of John Phan can go both ways; it can enable you to take down tournaments, but at the same time you also run the risk of being eliminated early in the tournament or losing a big stack in a matter of hands. For Phan, however, his style seemed to be working just fine as he bagged one great result after another. In 2005 he wins the LA Poker classics for $300,000, followed by a 4th place at the $25,000 WPT Main Event for $518,000 and a final table finish at the WSOP 2005. His aggressive playing style also brings forward a certain type of behaviour that Phan is known for at the poker table.
John Phan, who is known as a benefactor back in his home country, sometimes finds it hard to stick to the etiquette at the poker table, and often his opponents will have to listen to his rather negative opinion of their game. This characteristic does make him very entertaining to watch though, and the various World Poker Tour shows in which he appeared are always worth a look, as Phan always seems to turn it into a spectacle.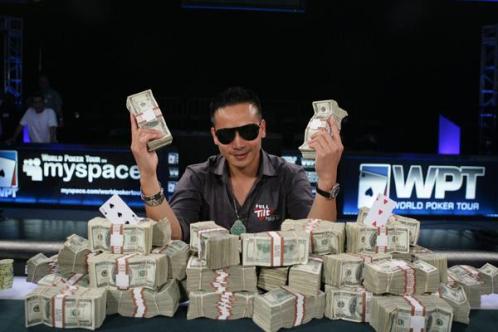 Over the past couple of years, Phan has been fighting a tough battle, striving to win his first World Series of Poker bracelet. In 2006 he came close after finishing 2nd in the $1,000 Limit event for $289,389, and in 2007 he finished as runner-up once more during the $2,500 No Limit event for $330,000. Then, in 2008, Phan finally had his big year at the WSOP.
On June 15th, 2008, John Phan takes down the $3,000 event for $434,789 after leaving pros like David Singer and Matt Stout behind him, securing his first bracelet at the World Series of Poker. Only a week later, Phan managed to secure his second bracelet after winning the Limit 2-7 Triple Draw event for $151,911, making him part of a very selective group of players who have managed to win more than one bracelet in the same year. And as if Phan's year wasn't going good enough already, he also managed to take down his first WPT event in August, winning roughly 1 million dollars in the process.
With this long list of successes, John Phan surely deserves to join our group of Poker Legends, as there aren't many players around who can compete with his impressive resume. Today Phan lives in Las Vegas and we can be sure too see plenty of him during the upcoming WSOP 2009.