GUKPT Betting Markets Open, Devilfish Wows Oxford Union + more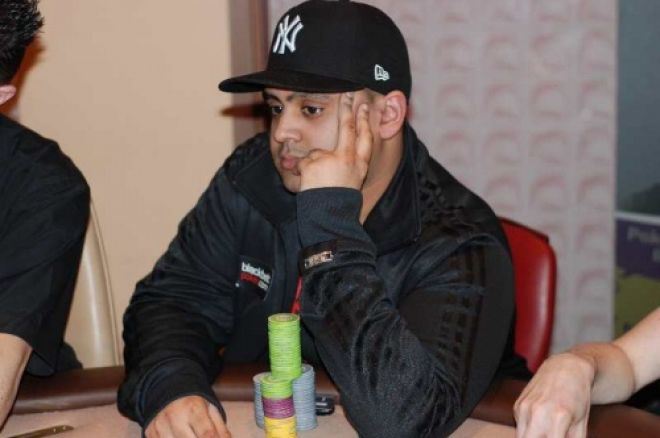 GUKPT Newcastle Betting Markets
Blue Square have put up the betting markets for the latest leg of the Grosvenor UK Poker Tour (GUKPT) which starts on Thursday in Newcastle. Hit squad members Sunny Chattha and James Akenhead are the two favourites at 50/1 with their friends Karl Mahrenholz and Praz Bansi just behind them at 66/1, as are Chris Moorman, Julian Thew and Stuart Rutter.
Lots of big names in the field for what will be the penultimate major tournament before Vegas for a lot of them, but we like the look of Keir Ratcliffe at 125/1 as he is on a tremendous run of form at the moment and worth an each way bet.
We have also heard the first result from the GUKPT Side Events, which the good folks at the Newcastle Poker Forum published. The £200 no limit event paid out like this.
1st £8000 Graham Wright
2nd £5165 Mark Hurst
3rd £3530 Sadiq
4th £2205 Andrew Seedon
5th £1575 Paul Wilson
6th £1260 Dave Stephenson
7th £1010 Ikftar Ali
8th £755 Jason Elliot
9th £505 Graham Jones
10th £390 Brad Cowling
Congratulations to Graham Wright who also gets a Champion of Champions seat as well as his winnings:
UK Bank Blocks Gambling Transactions
The Royal Bank of Scotland, one of the largest banks in the UK, has told its online gambling clients their business transactions to the Netherlands and Switzerland are no longer welcome. Earlier this year the Dutch government demanded that banks block transactions to and from gambling companies in a similar style to the UIGEA. An RBS spokesman said the banks has renewed their policy to take into account the regulatory changes in the Netherlands and Switzerland and denied it was influenced by a recent merger with Dutch bank ABN AMRO.
Transactions to and from UK accounts to online gambling providers will not be blocked by the Royal Bank of Scotland.
The Devilfish Wows Oxford Student Union
We told you last week about the Devilfish giving a talk at Oxford Student Union and by all accounts he was a big hit with the 200 eager poker scholars. Ulliott arrived in a Hummer, entertained the crowd with his skills on the guitar and sat in on a 20p/40p PLO game.
The students asked the Devilfish a number of questions including how he received his nickname, which players in the game he admired, and the hardest lay down he ever made, as well as some practical advice on how to deal with tilt, bankroll management, playing styles, continuation betting and bet sizing.
When asked how he spent his winnings the Devilfish recalled an occasion where he'd mixed up a bag of rubbish with a bag in which he'd put aside $40,000 for safe keeping. "The bag of rubbish was securely put away in the safe, and I threw away the forty grand."
BlackBelt Grading Ends this Weekend
It may have been the longest month of many of these players lives but it is coming to an end. The BlackBelt Poker Grading process, where 50 of the top up and coming players in the UK have gone through online poker trials, ends on Sunday with 8 players being named Brown Belts. The lucky eight will win sponsorship deals that start at the 2009 World Series of Poker.
Of the 50 that started, 16 have dropped out and the remaining graders are:
Aarun Bernard
Adam Latimer
Adam Noone
Adam Vinson
Alex Martin
Chaz Chattha
Dave Penly
David Bland
David Tighe
Dominic Kay
Eoin Kennedy
Gareth Cash
Henry Griffiths
Hugh Kirton
James Atkin
James Keys
James Mitchell
Jamie Roberts
Jerome Bradpiece
Joe Whittaker
Joel Ettegi
Jon Lundy
Kevin Allen
Mark McCluskey
Neil Blatchly
Nick Wright
Ramsey Arjam
Richard Hawes
Richie Allen
Sida Yuen
Stephen Hall
Steve Holden
Toby Lewis
Neil Channing recently commented on the Blondepoker forum:
"It suddenly occurred to me how difficult deciding is really going to be. I've tried so hard to have no pre-conceived ideas about who we're picking, and I've continuously told everyone that nobody is even as much as pencilled in. My hope all along in doing The Grading was that a tough decision, (who we'd sponsor, which we could have just picked six weeks ago), would be made so much easier. My hope was that the guys would pick themselves. I figured there'd be ten or twelve outstanding candidates and that I'd just have to pick three from five or something like that.
The grading ends at midnight on Sunday and the 8 Brown Belts will be revealed, presumably on Monday, on the Poker Show.