Greg Raymer - Poker Legend Greg Raymer aka Fossilman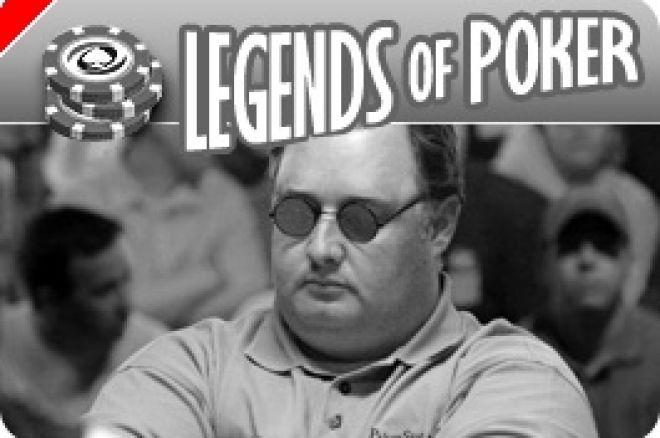 Greg "Fossilman" Raymer
was born on July 25th, 1964 in Minot, North Dakota. When Raymer was only a couple of months old, him and his family moved to Lasing, Michigan. At the age of 11, Greg and his family packed their bags once more and moved to St. Louis, where he ended up graduating from high school.
Raymer then attended the University of Missouri-Rolla, where he managed to obtain his bachelor degree in chemistry. After moving to Minnesota, Raymer again attended university, this time completing his Master's in biochemistry, followed by a Master's in Law.
The early years
Raymer first came into contact with casino games during his study in Minnesota when he learned how to play blackjack. While the years of study can be a very expensive period for many students, Raymer finds a great solution for this problem. He learns how to count cards in blackjack, and together with a group of other players he cleans out all the blackjack games in the area to finance his study. However, with the number of profitable blackjack games in the area going down, Raymer decides to try his luck in a Texas Hold'em Limit game with blinds of $3/$6.
Trying his luck is a pretty good description of the level at which Raymer was playing at that time. Although he had played the game before with some friends from university, the experience he obtained there is hardly worth mentioning. We have all played the homegames at the kitchen table, which is also how Raymer started playing, but it doesn't take long for him to develop a liking for the game. After his first night of playing Limit, Raymer decides to purchase Theory of Hold'em by David Sklansky, and a passion was born.
After graduating from university, Raymer moves to Chicago to work as a patent attorney for a large company. During his three years in Chicago he manages to improve his poker game but remains at the $3/$6 tables for the time being. Only once he moves to San Diego for his new job Raymer decides it is time to move up in stakes, and it didn't take long before he was a winning player at the $5/$10 and $10/$20 tables.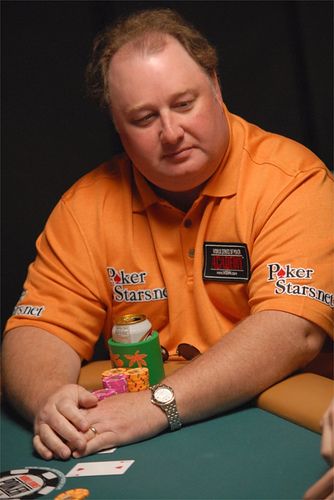 After working 60 to 80 hour weeks for a number of years, Raymer decides to take a step back. He moves to Connecticut, where he starts working for a pharmaceutical company. This new job gave Raymer a lot more free time, which he used to seriously improve his poker game. By 1998, Raymer had managed to grind himself all the way up to the serious games, playing limits of up to $150/$300 and was also becoming a regular in the local tournament circuit.
In the years that followed, Raymer continued his grind at the poker tables and was able to make some good money on the side. It was also during this period that Raymer met his present wife Cheryl, with whom he has an eight year old daughter, Sophie.
Fossilman
During his rise in the poker world, Greg Raymer was regularly spotted on the well-known poker forum 2+2, where he often posted under the name Fossilman and was a respected member of the community. It was also here where he sold percentages for the Main Event that he eventually ended up winning, obviously making many of the forum members very happy. Raymer has the nickname Fossilman because he always uses small fossils as card protectors. Raymer always brings a couple of fossils with him when playing live games, and with time, the other players find this more and more interesting, and Raymer even sells some of his fossils to other players at the table.
During the years of playing in the regional poker circuit, Raymer manages to bag some nice results, with the highlights being a 3rd place at the World Poker finals in November, 2000 for $49,000 and his win of $25,000 during a $100 Seven Card Stud tournament in March, 2001. Only one month after this success, Raymer makes his debut at the World Series of Poker in April, 2001.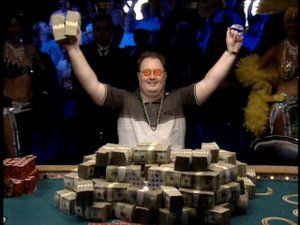 World Series of Poker
Many players need a couple of years before they make an impact at the WSOP, but Raymer immediately manages to make a deep run during the $1,500 Pot Limit Omaha Hi/Lo event. In the end he finishes in 12th place, only just missing the final table and taking home $5,345. Not a bad result for his WSOP debut.
Nonetheless, Raymer would have to wait until his legendary win of the Main Event in 2004 before bagging another money-finish. During the Main Event of 2004 it became clear that poker was no longer a game that could be played in the smoky backrooms. After Chris Moneymaker's sensational win in 2003, the game was no longer what it was before. The Main Event of 2004 featured a 'massive' field of 2,576 players, all hoping to take home the most coveted of all poker bracelets.

Greg Raymer's deep run is often seen as a "one time Lucky shot", but nothing could be further from the truth. During the event, that ends up taking six days, Raymer shows that he is capable of impressing his opponents and putting them under pressure. The best example of this is, of course, his hologram sunglasses, which he uses to stare down his opponents. During his run in the Main Event, Raymer was known to put on his glasses when planning to make a move. As soon as the move was made, he would then stare down his opponent as if his life were depending on it, often with the desired effect.
Once he reaches the final table, Raymer is playing by far the largest stack and dominates his opponents from start to finish. His final victim is David Williams, who was forced to accept second place after his A4 could not beat Raymer's 88.
Following his massive win and a prizemoney of $5,000,000, Raymer becomes a member of Team PokerStars and goes on to become an ambassador for the game, often speaking at conventions and other gatherings. Unfortunately for Raymer, after tax and paying his backers, Raymer "only" gets to keep $1,700,000 of his prizemoney. It would also not be long until Raymer became aware of the negative aspects that came with his fame.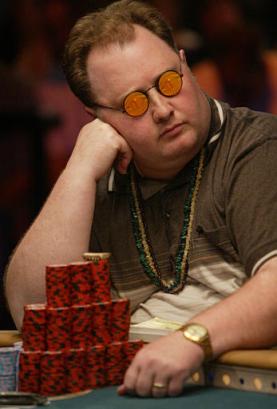 After playing the Five Diamonds Poker Classics in 2004, Raymer is approached by two men who try to rob him at gunpoint when returning to his hotel room at the Bellagio. Well aware that, since he has seen both their faces, he is unlikely to survive this robbery, Raymer decides to fight back. The two men flee and are picked up by the police in California six months later. This incident, however, doesn't stop Raymer form quitting his job and becoming a professional poker player.
In the year following his Main Event victory, Raymer returns to the WSOP, cashing in three events. His most striking performance is surely his repeat of his deep run in the Main Event. In 2005, a record field of 5,500 registered for the Main Event, but this did not stop Raymer from making another run for the title. With only 30 players remaining, Raymer suffered a bad beat against Aaron Kanter, who eventually ended up in third place, after his pocket K's were beaten by a rivered flush after both players had gone all-in preflop. He also made it to the final table of the $1,500 No Limit Hold'em event, where he finished 6th for $119,450.
In comparison to many other professional poker players, Raymer plays relatively few tournaments. In 2006 he manages to cash in one of his favourite games, No-Limit 2-7 Triple Draw, where he reaches the final table and ends up in 5th place.
At the WSOP 2007 Raymer reaches the payouts in four events, including two final tables and a 14th place in the $50K H.O.R.S,E event.
Today, Greg 'Fossilman' Raymer lives in Rayleigh, North Carolina, and you can find him playing online as Fossilman at PokerStars.