FullFlush Pulls No Punches, Gala Leo Spring Festival and more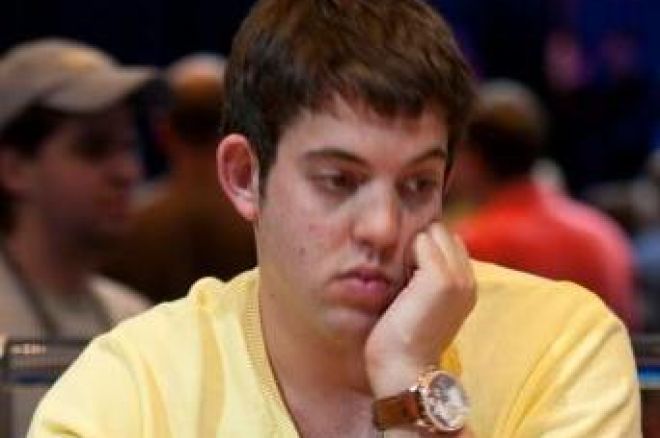 Meet the real FullFlush
Yes, he has been at it again. UK high stakes player Luke 'FullFlush' Schwartz has been needling his opponents once again, this time in the live arena. The young hotshot player was interviewed by our Pokernews TV team last week in Monte Carlo and once again showed no mercy, calling some of the biggest players in the game 'geeks'.
In particular, Tom 'durrrr' Dwan came in for the brunt of his criticism when Schwartz called him 'gay' and called all his friends geeks. This is after a torrent of abuse in the chat box at the tables of Full Tilt Poker earlier this year.
Dwan himself was interviewed last night on The Poker Show and remained much more tight lipped on the subject, although he did infer that Schwartz liked to hit and run in their heads up games, and wouldn't really say whether he thought Schwartz was the real deal or not.
Another player to speak out on FullFlush is none other than Daniel Negreanu, who played against Schwartz in Monte Carlo. Negreanu wrote in his blog "He is poker's new villain, no question about that. Cocky, brash, and with a legit Ali G accent to boot." In our interview, Schwartz is seen criticising what he calls Negreanu's 'check-call' playing style.
Negreanu also went on to say Schwartz was good for the game "He pulls no punches, says things people often think of saying but wouldn't dare. He stirs things up, creates some drama, and is funny for several reasons from the accent to his brashness."
It's also rumoured that Schwartz has challenged Phil Ivey to a 50,000 hands heads up battle. Unlike most of his other opponents, Schwartz seems to have plenty of respect for Ivey, referring to him as 'cool' and referring to himself as the 'New Ivey' – which can only be a sign of respect given his high opinion of himself.
Whatever your opinions on Schwartz, there is no doubt he is making the game interesting, especially as the high stakes games are drying up a little lately, we can't wait to see what trouble he can cause at the WSOP. You can see the whole FullFlush interview here.
Special Events at the Equal Chance Club this Month
The very popular Equal Chance Poker Club in Walthamstow, London has just opened a new Kalooki room to go along with their poker schedule, which also has hot food, Sky Sports and Snooker on offer. They also have announced a few special events for May, with deep stacks, added value and guaranteed prize pools:
FRI 15TH 8PM: MAY MAIN EVENT £20,000 GTD
£200 WITH £100 AND £50 ADD-ON
10,000 STARTING CHIP + 10,000 + 10,000 45 MIN CLOCK
2 DAY EVENT WITH DAY 2 STARTING ON SATURDAY 16TH @ 2PM
SAT 16TH 3PM: £5,000 GTD £100 WITH £50 ADD-ON
10,000 STARTING CHIPS + 10,000 ADD-ON
SUN 24TH 8PM: £5,000 GTD £100 WITH £50, 10,000 CHIPS + 10,000 ADD-ON
MON 25TH 8PM: £500 ADDED, £50 FREEZE-OUT 5,000 STARTING CHIPS
Gala Leo Spring Festival Tomorrow
Ahead of the start of the British Poker Masters later this month, the Gala Casino in Liverpool plays host to a Spring Poker Festival starting tomorrow. It looks a very generously structured event with a three day deep stack main event and a great looking double chance event on Thursday:

Wed 6 May at 7.00 pm £ 100 + 10 No Limit Hold'em 5000 chips. Rebuy
Thu 7 May at 7.00 pm £ 200 + 20 No Limit Hold'em 5000 + 5000 chips. Double-chance
Fri 8 - Sun 10 May at 4.00 pm £ 500 + 30 Main Event - No Limit Hold'em 10,000 chips
Sun 10 May at 7.00 pm £ 100 + 10 No Limit Hold'em 5000 chips. Rebuy
[/I]