WSOP* Madness LIVE! Presented by Everest Poker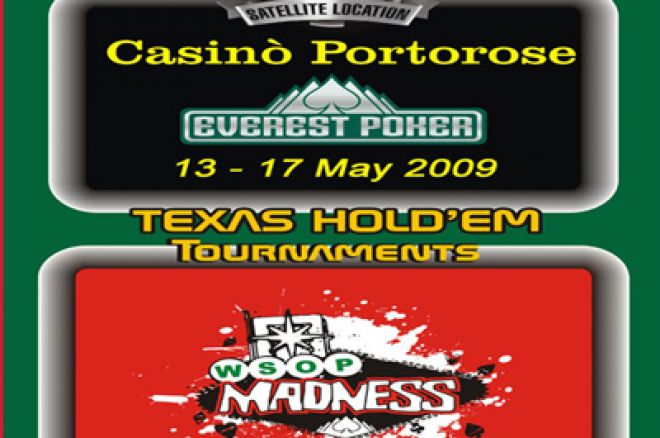 Imagine enjoying a vacation in a beautiful city at an amazing beach, playing poker and winning qualification for the WSOP 2009*. This is the perfect combination for any poker pro or aspiring pro hoping to hit it big! Everest Poker is going to give away some sweet WSOP 2009* packages as part of this tournament. Check it out.
This is what will be happening at the next tournament at Portorose, Slovenia from May 13th to 17th sponsored by Everest Poker!
WSOP* MADNESS LIVE is this great event that will be held inside the beautiful Casino Metropol of Portoroz, which is fast becoming part of the international poker circuit. There will be several tournaments with different buy-ins starting from €150+20 leading up to the Main Event with a buy-in of €1000+100.
The structure and games will be well organized with top dealers and professional staff to ensure everyone has a great time. Thanks to the participation of Everest 'live' Poker, this will be an official satellite for the WSOP 2009* in Las Vegas! Everest Poker, the famous online cardroom is offering a package for the WSOP 2009* to the best overall player of the week. In addition there will be two more packages for the second and the third placed finishers on the leaderboard. This will attract many poker players' attention, since the first package will include the flight, hotel accommodation and the buy in into the Main Event of the WSOP* tournament for a value of $10,000.
The second and the third finishers will win a buy-in for our next tournament organized at Casino' Sanremo from 1 to 7 June, for €2200 and €1100 respectively.
Think that's sweet? Well guess what, there is more! Everest Poker will also offer the flight and the hotel accommodations for Las Vegas to whoever transforms their winnings to a buy-in for the WSOP* MAIN EVENT and a flight to Las Vegas for those who transform their winnings to a buy-in for the side events of the WSOP 2009*.
It is a perfect opportunity for Texas Hold'em players and for whom they travel with. Friends and family members will enjoy the beautiful and touristic city with its breathtaking views. It is a good time to take a relaxing vacation at the different SPA's and wellness centres and taking advantage of the 5 Star Hotel Metropol's offer of a 5 night stay for a total of €300 a person.
The tournaments during this event will start at 3 pm and will be as following: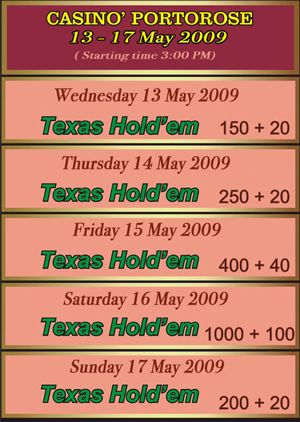 May 13: 150+20 (8000 chips 20 min blinds)
May 14: 250+20 (10000 chips 25 min blinds)
May 15: 400+40 (10000 chips 30 min blinds)
May 16: Main Event 1000+100 (10000 chips 45 min blinds)
May 17: 200+20 (double chance 5000 chips 20 min blinds)
Overall, there will be guaranteed fun and many gaming opportunities for everyone. Come out and enjoy the sun, sea, spas and of course poker. Play well and you will be freerolling in Vegas in June!
Since we have limited seats for these events, please feel free to call and reserve your holiday with the following numbers: +39 3482552165 or +39 334 1823169.
[I]Editor's note: Everest Poker offers our players a plethora of exclusive promotions and a sweet sign up bonus of $300 or $500!
*World Series of Poker and WSOP are trademarks of Harrah's License Company, LLC ("Harrah's"). Harrah's does not sponsor or endorse, and is not associated or affiliated with PokerNews Ltd or its products, services, promotions or tournaments.