DTD Grandslam Underway, Women's World Open Reaches Finale + more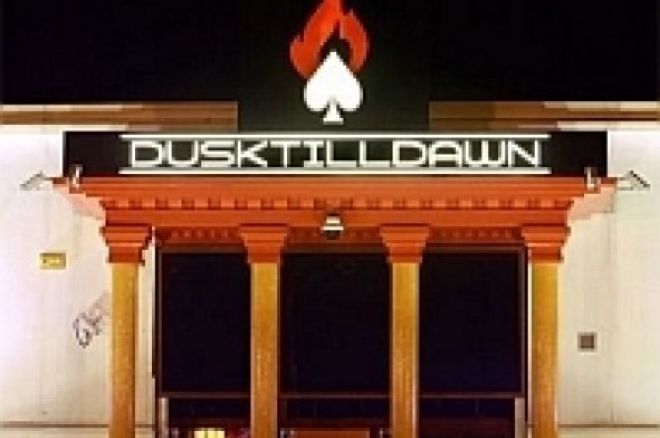 DTD Grand Slam is Underway
The first big main event of the year is now running for the home of UK Poker Dusk Till Dawn, the £1000 entry, £250,000 Gauranteed Grand Slam Main Event. With 20,000 chips and a long WSOP style structure, this event is expected to be a war of attrition and a perfect warm up to the 2009 World Series of Poker Main Event which is just on the horizon. Its expected to be a sell out, with a significant number of satellite entries and preregistered players already confirmed. The club have also confirmed they will be airing tonight's Champions League Final during the event.
There is also a busy side event schedule, which looks like this:
Weds 27th 8pm £25 No Limit capped at 90
Thurs 28th 3pm £250 No Limit 10,000 chips 45 minute clock 2 day event
8pm £50 No Limit capped at 81
Fri 29th 3pm £250 No Limit 10,000 chips 45 minute clock 2 day event
8pm £75 No Limit capped at 81
8.15pm £25 No Limit capped at 81
Sat 30th 3pm £250 No Limit 10,000 chips 45 minute clock 2 day event
8pm £50 No Limit no cap
Sun 31st May 3pm £150 No Limit 6000 chips 30 minute clock
8pm £75 No Limit no cap
8.15pm £25 No Limit no cap
Women's World Open Final is Set
36 have become 7 as the final table of the Party Poker Women's World Open III has just been decided. Its looking good for both UK players and the infamous Blondepoker forum, who boast three of its members at the final table. Maria Demetriou and Jen Mason are both making their second appearance at this final, which they both made in 2007. Aisling Collins, who works for Sky Poker, just earned her place in the runners up turbo heat. Shana Casaletto is also in the mix, you may recall she was was the first player to win back to back side events at the GUKPT earlier this year and could be a real star in the making.
The final is taking place right now with updates on the Matchroom Poker Forum and one of the following lucky ladies will walk away with the trophy:
Aisling Collins
Maria Demetriou
Cecillia Nordenstam
Shana Casaletto
Kim Wooka
Cat O'Neil
Jen Mason
Devilfish crowns Hull Talent 2009 Winner
Is it poker news? Barely, but here goes anyway. Darts player, musician, student union speaker and occasional poker player Dave 'the Devilfish' Uliott crowned rock band Dirty Wish the Hull Daily Mail's Talent Trail 2009 champions in a packed Hull City Hall last week, winning them £1500 and a trophy.
Not really poker news, but being as all the money raised at the event went to charity the Echoes Foundation we decided it was worthy of a mention at least.
UK WSOP Watch List – James Akenhead
Today we have a look at one of many members of the Hit Squad that are poised to do well at the World Series of Poker this year. James Akenhead is on most players tipster list and is on the brink of a major result. Thus far he has had something of a 'nearly man' status in that he is making some serious final tables but isn't getting the breaks when he really needs them. Akenhead has already two GUKPT main event final tables as well as the final of the 888 Poker UK Open last year.
But he came closest this time last year, when he made the final table of event number 2, the $1500 no limit event. He made his way through one of the largest fields ever (3929) in a non main event and went out in the most gut wrenching way heads up, losing with AK to the 10-4 of Grant Hinckle who made quad tens after all the money went in pre flop.
Besides needing a bit of luck in the big events, Akenhead already has a superb record in smaller side events and this year alone has won a Broadway Festival event and made four other big final tables. Considered something of a genius with the cards and scary to play against, Mickey Wernick recently compared him to Stu Unger (whom he has played against) which is good enough accolade for us to say he is destined for bracelets soon in his career.