Jim O'Connell wins First Ever British Poker Masters, GUKPT Newcastle Starts Today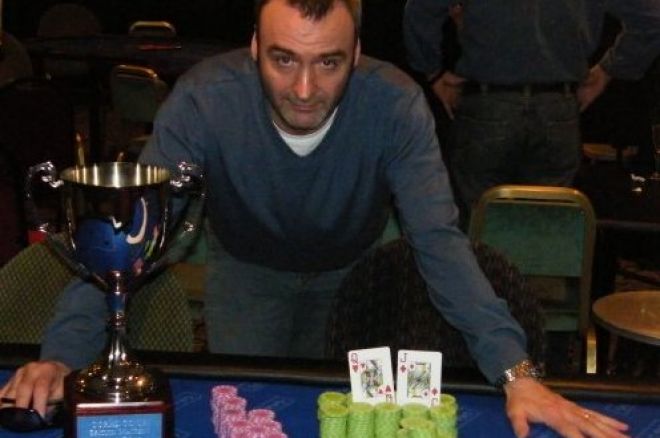 Jim O'Connell wins British Poker Masters Poker Tour Edinburgh
This weekend saw the start of a new poker tour (which looked very much like an old poker tour) with the Edinburgh leg of the British Poker Masters Tour. A £500+£50 main event which attracted 105 runners to the Maybury Casino in Edinburgh. The event was eventually won by Jim O'Connell, who actually walked away with less than others at the table after a deal was made 5 ways, but it does put him in with a shot at winning the £10,000 sponsorship package that is on the table for all the winners of the British Poker Masters tour's main events.
British Poker Masters Tour Edinburgh Final Table
1st £8,800 Jim O'Connell*
2nd £11,000 Eddie Lundon*
3rd £7,000 Barry Burns*
4th £7,000 Tom Scanlon*
5th £10,000 Colin McConaghy*
6th £2,300 Chris Wood
7th £1,800 Joe Miles
8th £1,400 Dewi James
9th £1,200 Norman Levitt
* - Five-way deal was made prior to result
The next leg of the tour is at the Gala Casino in Leeds from June the 19th.
Picture courtesy of AWorldofPoker
GUKPT Newcastle Begins Today
The tour is back in toon, as the Grosvenor UK Poker Tour (GUKPT) is in Newcastle for the next seven days in the final festival before the WSOP (And the upcoming GUKPT Summer Series). Last year Doctor Ganesh Reo bested 189 other players when he captured the title and the £57,175 first prize and with a total of 8 events, all with Champion of Champions seats on offer, we expect plenty of UK players trying to emulate him.
Betting odds will hopefully come up soon, but in the mean time here is the GUKPT Newcastle schedule:
Mon 18 - Tue 19 May at 8.00 pm £ 200 + 20 No Limit Hold'em
Tue 19 - Wed 20 May at 8.00 pm £ 300 + 30 No Limit Hold'em Double Chance
Wed 20 May at 8.00 pm £ 250 + 25 Pot Limit Omaha
Thu 21 - Sun 24 May at 2.00 pm £ 1,000 + 60 No Limit Hold'em - Main Event
Thu 21 May at 8.00 pm £ 100 + 10 No Limit Hold'em
Fri 22 May at 8.00 pm £ 100 + 10 No Limit Hold'em
Sat 23 - Sun 24 May at 6.00 pm £ 250 + 25 No Limit Hold'em
Sun 24 May at 6.00 pm £ 100 + 10 No Limit Hold'em Bounty
Picture Courtesy of GUKPT
Irish Classic Poker adds charity event and online qualification
More ways to get to the hotly anticipated Irish Poker Classic in Cork this August. The €100,000 guaranteed three day event now has a charity tournament added to its schedule, as well as online qualification on Paddy Power Poker and Betfair Poker very soon.
A tournament to aid the Irish Society for the Prevention of Cruelty to Children will take place on August the 15th and be a €250+€25 no limit event with €50 of each buy in pus all the reg fees going to charity.
Finally, the Club will be hosting a Free Million Dollar Seat live qualifier for the 2009 World Series of Poker Europe during the Irish Poker Classic Festival. Players who wish to play in this freeroll simply register for the Irish Poker Classic. The club will also be hosting the Irish regional final for this event where the winner goes to London to play against 17 others for a $1 million top prize.