British Poker Masters Tommorow, Fish Farmer Wins SPUKT Swansea + more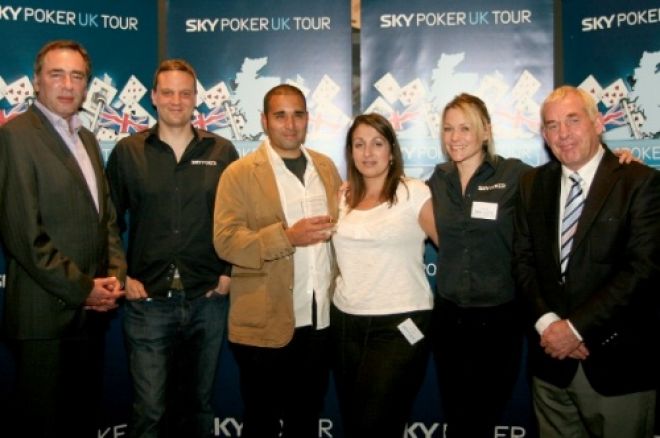 Aaron Hopkins wins SPUKT Swansea
A fish farmer from Devon bested his semi pro player wife and 107 other hopefuls in the latest leg of the Sky Poker UK Tour at Aspers Casino in Swansea. Aaron Hopkins won £1800 and a seat in the SPUKT Grand Final, as well as a lot a bragging rights against his semi professional wife Naomi when he came out on top last Saturday.
"There was a little bit of luck involved but I just went for it and came out the winner," said Aaron. "I had actually only played in six live events before, including the Sky Poker Bootcamp in Bristol last year. I usually play online at Sky Poker as I like to watch the play on TV. Naomi is gutted that I beat her. She is the better player out of the two of us, but after this result things might have to change – she'll be cleaning out more of the fish tanks while I am cleaning up at the poker tables."
All eyes are now on the SPUKT Main Event at Dusk Till Dawn in Nottingham next month, which boasts a £25,000 guarantee and a televised final table, on June the 13th and 14th.
British Poker Masters Begins Tomorrow
The inaugural event of the new British Poker Masters takes place at the Maybury Casino in Edinburgh tomorrow. As you will recall, the Gala Coral British Poker Tour was cancelled at the start of this year and this new tour appeared to have filled the gap left by them (Having an almost identical schedule, structure, associated online rooms running satellites etc). The one major difference between this tour and the GCBPT is that there is now only one day one and thus, about half the field with a cap of 120 players for the £500 main event.
Tomorrow sees the £200+£20 side event, which is followed by the £500+£50 main event on Saturday and a £100+£10 side event on Sunday. It's a shame to see the multiple day ones go, but this does ensure in these tough economic times that most people won't need to take a day off work to play in the main event. There is also added value in the form of a £1000 added to each main event and a £10,000 sponsorship package to one lucky player at the end of the tour. We wish the tour the best of luck and think that British Poker Masters is a superb name for a poker tournament.
DTD Deepstack Weekend Increases Guarantee, Issues Statement on Poker Tax
Good news for the small army of players that regularly play in the £300 deep stack event at the start of every month at Dusk Till Dawn. The £50,000 guaranteed event has regularly been selling out and going to alternates month in, month out, which means they have decided to increase the guarantee to £80,000. It's amazing to think that this event was once a £20,000 guaranteed event and in less than a year has quadrupled its guarantee.
The £150 side event which takes place on Sundays has also increased the prize pool, doubling it from £10,000 to £20,000 and also increasing the starting chips from 5000 to 6000. It's exciting times at Dusk Till Dawn and what with their £1000 Grand Slam Event just round the corner, the prize pools are just getting bigger and bigger.
In other news, we told you last week about Rob Yong's views on the new poker tax brought in by Alastair Darling. The club, like all other casinos in the UK, will have to pay additional tax on poker revenue (possibly as much as 50%) and the club has issued a statement on what changes it needs to make to accommodate the new budget. From the 20th of May:

• Registration fees on weekly tournaments will increase by £1
• Registration fees for non-weekly tournaments will increase depending on the level of the buy-in
• Caps on cash games will increase by £1, although this only becomes payable if the pot actually reaches this cap
They have also specified that these changes only cover half of the additional costs they will be accruing, but due to the current economic climate, didn't want to burden they loyal customers any further. Hats off once again to DTD for being very up front, honest and customer driven.