Annie Duke - Poker Legend Annie Duke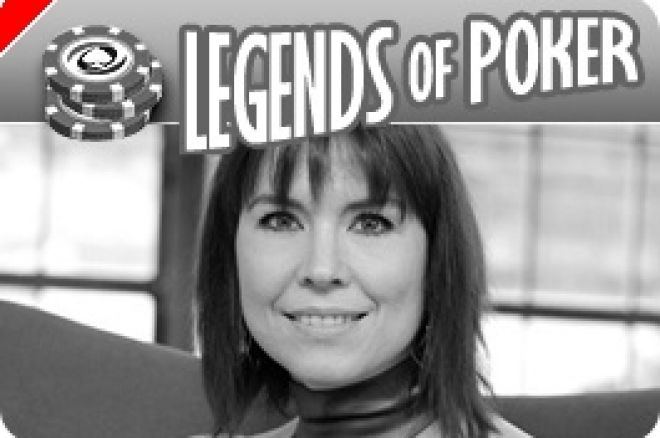 Annie Duke
was born on September 13th, 1965 in Concord, New Hampshire. Duke grew up with the well-known founder of Full Tilt Poker, Howard Lederer. It was also through Lederer, who was one year older than his sister, that Annie came into contact with poker for the first time. At a very young age they were already playing card games at the kitchen table and quickly developed a liking for the game. The entire youth of Annie and Howard is characterised by competition between the two when it came to games, and the game boards would regularly fly through the room because no one was willing to accept defeat that easily.
The family Lederer consists of intelligent people. Apart from her father, who is an author, and her brother Howard, who isn't called "The Professor" for no reason, Annie herself seems to be a very intelligent woman as well. When studying at the University of Columbia, she received diplomas in English as well as psychology. She was then awarded an NSF Fellowship to attend graduate school at the University of Pennsylvania. Despite her wanting to become a professor, after five years, just before completing her Ph.D., Annie decided to quit her studies and move to Columbus, Montana with her husband Ben Duke.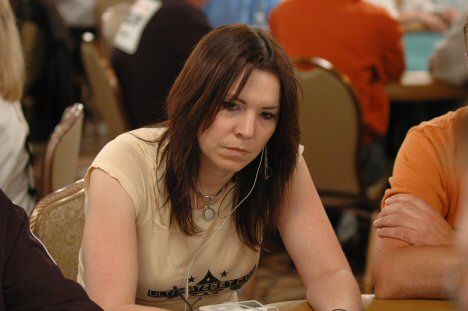 In the meantime, her brother Howard Lederer had become a professional poker player. He saw great poker potential in his sister and started investing time and money in her. She picked up the game almost immediately and was regularly found playing in the legal poker rooms of Montana. After a couple of years she decided make poker her profession and she and her family moved to Las Vegas, Nevada, where the real action was taking place. As Annie had to provide for a family, she mainly played cash games for the first ten years. The only time she could be found playing tournaments was during the World Series of Poker. Only in 2003, when poker started to become popular on TV, she made the definite transition from cash game to tournament poker.
Despite several earlier successes, Annie Duke only really became known after giving poker lessons to Ben Affleck in 2004. This led to Affleck taking down an event during the California State Poker Championship for $350,000. In that year Annie was even invited to appear on David Letterman, which is a great honour in the U.S. When it comes to being personal poker coach, however, its unlikely we'll be seeing her in that role again. "Its very time-consuming, and on top of that I'd have to ask a lot of money to coach someone," Annie commented. "I could do it for $300 an hour, which seems to be a normal tariff, but people don't realise that what I'm teaching them is potentially worth millions."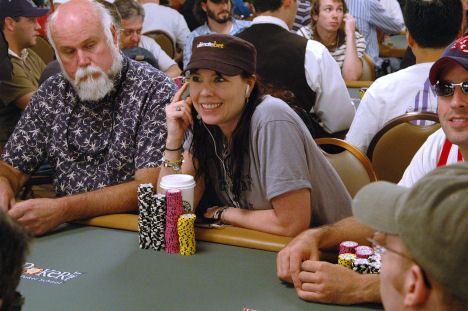 When talking about a female poker legend, the question quickly arises whether in poker, women are equal to men. Annie Duke is convinced that the women in this sport can easily keep up with the men, and therefore refuses to take part in 'women-only' events. According to Annie, there are even some advantages in being a woman in poker, like not having to be as obscene as, for example, Mike Matusow in order to get some attention.
Although Annie wasn't quite able to perform as well as her brother, she did come very close at times. In 2004, for example, she was responsible for the elimination of her brother in four big tournaments. There are no friends at the poker table, and by the looks of it, there is no family either.
In 2003, Annie Duke's sister, Kathy Lederer, wrote a book about the family Lederer, Poker Face: a Girlhood Among Gamblers. Soon after that Annie published her own biography with a title that hardly fitted on the front cover: "Annie Duke: How I Raised, Folded, Bluffed, Flirted, Cursed, and Won Millions at The World Series of Poker".
Besides 'Annie Legend' and 'The Duchess of Poker', her most famous nickname is a very simple one: 'The Duke'. Because her surname had become almost a brand by this time, she decided to keep it even after divorcing her husband in 2004. Although she did win a side-bet against Steve Zolotow, who had bet that Annie's marriage wasn't going to last longer than 5 years, she will have cared little for the $500 she won as a result.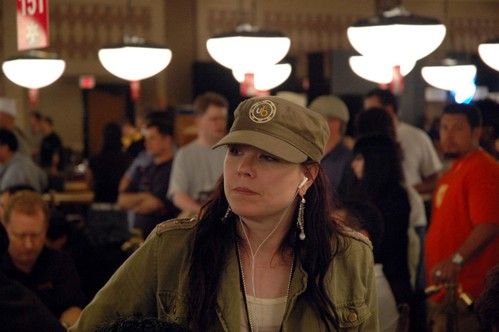 Today Annie Duke lives in luxury, together with Joe Reitman, an actor and producer. In 2006 Annie even got her own TV show on GSN: Annie Duke takes on the World, in which she played against amateur poker players. Later on that year we can see once again how intelligent she really is: in December 2006 she appeared on the American version of the show 1 vs. 100. She was the only celebrity that wasn't eliminated, and in the weeks that followed she managed to answer 35 questions correctly in a row, something that had never happened in the history of the show.
Annie also recently finished 2nd in the American show "The Celebrity Apprentice" starring Donald Trump.
In April 1994 she bagged her first results at the WSOP: 14th in the $1,500 Limit Event, 5th in the $2,500 Limit Event and 26th in the $10,000 Main Event. Since then she has never looked back. Today she has over 50 WSOP money-finishes to her name. One of her best results was her 10th place finish during the Main Event in 2000. She only just missed the final table, but what made her performance so applaudable was the fact that she was eight months pregnant at the time.
Her best year so far was in 2004. In April she won the $2,500 Limit Event during the 2004 Bellagio Five Star World Poker Classic. This was followed by her first WSOP bracelet win after taking down the $2,000 Omaha Hi/Lo Event, but even this was topped by her win in September of that same year. During the invitational tournament "World Series of Poker Tournament of Champions" she outlasted legends like Chip Reese, T.J Cloutier, Phil Ivey, Daniel Negreanu, Doyle Brunson, Greg Raymer, Johnny Chan, Phil Hellmuth Jr. and her own brother Howard Lederer. Besides the respect from her fellow players and the public, she also won 2 million Dollars in prize money!
Some of her recent successes include a 3rd place in the WSOP $2,500 Omaha/Seven Card Stud Hi/Lo event in 2007 and a 5th place in 2008 in the $5,000 Seven Card Stud Hi/Lo Championship. According to many of her colleagues, she is the best female poker player of all times. On the female All-Time Money List she is currently in 2nd place behind Kathy Liebert:
1st Kathy Liebert $ 4.013.493,-
2nd Annie Duke $ 3.371.805,-
3rd Jennifer Harman $ 1.769.079,-