Aisling Collins wins Women's World Open, Massive Overlay at DTD + more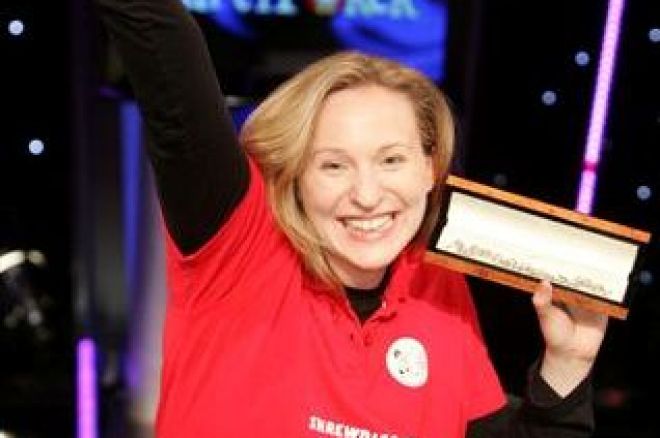 Aisling Collins wins Women's World Open
As far as poker stories go, this one is up there with Moorman's Dad winning GUKPT Manchester, as Aisling Collins yesterday won the Party Poker Women's World Open III. She might not have been the best known player at the table, but Collins is very popular in poker media circles, she is a producer for Sky Poker show The Club and also the girlfriend of Ben 'RookieITB' Turnstill.
She was joined at the final table by one of the toughest line ups to date, which included her BlondePoker friends Jen Mason and Maria Demetriou. Collins had a busy day where she steamrolled her way through the runners up turbo heat and was the big underdog when she did the same again at the final table. A tearful Collins said after the event:
"I was so, so nervous going into this tournament but after a while I found it easy to relax and play my natural game," said Collins. "To win this tournament means absolutely everything to me. My previous biggest poker win was in the region of $8k so this is amazing. I'm in shock, it is fantastic to win $50,000 – I just don't know what I am going to do with it yet! One thing I do know I am going to do is get some Christian Louboutin shoes. I saw Jennifer Tilly's and they were great!"
Eddie Hearn, Director of Matchroom Sport said: "As the Voice of Poker Jesse May said, the final table is not where champions meet it's where champions are born and no one deserved the title more than Aisling. She was drawn in arguably the toughest heat and then had to come through the gruelling runners-up heat before taking down the final table. The standard throughout the whole tournament was simply stunning."
Final Table Payouts
1st - $50,000 – AISLING COLLINS (UK)
2nd - $20,000 – KIM WOOKA (JAP)
3rd - $12,000 – SHANA CASALETTO (UK)
4th - $10,000 – CECILIA NORDENSTAM (SWE)
5th - $8,000 – MARIA DEMETRIOU (UK)
6th - $5,000 – CAT O'NEILL (UK)
7th - $3,000 – JEN MASON (UK)
£56,000 Overlay at DTD
Who said that overlay's were dead? Yesterday the £1000 Grand Slam Main Event at Dusk Till Dawn in Nottingham had a staggering £56,000 overlay on their £250,000 guarantee when just 194 players turned up (194 is still pretty impressive for an event that starts the same day as the WSOP). This isn't the only big overlay associated with the event, as the club held a 50 seat guaranteed satellite online which also didn't meet its guarantee, which means that if one of those 50 seat winners takes down the main event, they probably have had the best value result of the year.
The event started at 2pm with just 160 runners and a £90,000 overlay, which prompted a lot of players to suddenly drop everything they were doing and make the journey to Nottingham. The last registration was at 8pm and because the structure was so deep, they were only losing 450 chips an hour. Despite such a deep stack only 88 of the 194 players remain and take their seats again today. Daniel Nutt is your chip leader in a very strong field, the top ten looks like this:
Daniel Nutt 166625
Barry Neville 146650
Tasos Grigoriou 136150
Karl Fenton 101100
Matt Perrins 84200
Justin Oshaughnessy 81300
Peter Charalamobus 77725
David Penly 74425
James Mitchell 72775
Alun Hughes 71625
UK WSOP Watch List – Luke Schwartz
We are going really left of field today with our 'ones to watch at the 2009 World Series of Poker list' as we feature a player we doubt will win a bracelet. Actually, we will be surprised if he cashes at all, but we fully expect him to be in all the stories and commanding the attention of the poker community – Luke 'FullFlush' Schwartz.
Never has a UK online player commanded such attention and created as much controversy as this young player, who was a complete unknown a year ago and has recently exploded onto the high stakes stage this year. FullFlush is up over a million this year and has been offending a lot of the world elite on his way to doing it, mocking big names like durrrr, Negreanu, Hansen, Andrew Feldman, Antonius and Ziigmund along the way.
We doubt he has the discipline to run deep in most of the 'low' buy-in events (by his standards) but he could have a good run in the $40,000 no limit event. That said, there is no doubt he will be the centre of attention throughout the series and we are praying he gets moved to a Hellmuth table while he is over there.