Spring Poker Challenge at the Rendezvous Southend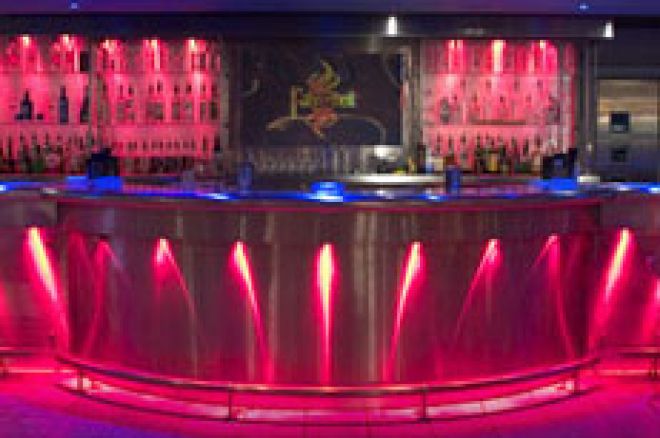 Rendezvous casino at the Kursaal in Southend – on - sea, Essex is an established card room that has recently come under new management. As a regular player there myself, I have always enjoyed the friendly atmosphere. I had been taking a break from live poker to work on my online game and last Friday was my first day back at the Rendezvous Southend in quite awhile. What a surprise I got when I went back, the poker has been moved into its own room and the new management is amazing. I found it to be everything I was looking for, great games, great atmosphere, very helpful staff and the perfect mix of good players vs. donks.
Friday was the second night of the Rendezvous 'Spring Poker Challenge' which consisted of nice deep stack tournaments, with cash games on the side for those who wanted it. I played Friday in the £100 + 10 NLHE freezeout and had a fantastic night, even though I didn't make the money after I was knocked out with my QQ vs. KK.
Last Saturday night saw the start of the main event which was a £300 + 30 NLHE freezeout with 15k starting chips and a free buffet! It was a two day event and although I couldn't make it to play on Saturday, I still couldn't resist a trip down there on Sunday to watch the final table.
On Sunday night the atmosphere was even more exciting than the previous nights as the final table of the main event was taking place. There was a TV crew filming and interviewing, plenty of people looking on from the rails and there was also a lot of other players there to play in £150 + 15 tournament that was just about to start.
Main event final table chip count:
Seat 1: Kathleen Padovani - 113,300
Seat 2: Attila Adomany – 55,500
Seat 3: Darren Paradise – 155,700
Seat 4: Steve Bovis – 54,400
Seat 5: Mike Hynes – 203,000
Seat 6: Paul Blakesley – 55,500
Seat 7: Daniel Nutt – 49, 300
Seat 8: Terry Arnold – 97,700
Seat 9: David Pearlman: - 91,600
Although they weren't the chip leaders my money was on Darren Paradise and David Pearlman and of course I was rooting for Kathleen Padovani because we ladies need to stick together. By the first break they had already lost 3 players, Steve Bovis, Paul Blakesley and Attila Adomany, respectively.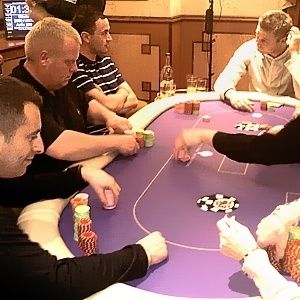 Chip counts at the first break:
1: Kathleen Padovani – 200,000
2: Darren Paradise – 97,000
3: Mike Hynes – 139,000
4: Daniel Nutt – 228,000
5: Terry Arnold – 80,000
6: David Pearlman – 130,000
Things were looking very different from the start, in that short time Daniel Nutt had come from short stack to chip leader and was looking quietly confident when play resumed. He lost some chips to Darren Paradise when they both got all in pre-flop. Daniel showed QQ and Darren flipped over AA, the flop





was no help for Daniel, giving Darren the double up he needed.
A while later Paradise got unlucky and lost all his chips, sending him to the rail in 6th place. Closely followed by Mike Hynes who finished 5th. There were only 4 players left and there was talk of a deal but Kathleen Padovani was having none of it saying she wanted to play for the win and she thought players would play differently if a deal was made.
Terry Arnold was the next player out when he went all in pre- flop and was called by Nutt. Arnold showed AT vs. the AK of Nutt, the board brought nothing and Arnold was sent to the rail in 4th place. With only 3 players left the tension was building and there was a short break for ten minutes.
Chip counts at break:
1: Kathleen Padovani – 322,000
2: Daniel Nutt – 932,500
3: David Pearlman – 121,500
Nutt was still holding a huge chip lead and Pearlman was short stack for a short while until he doubled up from Padovani. Pearlman went all in with


and was called by Padovani who was holding


, the flop came



, turn

and river

giving Pearlman a ROYAL FLUSH





!
There were more deal talks after that with Pearlman pushing for a deal but Nutt and Padovani wanting to play on, so play resumed. Pearlman doubled up again from Nutt and said he would still make the same deal even though he was now chip leader. But Pearlman who was desperate to go home to bed didn't get his deal.
With only 3 players left play seemed to take forever, eventually Pearlman got all in with 89 and was called by Nutt who was holding pocket 6's, a 6 fell on the flop giving Nutt trips and the 8 on the river was no help for Pearlman who was out in 3rd place.
Heads Up was relatively fast compared to the rest of the game. After just 18 minutes, the blinds were at 10k/20k, Padovani was holding


while Nutt was holding


, when the flop fell



giving both players four cards to their flushes. They got all in on the flop with both players thinking they were drawing, turn card was

leaving Padovani drawing for a 2 or 7 (not clubs), river card

meant Kathleen Padovani was out in 2nd place. Daniel Nutt was the winner of the Rendezvous Southends Spring Poker Challenge Main Event. Taking home £5,500 for his amazing come back. Congratulations!
Main Event Final table results:
1st: Daniel Nutt - £5,800.00 (deal done £5,500.00)
2nd: Kathleen Padovani - £3,500.00 (deal done £3,400.00)
3rd: David Pearlman - £2,200.00
4th: Terry Arnold - £1,600.00
5th: Mike Hynes - £1,300.00
6th: Darren Paradise - £1,050.00
7th: Attila Adomany - £850.00
8th: Paul Blakesley - £650.00
9th: Steve Bovis - £450.00
(10th Teresa Cranmer – deal done £400)
So all in all the card room at the Rendezvous casino Southend was very pleasing and I predict with the new management it will become a hugely popular place to play poker. I am certainly going to start playing there regularly again.