Roy Brindley - Interview with Roy 'The Boy' Brindley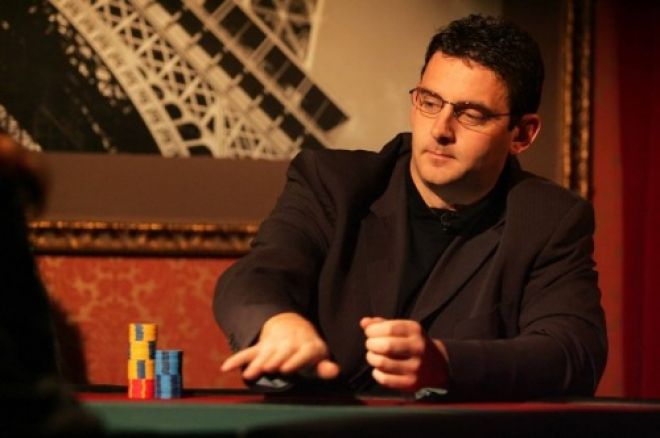 The expression 'from rags to riches' is an often used term to describe the success story of someone from humble beginnings to the dizzy heights of success. But when I describe Life's a Gamble, the biography of poker professional
Roy 'The Boy' Brindley
, as a rags to riches story I am being as literal as is humanly possible. The book documents the turbulent life of Roy Brindley, who from struggling with gambling addiction from an early age, found himself living on the streets and on the run from the police before discovering poker and turning his life around becoming one of the top players in Europe.
After reading the book, I caught up with Roy to talk about what led him to write this book in the first place:
"The book is actually 2 years late, I tried writing it before using ghost writers and they didn't tell the story I wanted to tell. The net result of that is I wrote every single word myself and that's something I am very proud of. Writing this book has allowed me to close down a chapter of my life, get closure, I was able to satisfy myself and I know I did what I did at the time for the right reasons and that I am a much better person today than I was before"
Writing is nothing new to Roy Brindley, who was a regular columnist at the Racing Post as well as his own Greyhound Magazine, but did how did writing every word of this book himself cut into his poker schedule?
"Everybody refers to themselves as professional poker players these days, but in reality few can actually call themselves a dedicated professional player, I know maybe 3 people who can. Playing poker does not account for 100% of my income, just like it doesn't for every other poker player out there, I write, I commentate on TV poker and many other things, just as someone like John Virgo would do in the snooker world, so I saw writing this book as just an extension of what I do"
This led us to both go off on a tangent about the parallels between snooker and poker. In the book, Roy draws heavy comparisons between the two and how they have exploded into the UK mainstream, arguing that poker is doing today what snooker did in the 1980s. In the book, he makes the point that if poker was televised on the BBC, it would be monumental:
"In the 1980s when snooker exploded, everyone went out and bought themselves a cue and went down their local snooker club, but the reality is that most of them couldn't even manage a 25 break. It's different in poker; you can watch it on TV one day and then win the next."
"But we won't see it anytime soon on the BBC or ITV. I did about 7 regional BBC radio interviews yesterday and they all were concerned that the book promoted gambling, I replied 'what's wrong with that?' – If its representative of the listeners then it's a story that needs to be told. I almost had an interview with This Morning lined up which would have been huge, but when they heard it was about gambling they refused it. It will be a long time before poker is on ITV or the BBC, they still have very old school attitudes towards gambling."
The book is very well and entertainingly written, but what will really engross you is the tremendous struggle Roy has endured to live a normal life. Roy Brindley was brought up around gambling and obsessed by it, gambling everything he had and ultimately letting it destroy relationships around him, get him in trouble with the police and leaving him homeless begging on the streets.
"I was a seriously addicted gambler, but I didn't know how bad it was.....I never knew it was bad in the first place. I was born into it and didn't know any better, although with a clear head today I realise just how bad I was. If I had any money, I had to put it all on the line, the bet had to either win me a lump or hurt like hell, otherwise it wasn't worth it."
The book perfectly illustrates how the mind of a sick gambler works and how they view money in such a different way to the rest of society. For any poker players out there who thinks they are running bad, they would do well to read this book to see what 'running bad' and 'going broke' really means:
"Someone asked me in an interview yesterday 'what's the most you have ever lost?' and my answer surprised them. I told them it was £7.50 in 1989. Last year I lost 10k on a single horse race at Cheltenham, but for me, losing that £7.50 at the time was everything. When you are on income support of £8 a week and you lose £7.50 what you needed for food, that's really losing everything. When you have to walk home 10 miles from the bookmakers and eat beans on toast for a week and borrow money to gamble again, that's really losing it all"
But it was these experiences that have shaped and moulded Roy Brindley into the successful poker player he is today. At times he seems totally fearless at the table and when he tells his story he says he always looks back on his time on the streets when he has a difficult decision at the table, to remind him what a really tough situation looks like:
"I don't think you need to experience losing it all to become a successful player, but I do think that it does help to have suffered some hardship, you have to have experienced going without certain things or humble beginnings. These young Scandinavian players who win millions of dollars online can't say they have gone through much hardship, but good luck to them."
At times, Life's a Gamble is brutal, some of the hardships and consequences of Roy Brindley's gambling you wouldn't wish on your worst enemy. But, as we all know, it ends well for Roy The Boy and ultimately the book is a triumph for Roy Brindley and you will be cheering for him too. At one point in his poker life, all Roy Brindley cared about was winning trophies but becoming a family man has changed him into a much more responsible provider. But does he still crave the glory of a major title?
"My results certainly suggest not, in 2002 I would beat myself up if I didn't win every event I played in, but now when I bust out on day one I find it very easy to accept, I take it too well these days. I don't play that many tournaments now, I enjoy spending time with my family much more, I've only played two tournaments so far this year"
"The real glory for me these days are things like at the WSOP a few years ago. A young player came up to me and asked for my advice when he was down to the last 70 in the main event. I bust out on day one and a week later he is asking my advice. He qualified for $5 on William Hill and he was ecstatic about the fact that he had won enough money to set up a small business as a taxi driver and buy a taxi – that's what poker is all about, that's why I love it, you could never do that in a bookmakers."
Lifes a Gamble is a truly fantastic book that is both entertaining and shocking to read at the same time. Roy Brindley has captured what is going on in the mind of an addicted gambler brilliantly and some of the stories you will hear will make you question how Roy Brindley is still here at all, let alone one of the most successful poker players in Europe. More than anything, it is a really ends on a high and by the time you get to the point where he is where he is today, you will breathe a sigh of relief that finally lady luck finally smiled at him and gave him a life to be envied. It is genuinely one of the best biographies and certainly the best poker biography I've ever had the pleasure of reading.
Life's a Gamble is on sale now.