Roberto Romanello - Interview with European Open Champion Roberto Romanello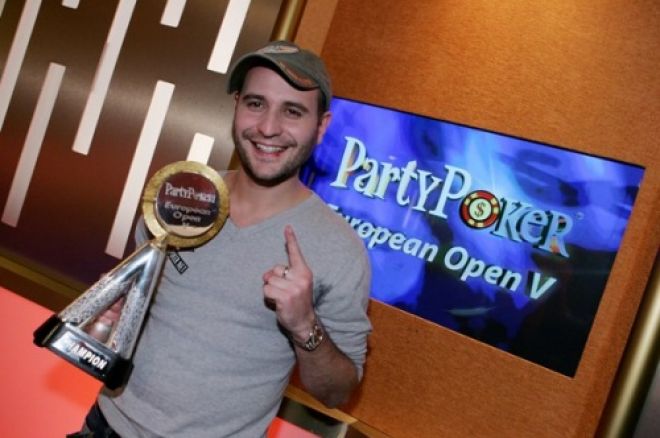 We caught up with the man that makes Tony G look like he has taken a vow of silence,
Roberto Romanello
. The Welshman has recently become sponsored by
Full Tilt Poker and after a series of near misses, he finally captured that elusive title when he won the PartyPoker European Open V in February. We tried to get a word in edge ways with the popular Fish and Chip shop owner.
Pokernews: You had tears in your eyes after winning the European Open, how much did that win mean to you?
Roberto Romanello: After winning the European Open, I feel the weight is slightly off my shoulders. I love playing in the GUKPT events, they were the first decent size events I played when I started. There are only a few players that have made a final table 3 times and I am one of them which I am proud of, but nobody remembers the 2nd, 3rd, 4th finishing places so hopefully I will win one someday. In the 3 years I have been playing poker, this title made it all worthwhile. I have been pushing hard for the day that I win a big recognized event, and after 3 years of playing it finally came.
PN: You have been chasing a title for a while now, was the number one spot always more important than the money?
RR: Of course the money is important to me. I wish I had the bank balance of someone like Richard Branson but I haven't. But you're right in what you're saying. It's the recognition you get from winning a title which makes it all worthwhile, the money is an added bonus.
PN: Maybe the televised shorthanded shootout format suits your game a bit more than multi table tournaments?
RR: I definitely enjoy playing the 6 handed TV tournaments, but I am not sure my game suits the format. I change my game to suit the format, obviously in any 6 handed game you have to play a little more aggressive. I have no problem being aggressive, but it's all about picking your spots, getting to know your opponents and not being afraid to put them in when you think you're good.
PN: Its all happening for you at the moment, you have also signed a sponsorship deal with Full Tilt Poker, what does that feel like?
RR: It means everything. When I first started playing, my aspirations were to be a sponsored player and be able to travel to different places playing poker. Having a sponsor allows me to do this. As a poker player you want to play in all the major tournaments throughout the year. I was fortunate to pick up some decent results in my first 2 years so I was able to play in some major tournaments. But it only takes a couple of events and you could go broke again. Having a sponsor means I can play the major tourneys!
PN: You have really announced yourself on the world stage with your recent victory, just how far do you want to go as a player?
RR: I am naturally a very ambitious person, so ultimately I want to be known as one of the best poker players in the world. I appreciate that this isn't going to happen overnight. But without believing in myself I wouldn't have come as far in such a short career. I am also aware of how lucky I am to be a poker player, I get the see some great places and more importantly I have met some great friends along the way.
PN: And how highly do you rate your poker skills right now?
RR: That's one thing I will say about poker, most players think their best. If it's judged on how many bracelets someone has won then obviously Phil Helmuth would be considered the best. Would I be confident playing against him? Yes of course I would. The stronger the opposition, the better I play! I would never say I was the best player at my table but I would definitely disagree with anyone that told me they were better than me. One bit of advice I would say to anyone in poker, "Always respect every player at the table, no matter how weak you think they are".
PN: Despite your poker success, you are still busy working on the family chain of Roma's Fish Bars – it must be hard to juggle the two?
RR: I make the time. I would love to be playing poker around Europe and America all year long, but my family comes first and with that comes the restaurants. The restaurants have given me the money to be able to play poker and I will never forget that.
You can play poker with Roberto Romanello exclusively at Full Tilt Poker.