Karl Fenton wins PKR Live II, GUKPT Manchester Main Event Begins + more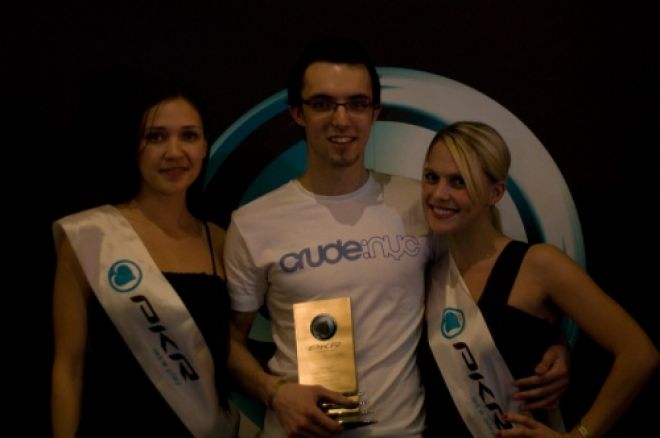 Karl Fenton wins PKR Live
The second real life offering from virtual reality poker room PKR took place at the Loose Cannon club in London last weekend and was as big a success as before. 150 players descended on the nation's capital for PKR Live II, an excellent value event that saw players compete in three events for their money including a freeroll on Sunday.
The $75,000 main event was won by 23 year old Karl 'discomonkey' Fenton who defeated his long time friend Simon Wing heads up for the title and the $20,000 first prize. All the players in attendance were raving about the weekend of poker fun and it left Loose Cannon manager Roy Houghton proclaiming, "I have been in the poker world for 40 years, and have yet to meet a friendlier crowd than the people who came to the Loose Cannon over the weekend."
GUKPT Manchester Main Event Underway
Its day 1a of the Grosvenor UK Poker Tour Main Event in Manchester and this event usually produces a big name winner. The attendances have started to increase this week from the weekend and we have some more of the side event results to share with you, the most impressive of all having to be of course Martin Silke, who just a few weeks ago won the GUKPT London title is at it again winning the £200 no limit side event. This result will do him plenty of favours, most notably winning him an even bigger stack in the Champion of Champions event, as well as putting him near the top (if not the top itself) of the GUKPT Rankings and also boosting his chances in the European Rankings.
20th April £200 No Limit
174 Entries
1 Martin Silke £10860
2 Soleiman Masud Janjua £6960
3 Peter Charalambous £4700
4 Christopher Brammer £2960
5 Michael Hill £2090
6 Jake Cody £1740
7 James Williams £1390
8 Warren Todd £1040
9 Zak Aslam £700
10 Jeff Kimber £520
21st April £300 No Limit Double Chance
131 Entries
1 Iqbal Patal £12480
2 Peter Kvisthammar £8060
3 Christopher McNicholls £5500
4 Iqbal Ahmed £3440
5 Charles Nelson £2460
6 Zak Aslam £1960
7 Jonathan Lundy £1550
8 Waseem Shahid £1200
9 Kenneth Clark £790
10 Barrie Sherbert £590
22nd April £350 PLO
56 Entries
1 Reyaaz Mulla £5040
2 Turgay Bagdagi £3570
3 Lisa Hawkes £2240
4 Man Ip £1400
5 Ghalib Hussain £980
6 David Gunning £770
Picture courtesy of Blue Square
Sky Poker Launches Dedicated Website for WSOP
Last year was Sky Poker's first year at the World Series of Poker but for everyone who went out with them, it was a resounding success. This time round they have announced they will be launching a micro site within their own dedicated to the WSOP and the exploits of the Sky Poker while they are in Sin City.
Expect news, blog posts, videos and photo galleries of all the team and their players on poker grandest stage. You can join them this year by either winning a WSOP Main Event Package or a Vegas Lite package which is more of a holiday and doesn't include a main event seat, but instead a side event package.
Last year Sky Poker player Will Brewin cashed for $40,000 finishing 118th out of 6844 after winning his package on Sky Poker and he will be there again this year.
"Last year's World Series was amazing," said Will Brewin "Having Tikay there with me and the other Sky Poker players throughout the whole tournament was immensely helpful, we were really taken care of. I am really looking forward to this year's event and I'm hoping to improve on my place – and my winnings!"