Nick Wealthall - Interview with Sky Poker Analyst Nick Wealthall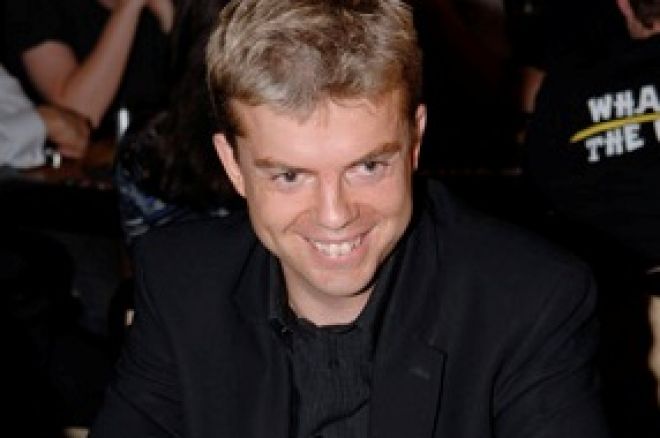 Last week we interviewed multi talented poker entertainer Matt Broughton and this week we bring you his partner in crime, Sky Poker analyst
Nick Wealthall
. On top of being a player, writer and presenter he is also co presenter of the 'On the Rail' Podcast with Kara Scott. We spoke to Nick about being one of the busiest men in poker as well as the upcoming Sky Poker UK Tour.
Pokernews: Player, presenter, writer, DJ - is there anything you can't do in poker? What would you say was your job description?
Nick Wealthall: My job description is I'm a poker lover…. not a hater. The truth is I'm a very very lucky boy. Poker has always been my hobby and my passion and I get to write and talk about it – often people give me money to do it so I guess it's a busman's holiday. I suppose I'm a 'poker broadcaster' or something – quick think of a sexier description someone!
PN: So when you are not presenting, what felt can we find you at?
Nick Wealthall: My main games have always been cash. In the beginning it was limit games, briefly stud then Hold'em. Then like everyone else I transitioned to No Limit online for quite a time. Last summer my game was in a rut and I'd lost some enthusiasm so I switched to Pot Limit Omaha. I love the game and it's tough for me to play NLH – I spend 90% of my playing time playing PLO online working up through the limits its great fun. I play tournaments occasionally, mainly for fun and as a change. I'm playing the WSOP main event for the first time (partly thanks to Virgin poker) this year which is really exciting – should be an awesome 40 minutes before my AA gets cracked.
PN: Are you still getting coached from Brian Townsend?
Nick Wealthall: I'm really lucky to count Brian as a friend. He seems to get a kick out of coaching me so again I'm pretty lucky. It's an amazing short cut to being a better player having someone that's so good you can completely trust everything they say. Of course it increases your standards a lot because you don't want to look bad but it's really important to leave your ego at home if you get a poker coach and show them you're play at its worst!
PN: Tell us more about 'On The Rail', your poker podcast
Nick Wealthall: I started on the rail with Kara Scott almost 2 years ago now as we wanted our own project and we didn't think there was a good UK poker podcast out there. We've been really proud and excited by its success and it's allowed me to interview some of the biggest and most interesting people in poker.
In the future I hope the podcast keeps growing and we get to do more online events. We'll keep getting the best guests and, especially if the listeners let us know the guests they want. Above all the podcast is fun to do – and I hope it'll stay that way and be fun to listen to.
The podcast now has its own website now, it has a lot of other cool stuff, articles – blogs from some great poker people – and it'll have other podcasts soon so stop by and say hello.
PN: Your mate Matt Broughton is about to co host the Jesse May show, how does it feel kind of being in direct competition with your friend?
Nick Wealthall: Matt who? To be honest it isn't a competition…well certainly not a close one. If he even dreams he can beat me he needs to wake up and apologise.
To be honest I think their show will be great and I'll be checking it out. The thing is there isn't any competition; we're really good friends, he'll do a great job and even if we weren't friends there's lots of room for many different forms of poker goodness. I've got about 5 different podcasts on my ipod and I'm sure everyone else has.
Also I should point out Matt has a little beard.
PN: Will we see you at the SPUKT grand final in Nottingham?
Nick Wealthall: Not sure if I'll be playing it or not – I need to talk to Sky about how they should definitely be buying in all their presenters who love them so much and do so much for them.
Big live events of any kind are great – really exciting and full of energy. The Sky Tour is particularly good as it lets the presenters meet the players and vice versa. Sky poker's really big on building a community – that's the nice, fun side of poker. There are poker communities online and live all over the country and its fun that it's not always about beating each other up for chips (it is really)
PN: You have been presenting interactive poker shows for a long time, how far do you think the sky players have come along in the last 2 years?
Nick Wealthall: A really long way – the standard is way better; much more aggressive and knowledgeable. We're launching a new sky poker school show which I'm hosting which should increase the standard even more. One thing Sky deserves a lot of credit for is attracting brand new players to poker – its TV reach means it can do that and I'm sure it's something that'll continue.
PN: You are known for your advice on sky poker and PNL before it, have you ever had anyone come up to you and say something along the lines of 'I became a pro thanks to you?'
Nick Wealthall: It happens more than I ever thought it would. I think all the presenters/analysts on Sky have experienced it and it's a great feeling. Poker Night Live was an amazing show for that – it finished maybe 3 years ago now and last world series 3 separate people, one of them an established pro, approached me to tell me I and the show had massively helped them and made them a tonne of money. It's funny though almost all of them clam up and quickly leave when I ask for my cut.
If you want to play in the £220 SPUKT Main Event at DTD in Nottingham with Nick for FREE then we are giving away a seat away in our freeroll on the 4th of April and a further seat will be up for grabs in May. All you have to do is sign up a new account via our Sky Poker links and earn 250 Sky Poker Points, you will also be eligible for a £500 sign up bonus. For more information, check out our freeroll section for more details.