Moorman's Dad Wins GUKPT Manchester, BlackBelt Poker Grading Begins + more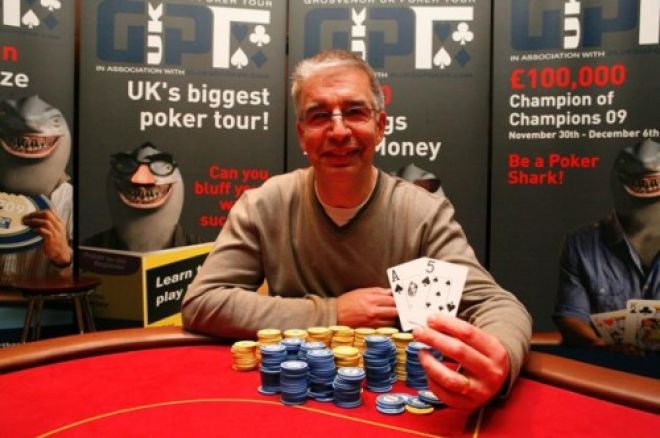 Moorman's Dad wins GUKPT Manchester
What a story! As a poker journalist you dream about moments like this where you can report on both a great tournament and a real human interest piece at the same time. We all know what a great player Chris 'Mooman1' Moorman is – the UK tournament player is regarded by many as the best in the UK and the world at online MTTs. Well, as a 52nd birthday present, he bought his Dad into the Manchester GUKPT Main Event – and he only went and won the damn thing!
This was only Simon Moorman's second ever live tournament, his day job being the credit manager of a toy company, but he managed to best 298 players to win the £88,630 and seat in the Champion of Champions event.
"The only way I can top this is to win the main event of the World Series of Poker" said his proud son Chris Moorman.
It was a very tough final table, which paid out like this:

1st Simon Moorman £88,630
2nd Harri Isomaki £54,380
3rd Eddie Lundon £35,760
4th Kenny Burke £23,240
5th Andy Booth £17,280
6th Kevin Holdstock £14,300
7th David Maudlin £11,320
8th Ed Roger £8,340
9th Surinder Sunar £5,960

The next leg of the tour starts on the 18th of May when it sets down in Newcastle. I was planning on playing in the event but I think I might buy my dad Brian in instead.
Picture Courtesy of GUKPT/Quentin Kozma
Poker Show gets off to Bumpy but Fun Start[/B]
Did you catch the new poker show with Jesse May last night? It got off to a shaky start by starting nearly 15 minutes late and the next half an hour sounded like three drunk men locked in a call centre while they were trying tob get over technical issues. However, once they got the sound levels sorted it was a really entertaining show with guests including Dan Harrington, Neil Channing, Mike Sexton and Mad Marty Wilson. The phone in show style was hectic, but that will become the charm of the show and the quick wit of Padraig Parkinson coupled with the slick anchoring of May made for a very promising show indeed.
BlackBelt Grading Begins
The hotly anticipated BlackBelt Poker gradees have been announced. 50 of the most promising players in the UK have been handpicked by Neil Channing and will be competing in a month of low stakes poker trials, with 8 of them becoming 'black belts' and winning a sponsorship deal that includes a WSOP package. Some of the best players in the UK as well as some of the emerging talent you might not have heard of will be taking part in the grading, which will see them play 6 hours a day for the next month.
There are lots of big names in the field, like Mickey Wernick, Ben Vinson, Jerome Bradpiece and Sunny Chattha, but we think that a lot of the name players might struggle to play 6 hours a day for a month at low stakes because it's such a step down mentally, and some of the emerging, lesser known talent like Alex Martin have a really good chance.
The 50 Contenders are:
Woody Deck
Dave Bland
Dean Sanders
Hugh Kirton
Alex Martin
Mark McCluskey
James Keys
Scott O'Reilly
James Mitchell
Mickey Wernick
Nicky Evans
Joe Whittaker
Jerome Bradpiece
Eoin Kennedy
Sunny Chattha
James Atkin
Nick Wright
Charles Chattha
Adam Vinson
Ben Vinson
Adam Noone
Toby Lewis
Aarun Bernard
Steve Holden
Alan Vinnicombe
Marc Wright
Gareth Cash
Jamie Roberts
Stephen Hall
Ramsey Ajram
Richard Hawes
Kevin Allen
Richie Allen
Tony Phillips
Dave Penly
Dominic Kay
Daniel Murphy
Jon Lundy
Sebastian Saffari
David Tighe
Neil Blatchly
Sida Yuen
Sandeep Shah
Rob Lawlor
Adam Latimer
Simon Knight
Michael Douglas
Henry Griffiths
Joel Ettedgy
Bill Purle