David Welch wins Ladbrokes Easter Festival, Irish Open Side Event Results + more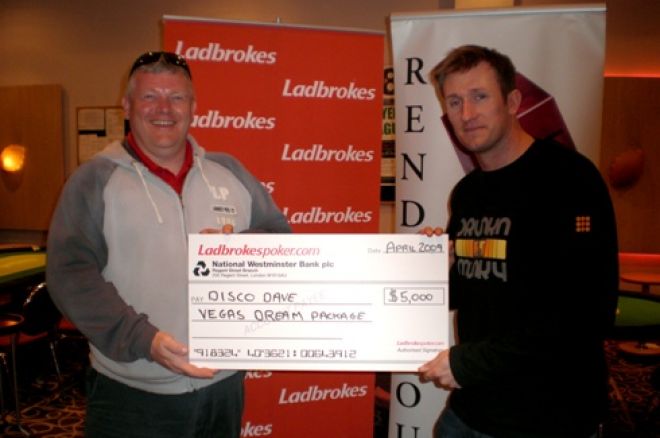 Dave Welch wins Ladbrokes Poker Brighton Easter Festival
It's hard to keep up with all the action that took place over the Easter Bank Holiday as there were so many big money tournaments up and down the UK and Ireland, the Ladbrokes Poker Easter Rendezvous being one of them. 141 runners took place in the £500 main event and added value came in the form of five Ladbrokes Poker Vegas Dream Packages to last five players.
In the end, Dave 'discodave' Welch took top honours and the £14,265 first prize for his two day stint at the tables. You can join him in Vegas this year by winning a plush $5,000 Vegas Dream Package exclusively at Ladbrokes Poker.

1 David Welch £14,265
2 Vishal Dhanak £12400
3 Mark Wilson £9000
4 Nigel Sutcliffe £7000
5 Simon Parvin £5050
6 Mark Herron £4000
7 Peter Abela £3100
8 Kathleen Padovani £2300
9 Peter Veale £1600
10 Delman Ross £1050

PKR to unveil Team PKR Pro
The fastest growing poker room in the world, PKR, continue to climb the ranks and develop as a poker room, as tonight they will be revealing a new team of sponsored players. 6 up and coming stars of tomorrow from their own ranks will be revealed tonight to act as brand ambassadors and play live events for the card room. We don't know much more about this right now, except for there will be three UK, one Irish, one Swedish and one Norwegian player – check back here later on to find out who they are.
Irish Open Side Event Results[/B]
Christer Johansson and Kara Scott may have been the ones walking away with life changing sums of money at the Irish Open, but there was a wealth of side events that saw some of the big guns of poker assemble and fight for some pretty meaty figures too. There was a ladies event, a charity event, a PLO event and a €1,500 no limit event that was bigger than a lot of main events on the circuit. Big names like Jamie Gold, Neil Channing, Jesper Hougaard and Juha Helppi all found themselves at the final tables, but perhaps the best result has to be Keir Ratcliff of the UK winning the €1,500 freezeout for €72,300.
Not only is this an impressive score for this up and coming new player, this is his second win and his 4th final table of the year. Keir made the GUKPT Brighton Final Table (Picture right, courtesy of Blue Square) and later went on to win the £1000 Empire Festival. This result has also catapulted him to the top ten of the European Rankings, where he sits in 4th just behind Sunny Chattha:
Irish Open Side Events
€1,500 + €150 NLH freezeout - 209 entries
Place Name Prize
1 Keir Ratcliff €72,300
2 Frank Sarubbi €52,000
3 Colin Stuttard €45,000
4 Jeffrey Vanchiro €40,000
5 Paul Smallwood €19,400
6 Jamie Gold €15,400
7 Trevor Dinneen €12,200
8 Leon de Rouw €8,800
9 A Medesan €5,600
10 Neil Channing €5,600
€300 + €30 Charity Event NLH freezeout - 150 entries
Place Name Prize
1 Kieron O'Neill €9,500
2 Massimiliano Tamburini €5,200
3 Eamon Orielly €3,300
4 Paul Marrow €2,400
5 Tim Blake €2,000
6 Cathrine Casey €1,500
7 Anthony O'Callaghan €1,200
8 Joseph Grech €900
9 Christophe Gasia €500
10 Dominic McCloskey €500
€300 + €30 Pot-Limit Omaha rebuy - 129 entries
Place Name Prize
1 Ari Soini €38,700
2 Markus Ristola €21,300
3 Juha Helppi €11,700
4 Jesper Hougaard €9,400
5 Eamon O'Nuallain €7,000
6 Christophe Gasia €5,800
7 Adrian Walshe €4,700
8 Con Tsapkounis €3,500
9 Allan Mclean €2,300
10 Ben Vinson €1,600

€300 + €30 Ladies Event NLH freezeout - 99 entries
Place Name Prize
1 Noeleen Finnegan €9,350
2 Gemma Walsh €5,850
3 Susan Haughey €3,750
4 Caroline Mckeever €2,650
5 Catherine O'Brien €2,150
6 Triona Cafferkey €1,750
7 Jackie Delaney €1,450
8 Sarah McDonagh €1,250
9 Jacinta Hennessy €1,050
10 Grete Abel €450