Phil Laak to host BlackBelt Boot Camp in London, Pokerstars.net SCOOP begins Today + more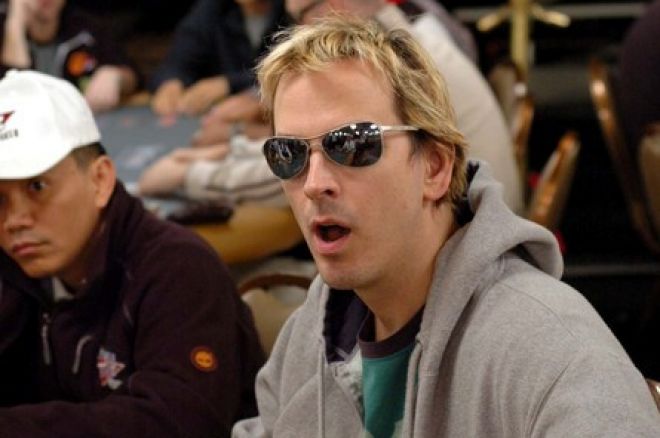 Phil Laak Hosting BlackBelt Bootcamp in London
Eccentric poker megastar Phil 'The Unabomber' Laak will be wearing his camouflage hoody when he makes his way to London next month for a
Poker Boot Camp
with BlackBelt Poker. The new staking enterprise brought to you by Neil Channing will be holding a boot camp on May 16th and 17th at the Loose Cannon Club and Laak will be sharing his wisdom with the attendees.
The highly regarded cash player also has almost $1.5 million in tournament winnings including a WPT title. He will be joining Neil Channing, Nik Persaud and Nick Wealthall who are hosting the weekend. Tickets for the event are selling for £700 and includes food, drink and accommodation. On top of all this the players will fight it out for a $5,000 Vegas Package which includes a $1,500 WSOP event seat.
More on the British Poker Masters
We brought you the news yesterday that the gap left by the Gala Coral British Poker Tour might be getting filled by the Coral British Poker Masters and last night the new tours organisers issued a statement launching the new tour. They pretty much confirmed what we already told you, that there would be £500 main events across all the Gala Casinos the previous tour covered with £1000 added to each main event and a £10,000 sponsorship package for the winner of a one table tournament between the winners of each leg.
It appears that now the main event is only 2 days, rather than 3 days with two day 1s. This would suggest also that the cap on players will come down significantly, to close to 150. The grand final, which is once again in Bristol, only appears to be a 3 day festival rather than a week long affair and, unless its announced otherwise, the buy-in is currently just the £500 standard from the other legs (We expect that to go up though).
Poker for the Homeless March Madness Raises €10,000
One of the standout aspects of the Irish poker scene this year is that a lot of charity events are being added to the major poker festivals. Last weekend in Dublin a special event was held in aid of Poker for the Homeless at the Jackpot Club. Former Miss World Rosanna Davison and snooker legend Ken Doherty were amongst the high profile guests, as well as a host of big name players including Padraig Parkinson. The charity has now raised €150,000 in the last three years and the Irish poker legend and charity ambassador Padraig commented:
"It's fantastic to see such great support for this weekend as it continues to grow and we'd like to thank everyone who played and helped organise the weekend including the Jackpot Club without whose help none of it could have happened. Special thanks to the well-known faces who helped launch the event and well done to Team Boylepoker who sponsored the festival"
Pokerstars.net SCOOP Starts Today
Tonight sees the start of one of the most inclusive online poker festivals ever, the Pokerstars.net Spring Championship of Online Poker (SCOOP). Dubbed by some as a 'mini-WCOOP' we also like to think of it as a credit crunch buster of an online festival, with 22 events in total, each event has three tournaments – a low, medium and high stakes version of each. The entire festival will be guaranteeing $30 million. Event number one is a $5/$55/$530 rebuy event and the $5 variety has already have nearly 17,000 entrants and a $50,000 guarantee, so don't be surprised to see a lot of records and guarantees smashed.
Other notable events include a $270/$2,600/$25,000 heads up event, a $5,200 PLO and a $10,300 HORSE.
The full SCOOP schedule looks like this:
Event 1 - 2 April 2009 @ 14:30 ET - NL Hold'em with Rebuys [6-max]
• 01-L: $5.50 buy-in, $50,000 guaranteed prize pool
• 01-M: $55 buy-in, $200,000 guaranteed prize pool
• 01-H: $530 buy-in, $500,000 guaranteed prize pool
Event 2 - 2 April 2009 @ 16:30 ET - PL Omaha Hi/Lo
• 02-L: $11 buy-in, $25,000 guaranteed prize pool
• 02-M: $109 buy-in, $50,000 guaranteed prize pool
• 02-H: $1,050 buy-in, $200,000 guaranteed prize pool
Event 3 - 3 April 2009 @ 14:30 ET - PL 5-Card Draw
• 03-L: $11 buy-in, $25,000 guaranteed prize pool
• 03-M: $109 buy-in, $100,000 guaranteed prize pool
• 03-H: $1,050 buy-in, $200,000 guaranteed prize pool
Event 4 - 3 April 2009 @ 16:30 ET - NL Hold'em [2X Chance, turbo]
• 04-L: $16.50 buy-in, $100,000 guaranteed prize pool
• 04-M: $162 buy-in, $300,000 guaranteed prize pool
• 04-H: $1,575 buy-in, $1,000,000 guaranteed prize pool
Event 5 - 4 April 2009 @ 14:30 ET - NL Hold'em Shootout [10-max]
• 05-L: $16.50 buy-in, $100,000 guaranteed prize pool
• 05-M: $162 buy-in, $150,000 guaranteed prize pool
• 05-H: $1,575 buy-in, $150,000 guaranteed prize pool
Event 6 - 4 April 2009 @ 16:30 ET - PL Omaha [1R1A, 6-max]
• 06-L: $22 buy-in, $50,000 guaranteed prize pool
• 06-M: $215 buy-in, $200,000 guaranteed prize pool
• 06-H: $2,100 buy-in, $400,000 guaranteed prize pool
Event 7 - 5 April 2009 @ 14:30 ET - H.O.R.S.E.
• 07-L: $109 buy-in, $250,000 guaranteed prize pool
• 07-M: $1,050 buy-in, $500,000 guaranteed prize pool
• 07-H: $10,300 buy-in, $750,000 guaranteed prize pool
Event 8 - 5 April 2009 @ 16:30 ET - NL Hold'em [2-day]
• 08-L: $33 buy-in, $250,000 guaranteed prize pool
• 08-M: $320 buy-in, $1,500,000 guaranteed prize pool
• 08-H: $3,150 buy-in, $3,000,000 guaranteed prize pool
Event 9 - 6 April 2009 @ 14:30 ET - FL Triple Draw 2-7
• 09-L: $22 buy-in, $25,000 guaranteed prize pool
• 09-M: $215 buy-in, $100,000 guaranteed prize pool
• 09-H: $2,100 buy-in, $200,000 guaranteed prize pool
Event 10 - 6 April 2009 @ 16:30 ET - NL Hold'em [Heads-Up Match Play]
• 10-L: $16.50 buy-in, $50,000 guaranteed prize pool
• 10-M: $162 buy-in, $300,000 guaranteed prize pool
• 10-H: $1,575 buy-in, $500,000 guaranteed prize pool
Event 11 - 7 April 2009 @ 14:30 ET - Mixed Hold'em [6-max]
• 11-L: $33 buy-in, $50,000 guaranteed prize pool
• 11-M: $320 buy-in, $300,000 guaranteed prize pool
• 11-H: $3,150 buy-in, $800,000 guaranteed prize pool
Event 12 - 7 April 2009 @ 16:30 ET - 7-Card Stud Hi/Lo
• 12-L: $22 buy-in, $25,000 guaranteed prize pool
• 12-M: $215 buy-in, $50,000 guaranteed prize pool
• 12-H: $2,100 buy-in, $150,000 guaranteed prize pool
Event 13 - 8 April 2009 @ 14:30 ET - FL Razz
• 13-L: $22 buy-in, $25,000 guaranteed prize pool
• 13-M: $215 buy-in, $100,000 guaranteed prize pool
• 13-H: $2,100 buy-in, $150,000 guaranteed prize pool
Event 14 - 8 April 2009 @ 16:30 ET - NL Hold'em [6-max]
• 14-L: $55 buy-in, $250,000 guaranteed prize pool
• 14-M: $530 buy-in, $500,000 guaranteed prize pool
• 14-H: $5,200 buy-in, $1,250,000 guaranteed prize pool
Event 15 - 9 April 2009 @ 14:30 ET - 8-Game
• 15-L: $44 buy-in, $25,000 guaranteed prize pool
• 15-M: $425 buy-in, $150,000 guaranteed prize pool
• 15-H: $4,175 buy-in, $250,000 guaranteed prize pool
Event 16 - 9 April 2009 @ 16:30 ET - 7-Card Stud
• 16-L: $33 buy-in, $25,000 guaranteed prize pool
• 16-M: $320 buy-in, $100,000 guaranteed prize pool
• 16-H: $3,150 buy-in, $150,000 guaranteed prize pool
Event 17 - 10 April 2009 @ 14:30 ET - NL Hold'em [1R1A]
• 17-L: $33 buy-in, $150,000 guaranteed prize pool
• 17-M: $320 buy-in, $500,000 guaranteed prize pool
• 17-H: $3,150 buy-in, $1,000,000 guaranteed prize pool
Event 18 - 10 April 2009 @ 16:30 ET - PL Omaha
• 18-L: $55 buy-in, $50,000 guaranteed prize pool
• 18-M: $530 buy-in, $300,000 guaranteed prize pool
• 18-H: $5,200 buy-in, $1,000,000 guaranteed prize pool
Event 19 - 11 April 2009 @ 14:30 ET - FL Omaha Hi/Lo
• 19-L: $55 buy-in, $50,000 guaranteed prize pool
• 19-M: $530 buy-in, $150,000 guaranteed prize pool
• 19-H: $5,200 buy-in, $400,000 guaranteed prize pool
Event 20 - 11 April 2009 @ 16:30 ET - FL Hold'em [6-max]
• 20-L: $55 buy-in, $25,000 guaranteed prize pool
• 20-M: $530 buy-in, $200,000 guaranteed prize pool
• 20-H: $5,200 buy-in, $400,000 guaranteed prize pool
Event 21 - 12 April 2009 @ 14:30 ET - NL Hold'em [Heads-Up Match Play]
• 21-L: $270 buy-in, $100,000 guaranteed prize pool
• 21-M: $2,600 buy-in, $300,000 guaranteed prize pool
• 21-H: $25,500 buy-in, $800,000 guaranteed prize pool
Event 22 - 12 April 2009 @ 16:30 ET - NL Hold'em Main Event [2-day]
• 22-L: $109 buy-in, $1,000,000 guaranteed prize pool
• 22-M: $1,050 buy-in, $3,000,000 guaranteed prize pool
• 22-H: $10,300 buy-in, $5,000,000 guaranteed prize pool