Jesse May gives us an Exclusive Preview of the Poker Show, GUKPT Update + more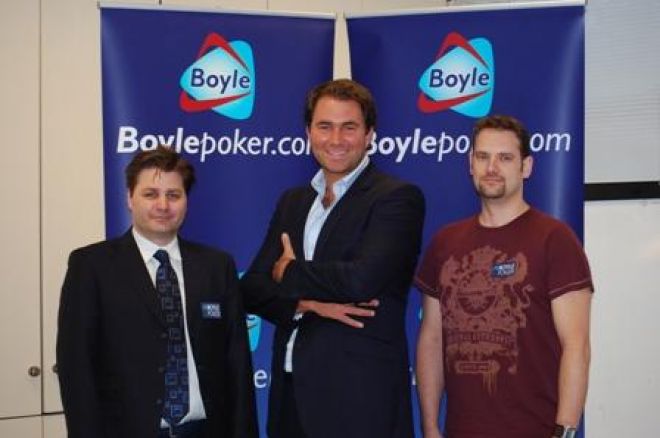 Jesse May Exclusive Preview of the Poker Show
We caught up with the Voice of Poker, Jesse May, to find out what to expect from his brand new live radio call in show. He will be co hosting the show with Matt Broughton and Padraig Parkinson on Sunday, Monday and Tuesday from 8-11 pm UK time.
"I realise now we probably should have done something like this a long time ago, but maybe the timing is just right. The principle of the show is that it is going to be live and listener generated, a bit like the very popular sports call in shows they have in the States. We are going to have topics to talk about each day and will be taking calls throughout the show. We are not really in direct competition with any of the podcasts out there, because we will be live all the time which most of them are not."
It's a pretty unique offering that as Jesse says, is either going to be a runaway success or rolling tumbleweeds:
"We call it the soundtrack to your online poker evening and we want it to be a hub for online poker players to hang out, all the poker junkies, sickos and crazies that we are guilty of being ourselves. We'll be looking at what's happening on all the major poker forums, poker blogs and websites like Pokernews. We will be broadcasting when most people are playing online poker anyway so we will be sweating some of the big tournaments on Stars and all the high stakes cash action on Full Tilt too."
"We also have some pre-prepared stuff, we have just been out to the Irish Open and we got some great interviews with Dan Harrington, Kara Scott and Neil Channing, as well as having a few secret guests lined up."
A late night, online poker call in show is going to occasionally get a little heated, are they preparing for the worst?
"Because we are online, censorship shouldn't really be an issue, it will be very unpredictable and we are expecting some people phoning in to shout abuse at us, plenty of people will be calling in drunk or claiming online poker is rigged. It's not a problem; if they can hold their own trading toe to toe insults with Padraig Parkinson then they deserve to be on the air. On the flipside if there is dead air then there is dead air, we'll just have to see what happens."
See for yourself at thepokershowlive.com.
GUKPT Manchester Day 1A
Day 1A of the Grosvenor UK Poker Tour Manchester event is in the bag and several big names have made it to day 2. 122 players made it for the first day and brand new Blue Square pro and former GUKPT champion Jeff Kimber is at the top of the chip counts. GCBPT champion Steve Holdsworth is just behind him and Surinder Sunar and Mickey Wernick are amongst the big stacks. Day 1B takes place today but the top ten runners so far are:

Jeff Kimber 88400
Stephen Holden 87075
Bo Cong Le 86775
Ross Parkhill 75450
Edward Roger 74000
Surinder Sunar 70475
Mickey Wernick 65650
Pete Haslam 55675
Harri Isomaki 5397
Courtesy of BlueSquare
PaddyPower Sponsor Scotland's Largest Ever Charity Tournament
Up to 2000 players could take part in the largest ever tournament seen in Scotland, a charity event courtesy of Paddy Power Poker. The Erskine hospital has provided nursing and medical care for more than 70,000 patients since 1916 and it is hoped that the Paddy Power Charity Poker Open will raise thousands of pounds to help re-build shattered lives.
An all expenses package to the 2010 Irish Open, 2 trips to Vegas and VIP Packages to Cheltenham festival are up for grabs in the £12 entry event at the Normandy Hotel, Renfrew Scotland. The way it works is four days of heats, which will be Sit and Go tournaments with the top 2 progressing to the next stage and then onto the final. The grand final will then take place on Saturday May 30th. The schedule looks like this:
Heat 1 – Saturday, 16th May
Heat 2 – Sunday, 17th May
Heat 3 – Saturday, 23rd May
Heat 4 – Sunday, 24th May
Grand Final – Saturday, 30th May
Paddy Power said "We are delighted to sponsor this tournament and look forward to not only hosting Scotland's biggest ever poker event but also to raising much needed funds for this incredibly worthwhile organisation"