James Dempsey Running Hot in Pokerstars SCOOP, Sunny Chattha 2nd in European Rankings + more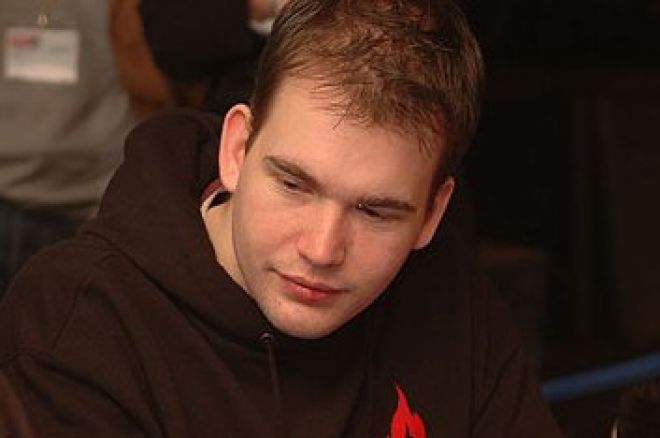 James Dempsey Running Hot in Pokerstars SCOOP
Popular UK player and part owner of the Blonde Forum
James 'Royal Flush' Dempsey
has got off to an absolute flyer in the Pokerstars.net Spring Championship of Online Poker. MKKMOO as he is known on Stars made the final table of event number one middle tier, the $55 6 max rebuy, coming 4th for $33,439.99. He then continued his amazing run middle tier hold'em events in the wee hours of this morning, when he came 2nd in the $320 no limit event, which netted him $204,000 after a deal.
We don't know officially yet, but that should put him right up in the top ten of the SCOOP leader board, where there is some tremendous added value on offer. The top three places in the SCOOP leader board get:
• Player of the Series trophy, 2009 WCOOP Main Event ticket, 2010 PCA prize package, 2010 EPT Monte Carlo prize package and a Special Edition PokerStars chip set
• 2nd - 2009 WCOOP Main Event ticket, 2010 PCA prize package and a Special Edition PokerStars chip set
• 3rd - 2009 WCOOP Main Event ticket and a Special Edition PokerStars chip set
It's great to see a UK player making big waves in this online festival which is proving a massive hit with players of all levels. Here is hoping 'Flushy' can make it all the way to the top of the SCOOP rankings by the end and if you want to have a crack yourself, download Pokerstars.net. Tonight sees the start of the stud hi/lo and the mixed hold'em events.
Picture courtesy of BlondePoker
Sunny Chattha Flying High in European Rankings
Its round about now that the PokerInEurope player of the year rankings start taking shape and a very in form UK player is already up there. GUKPT champion Sunny Chattha is sat in second place behind Tristan Clemencon of France, with Joe Grech who he played heads up occupying 10th. Chattha started the year coming second in a Broadway Festival event before winning the GUKPT Walsall title, which he followed up with a second place finish in a GUKPT side event at the Vic.
Just outside the top ten is his Hit Squad buddy James Akenhead and if one thing seems certain, there will be at least one Hit Squad member in the top ten by the end of the year, such is their tremendous group form right now. The rest of the top ten looks like this:


1st Tristan Clemencon (France)
2nd Sunny Chattha (England)
3rd Heinz Kamutzki (Germany)
4th Jose Severino (Panama)
5th Jens Kyllönen (Finland)
5th Moritz Kranich (Germany)
7th Peter Hedlund (Sweden)
8th Arnaud Esquevin (France)
9th Jussi Nevanlinna (Finland)
10th Joe Grech (England)
Picture courtesy of Blue Square
Simon Auckland wins 2009 Welsh Amateur Poker Championship
Last weekend, the Grosvenor Casino in Cardiff was the venue for the latest leg on the APAT tour, the Welsh Amateur Poker Championships. 160 players sold out the event within minutes, as they always do on the APAT tour and this generated a £3,200 first prize to the eventual winner Simon Auckland. This win will have had special significance for Auckland as this was amazingly his fourth APAT final table (but his first title).
The tour continues with the Irish Amateur Championship in Dublin at the end of May.
Picture Courtesy of APAT
Ladbrokes Rake Race is better than Rakeback
We brought you the news last week that Ladbrokes Poker were extending their $1 Million Dollar Rake Race by 5 months to August and that's great news for all of you grinders out there. The top 3,500 rakers will share the $1 million prize fund each and every month and Nigel Blower of Ladbrokes has shared why it's so popular:
"Other sites have tried to copy – but Ladbrokes Poker is the original, the biggest, the best and also the most transparent. Feedback from our players suggests that the reason why the promotion has proved so popular is that they feel that they fare much better under the Rake Race promotion than they did under the old system we operated."
This all comes from a post on a poker forum that has revealed that the rake race is working out much better than the standard 30% rake back offered previously on Ladbrokes and other MicroGaming skins, they worked out that the winner of the race in February got the equivalent of 61% rake back and anyone in the top 15 got at least 43%

Place Rake Bonus Rakeback
1 $33,031 $20,000 61%
2 $32,147 $15,000 47%
3 $30,303 $14,000 46%
4 $29,590 $13,000 44%
5 $26,660 $12,000 45%
6 $26,180 $11,000 42%
7 $20,088 $10,000 50%
8 $17,701 $9,000 51%
9 $17,035 $8,000 47%
10 $15,407 $7,500 49%
11 $14,353 $7,000 49%
12 $14,121 $6,500 46%
13 $13,408 $6,000 45%
14 $12,602 $5,500 44%
15 $12,245 $5,250 43%

April is only a week old so why don't you see if you can get better than 30% now at Ladbrokes Poker, we can almost guarantee you will with an exclusive $1000 sign up bonus when you join via Pokernews.