GUKPT Manchester Starts Tomorow, Team PKR Pro Revealed + more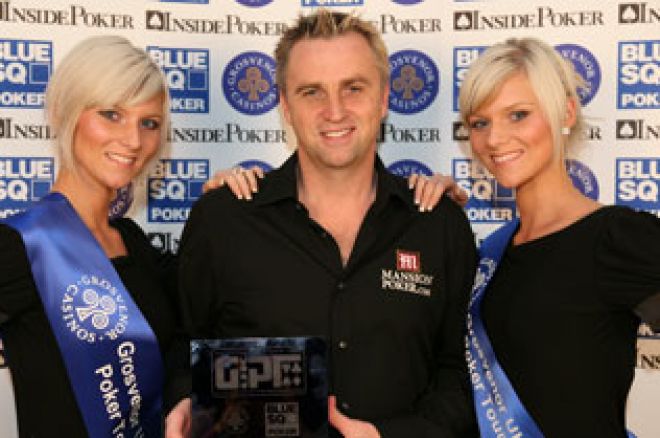 Manchester GUKPT Starts Tomorrow
The tour is back in town as the Grosvenor UK Poker Tour sets down in Manchester for nine days of poker. Last year Marc Goodwin started his dominance in the European and GUKPT player of the year rankings when he took down this event and it was also the event where Dave Colclough almost pulled off a similar feat in 2007. The G Casino will play host to nine events in total, all of which have a seat in the Champion of Champion events going to the winner:

Sat 18 Apr 6.00 pm £ 100 + 10 No Limit Hold'em
Sun 19 Apr 6.00 pm £ 150 + 15 Pot Limit Omaha
Mon 20 - Tue 21 Apr 8.00 pm £ 200 + 20 No Limit Hold'em
Tue 21 - Wed 22 Apr 8.00 pm £ 300 + 30 No Limit Hold'em
Wed 22 Apr 8.00 pm £ 250 + 25 Pot Limit Omaha
Thu 23 - Sun 26 Apr 2.00 pm £ 1,000 + 60 No Limit Hold'em - Main Event
Thu 23 Apr 8.00 pm £ 100 + 10 No Limit Hold'em Fri 24 Apr 8.00 pm £ 100 + 10 No Limit Hold'em
Sat 25 - Sun 26 Apr 8.00 pm £ 250 + 25 No Limit Hold'em
Sun 26 Apr 6.00 pm £ 100 + 10 No Limit Hold'em

New UK Tour Planned
CelebPoker, who have previously held tournaments that have included, as the new suggests, celebrities, have announced they are re-entering the live poker market. A series of UK and European events are planned, with not much else being revealed other than they will be 'off the wall' and will capture the Nations obsession with celebrity culture.
A spokesman said "The game's become too serious. We want to bring back the fun into the live arena. Imagine this: one minute you're playing against your mates in the pub, the next minute you're sat next to rogue trader Nick Leeson trying to work out if he's bluffing. Now that's what I call poker!"
Hmmmm, with A List celebrities like Nick Leeson potentially lined up, every event is sure to be a sell out.
PKR Reveal Team PKR Pro
As we mentioned yesterday, PKR unveiled the first six members of their team of sponsored professionals last night at an event in London. Rather than going for a number of household names, this group represents the future of online and live poker, with up and coming stars from their own ranks. Some you may have heard of, some you may not have, but you certainly will hear from some of them again in the not too distant future, they are:
Henrik 'Pokey85' Eklund a young Swedish high stakes cash player who came 2nd in the inaugural PKR Live event last year and later winning a side event at the APT Manila. Ashley Hames of London, whom you may know as a TV presenter and writer, who presented Bravo's highest rating show ever, Sin Cities. He is also a serious player, who has been playing at the Vic since 2000.Raymond 'callmebabe' O'Mahoney of Dublin who is another high stakes cash player and also made a PKR Live final table last year.
The most successful live player is