Gabegnagare and SCNoodle win big as Sunday Million takes a break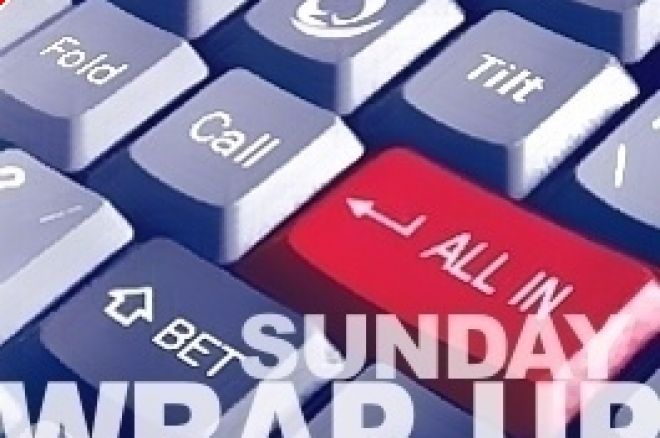 I spent the first half of the night watching a live final table at my local casino. I love watching other players and how they act when they're bluffing or they have a great hand. By the time I got home I was still really in a poker mood and so I turned on my laptop and watched the Sunday night big online tourneys.
I got in just in time to see manitu895's departure. He pushed all in pre-flop utg and to be called by JohnnyDepp from the button. Cards on their backs showed manitu895 with


and JohnnyDepp with pocket ladies (no surprises there then!)


. A board of





meant JohnnyDepp took the pot and manitu895 had to sail away to the rail in 7th place.
Hgoblin was next out, pushing his short stack all in from a late position with


to be called by Kameleont who was holding


in the big blind, a non eventful board sent Hgoblin on his way in 6th place. Kameleont's victory was a short one though as he was the next player out, taking a bad beat from hoodini10. Kameleont pushed all his chips over the line pre-flop with


, hoodini10 called with


. Flop



left hoodini in a very bad place but he managed to pull some magic out of the bag and the

floated down on the turn, river

. Hoodini made all Kameleont's chips reappear in his own stack sending Kameleont off in a puff of smoke in 5th position.
Next out was short stack jasondvk who went all in from the small blind with


and was called by the big blind Gabegnagare who showed


, there was indeed an ace from space and that meant a 4th place finish for jasondvk. Almost straight after hoodini10 and JohnnyDepp went head to head hoodini going all in pre-flop with


and JohnnyDepp calling with


. Although both players hit an ace and the board paired





the rest of the cards were too low and kickers played. JohnnyDepp was out in 3rd place and it was heads up.
Heads Up only lasted about ten minutes. Hoodini10 had a strong chip lead going into heads up but Gabegnagare wasn't daunted by it, doubling up and taking a few smaller pots to become chip leader and then dealing the final blow in this


vs.


hand as seen below. Congratulations to Gabegnagare for winning this weeks Sunday Warm Up and for a great come back.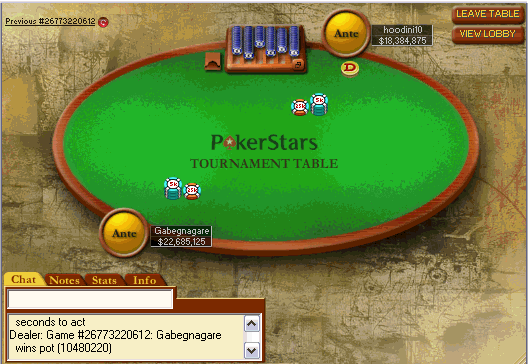 Final table results:
1: Gabegnagare - $105,960.60
2: hoodini10 - $73,926.00
3: JohnnyDepp -$49,284.00
4: jasondvk -$41,070.00
5: Kameleont - $32,856.00
6: HGoblin -$24,642.00
7: manitu895 - $16,428.00
8: xMillet6La - $10,267.50
9: Brett Favre -$6,653.34
Sunday $250k guaranteed – PokerStars
Even with all the other big events going on, the quarter million guaranteed at PokerStars still drew in nearly 30 thousand players from all over the world. The game is only $10 +1 to buy in and with satellites as well is accessible by everybody. $27,753.31 was the first place prize and was a huge return on investment for scottofaz who eventually took it down after nine and a half hours.
Congratulation to scottofaz and all the other players who managed to cash in this game.
Final table results:
1: scottofaz - $27,753.31
2: crym3ariv3r - $20,449.81
3: hatnut83 - $14,607.01
4: BustoNuts - $11,685.61
5: hondt - $8,764.21
6: jessica652 - $5,842.81
7: ACEWDEWY - $4,382.11
8: joesid88 - $2,921.41
9: maklaud - $2,191.06
$750k Guaranteed – Full Tilt
3882 players entered this $750k guaranteed tournament this week, including 45 FullTilt poker pro's. The FullTilt pro that got the furthest was Jordan Morgan who just missed out on the final table when he got knocked out in 10th place for $7,453.44. It was SCNoodle who finally took down first place after ten hours of play.
Final table results:
1: SCNoodle - $137,461.62
2: DaMurdera3 - $83,074.80
3: POCKET FIVE - $54,348
4: Brendon Rubie - $42,857.28
5: younggun03 - $32,142.96
6: brin1285 - $23,835.48
7: AAAA Quads - $17,857.20
8: DUMBO DUMBO - $13,975.20
9: jolymumbo - $10,403.75
Congratulations as always to all the winners and good luck to those of you still playing SCOOP events.