Erick Lindgren - Poker Legend Erik Lindgren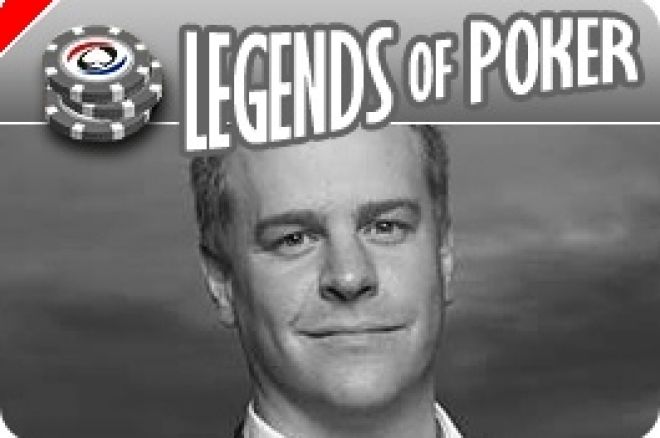 He never made it as far as winning the prestigious Maurice Podoloff trophy for the most valuable basketball player, but he did end up with a successful poker career including one WSOP bracelet and two WPT titles. As a student,
Erick Lindgren
, born on August 11th, 1976 in Burney, California, spent most of his time playing sports, including football, baseball, but especially basketball. His dream was to become a professional basketball player in the NBA. How different things ended up going for Lindgren is something the poker world was able to find out over the past years.
For a long time, Lindgren's talents seemed to be limited to sports. Together with his friends Erick would spend entire days keeping himself busy with different sports, but it was in basketball where Lindgren really excelled. He dedicated a lot of his time to basketball and tried to make his way into the NBA by playing college basketball. However, it soon became apparent that Lindgren just wasn't quite good enough for the real top, so he was forced to give up that dream.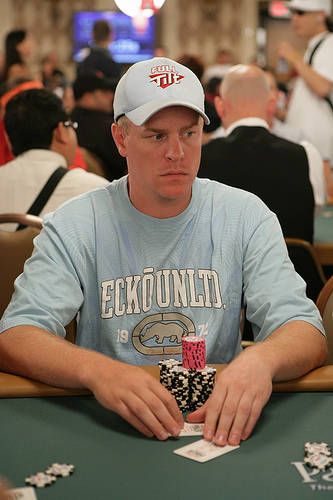 The 10 sweaty athletes on the basketball court, ordered around by a busy referee, made room for the green felt of the poker table and a dealer who just kept on shoving the chips over to Lindgren. Since the very first time that Erick sat down at a $3/$6 Hold'em table he was sold. Lindgren, 19 years old at this point, was so fascinated by the game that it has become a big part of his life since that day. The effect that poker had on him became apparent very soon after he quit university after just 6 months in order to fully focus on poker. After spending some time at the San Pablo casino in California, he gets offered a job as a prop player by the casino owner Bill Edler. Seeing as Lindgren was a little hard-pressed for money at that time, he thankfully accepted the offer.
When Lindgren turned 21 he decided to move to Las Vegas to really make it there. Once in Vegas, he runs into other young players of the same age, including Daniel Negreanu, Phil Ivey and Kirk Morrison, with whom he quickly forms a strong bond because at that time, they were the exception in a world that was largely dominated by older men. Apart from being a live grinder, Lindgren has also made quite a bit of money playing online. As soon as the online poker boom kicked in, Lindgren was playing everywhere where he could find good games, as a result of which he was quickly able to win a lot of money from the worse players. Although online poker is running good for E-Dog, he is more drawn towards the live tournaments and cash games. During the Five Diamond Classic at the Bellagio in 2002, Lindgren secured his first big win after taking down the event for $228,192. Lindgren also made a name for himself internationally after finishing in 5th place during the WPT Paris event in 2003 for $65,565. Only a couple of months later he won his first WPT title after winning the WPT UltimateBet Poker Classics II Event for $500,000. Only five months later Lindgren tops this success with his win of the PartyPoker Million, making him $1,000,000 richer. Back in 2004 this event was still part of the World Poker Tour, so Lindgren suddenly had two WPT titles to his name, all within less than half a year.
After taking down two big events in a very short time span, there is a long 'drought' period for Lindgren in which he couldn't add another big success to his resume, despite numerous good performances. Something that was really getting to Lindgren at this time was that he was being seen as the best player without a bracelet. Last year, at the World Series of Poker 2008, Lindgren finally put an end to this by taking down the $5,000 No Limit Hold'em event after beating an impressive final table including Justin Bonomo, Andrew Robl, Roland de Wolfe, Chino Rheem, Howard Lederer and David Williams. His fantastic performance during that event was rewarded with $372,505 in prize money, but more importantly, his first WSOP bracelet.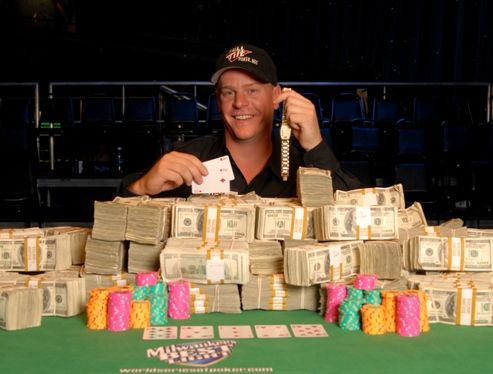 But Lindgren wasn't done yet. After finishing 10th in a $1,500 event , 4th in the $5,000 2-7 Triple Draw event, 18th in the $10,000 Heads-Up event and 3rd in the $50,000 HORSE event, he collected enough points to take a big lead on the Player of the Year leaderboard. During the WSOP 2008, Erick Lindgren picks up $1,348,528 in prize money, and with his first WSOP bracelet in the bag, he can now definitely be added to the group of poker superstars.
Besides his good performances at the poker table there is something else that Erick Lindgren is well known for – sports betting. Probably the most famous bet he ever made was one with Gavin Smith and Phil Ivey. According to the bet, Lindgren had to play four whole rounds on the hardest golf course in Las Vegas in 24 hours. As if that wasn't already hard enough, Lindgren had to go everywhere by foot, was not allowed to have a caddy and had to shoot under 100 for all four rounds. Against all odds, Lindgren ended up winning the bet and received $355,000.
Clips of this prop bet:
Part 1
Part 2
Today, Erick 'E-Dog' Lindgren lives in Las Vegas, where you can find him at the greatest casino's playing the biggest cash games.