Win a Seat to the SPUKT Main Event for Free with Sky Poker and Pokernews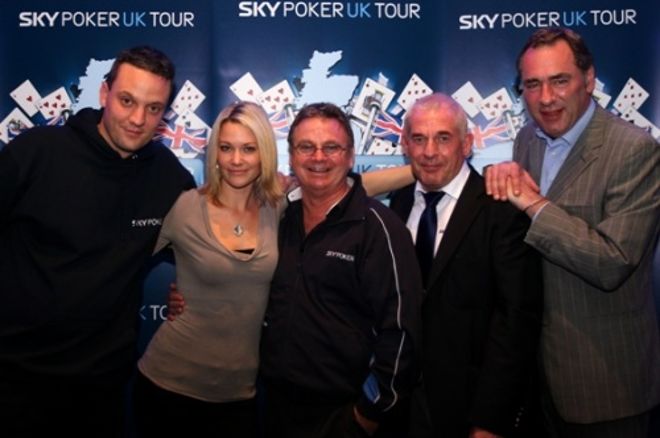 Pokernews are very excited to announce that we have teamed up with Sky Poker to send some lucky readers to the Sky Poker UK Tour Main Event in Nottingham for free. Sky Poker have been sending players all round Britain to some of the best poker destinations that the UK has to offer, and it started with Dusk Till Dawn and it will end with Dusk Till Dawn.
You can join Sky Poker Presenters such as Norman Pace, Tony 'Tikay' Kendall, Michelle Orpe and Matt Broughton at the undisputed home of poker in the UK, DTD. The tours main event is a £220 competition held on the 13th and 14th of June and the only way to attend is to either make the final table of a preceding event or win your seat online. All the events have been a sell out so far and all have had an atmosphere more closely comparable to a party than a poker tournament.
The grand final will be something to behold, as for a £220 entry fee you can experience poker of the highest level at the plush surroundings of DTD for a modest buy-in. DTD will also be hosting cash games and a number of other tournaments over the weekend. The main event has a whopping £25,000 guarantee and will be televised, so you can not only win a small fortune but also make a name for yourself at the same time.
But if you want to find yourself at this much coveted main event for practically nothing, we are giving away two free seats to this event courtesy of Sky Poker. The first SPUKT Freeroll will take place on the 4th of April at 20:00 GMT and will be open to anyone who signs up to Sky Poker via UK Pokernews and accumulates 250 Sky Poker points between the 1st and 31st of March, which shouldn't take very long at all and with a £500 sign up bonus thrown in, is tremendously good value. The promotion is also open to anyone who has previously registered a Sky Poker account providing they meet the monthly poker points criteria.
Once you have earned 250 Sky Poker Points, all you have to do is register for the freeroll by going to the Pokernews SPUKT in the Sky Poker tournament lobby on the day of the freeroll. If you have any registration issues or questions, all questions will be answered in our forum. Watch out for the next SPUKPT Freeroll for which qualification will begin in April.