DTD Deepstack this Weekend, PaddyPower Cheltenham Bounty Tournaments + more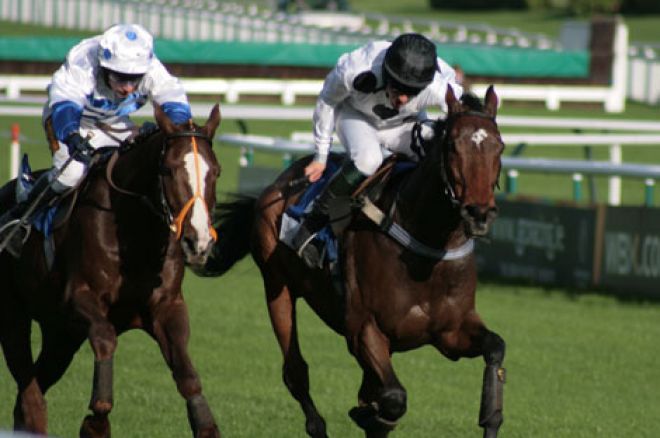 PaddyPower Cheltenham Promotion
As just about every poker player in the UK who has had a dabble on other forms of gambling will know, next week is the start of the biggest horse racing festival of the year, Cheltenham. Paddy Power Poker, who have always bridged the gap between poker and sports betting, a celebrating this with a series of speed and rebuy tournaments entitled 'Why the long face?'. The Cheltenham bounty tournaments will take place each evening at 7.45pm, with a $100 bounty awarded to the player that knocks out the bounty horse named after the winner of that day's feature race. The poker room has also scheduled daily 5 Furlong speed rebuy tournaments at 11.15am to allow punters to prepare for the racing with fast-moving poker action.
The schedule for which looks like this:
• Tues, March 10th @ 11.15am: 5 Furlong $1 + 10c speed rebuy
• Tues, March 10th @ 7.45pm: Champion Hurdle $5 + 50c rebuy bounty
• Weds, March 11th @ 11.15am: 5 Furlong $1 + 10c speed rebuy
• Weds, March 11th @ 7.45pm: Champion Chase $5 + 50c rebuy bounty
• Thurs, March 12th @ 11.15am: 5 Furlong $1 + 10c speed rebuy
• Thurs, March 12th @ 7.45pm: World Hurdle $5 + 50c rebuy bounty
• Fri, March 13th @ 11.15am: 5 Furlong $1 + 10c speed rebuy
• Fri, March 13th @ 7.45pm: Gold Cup $5 + 50c rebuy bounty
"The Cheltenham festival is one of the most exciting on the racing calendar and we love being involved" said Paddy Power, Communications Manager at paddypowerpoker.com. "We are roping in some of the world's top horses for our Cheltenham bounties – if you can knock out the equine star, you'll be riding high with an extra $100 in your saddle bags!"
Another fantastic idea from Paddy Power Poker, a poker room that really has their finger on the pulse of the UK gambling community. Don't forget that you can also win your seat to the Irish Open exclusively at Paddy Power Poker - the only place where you will also be eligible for the €100,000 Sole Survivor Package for the last Paddy Standing.
[B]APAT Confirm World Championship Of Amateur Poker Details
APAT have announced details of their largest and most varied festival of the year, the World Championship Of Amateur Poker (WCOAP). Unlike all the other festivals, which are a single hold'em events, this is a 4 day festival that also boasts a PLO event and a HORSE event, all for a very affordable buy-in with a deep starting stack. Where else to host such a generous event than Dusk till Dawn, the home of UK poker. Remember that you will probably not be able to buy-in on the day as it sells out fast, so go to the APAT website for more details. The full schedule looks like this:
August 27th
WCOAP Pot Limit Omaha Championship
1 Day / 5.00pm start / 81 players
10,000 chips / 30 minute clock
£50 Entry Fee
August 28th - 30th
WCOAP World Amateur Championship Main Event
3 Day / 4.30pm start / 300 players
10,000 chips / 45 minute clock
£100 entry fee
Day 1A - August 28th
Day 1B - August 29th
Final - August 30th (3.30pm start)
August 30th
WCOAP Horse Championship
1 day / 3.45pm start / 48 players
6,000 chips / 30 minute clock
£50 entry fee
DTD Deepstack This Weekend
While we are on the subject of Dusk Till Dawn, once again they are hosting their monthly deepstack mini festival which comprises of the £300+£30 main event on Saturday at 7pm and the £150+£15 side event on Sunday at 3pm. Last month the event sold out by 5.20pm and smashed all records by holding 360 players (From the cap 0f 270) after all the alternates and made for a whopping £108000 prize pool.
This month, DTD have confirmed they will not go over the allocated cap of 333 no matter how much demand there is and urges everyone to register in advance online to avoid disappointment. Cash games and side games will of course run throughout the weekend. Last month Sandeep Shah won an amazing £32,029 in this event, which surely has to be the best value tournament in the UK for under £500.
£200 Freeze Out tonight in Leeds
The GCBPT might be cancelled, but poker is still a big part of the Gala Casino chain and they are hosting a special one off event tonight in Leeds. A £200 freezeout with a generous 10,000 starting stack, deep structure and 25 minute levels. The event starts at 8pm and there is a free buffet for all players.