Norman Pace - Interview with Sky Poker Presenter Norman Pace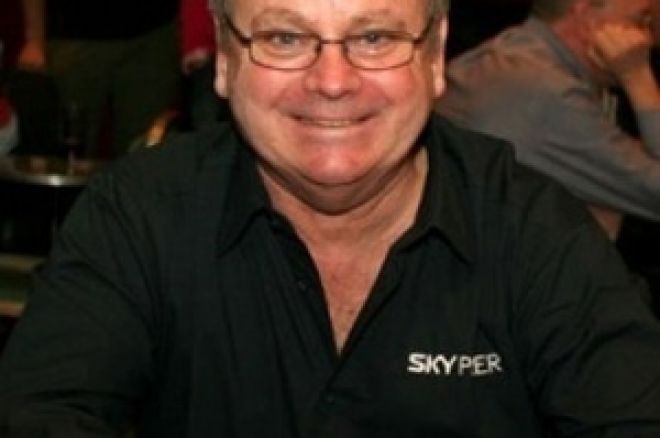 Celebrities playing poker is nothing new these days, not only is it commonplace to see well known faces gracing the felt and endorsing poker rooms at the same time, we event have celebrity only poker tournaments. Celebrities who actually know the first thing about poker are a much rarer commodity and one of those such celebrities is clearly
Norman Pace
. One half of the comedy duo Hale and Pace is now a seasoned player and respected analyst on Sky Poker. We caught up with Norman Pace ahead of the upcoming Sky Poker UK Tour (SPUKT) Grand Final in Nottingham:
Pokernews: So what turned you on to poker in the first place?
Norman Pace: Like a lot of people I discovered poker through the show Late Night Poker, I would come home late at night from TV tapings and it would be on. I didn't really understand the game but was fascinated all the same. Then one day I went to a charity golf do in Scotland and Barry Hearn and Steve Davis were on the plane. We got talking, I knew they were involved in TV poker and they got me playing that very night – I was hooked and started up an online account the very next day.
PN: You come from a serious poker playing family, your wife Bev is the World Women's Open winner and both your sons play too, what's that like?
Norman Pace: Well the good thing is you can always find a game, we invested in a full size poker table and we use it a lot. My eldest son is in Australia at the moment and he is going to the Crown Casino to play poker all the time. More than anything, there is a great deal of poker talk in our house, lots of study there and we talk about hands all the time. I'm the one that always has his head in the books or is watching the Cardrunners videos, then I pass the information around my family.
PN: You actually seem to be one of the more knowledgable analysts on Sky Poker despite many of the others coming from a pro playing background, is that fair to say?
Norman Pace: Yes I am very bookish as poker is concerned; when I first started I really wanted a knowledge edge in this game. I think that most people can educate themselves about poker to a decent level by simply studying, beyond that some people are just gifted players, they know when to make the right move at the right time, that's what separates the pros from the rest of us. Some people play purely on 'feel' but I much prefer the maths behind the game.
PN: So with that in mind, what do you want to get out of this game? Do you have any big playing ambitions?
Norman Pace: I have not officially started my playing career yet, I want to build a bankroll and then spend a year as a professional. I met Jon Kalmar on the Ladbrokes Cruise a few years ago and he has been an amazing mentor for me, but I'm not quite ready yet. Really, I want to be a profitable online cash player, with a really good multi tabling set up and work through the levels. I'll be playing hold'em, I have dabbled in PLO as most people do but the idea of putting 100 grand in the middle with 25% equity like some of the top players on Full Tilt do quite frankly scares me, I'm not a huge gambler. I also want to play the GUKPT's and SPUKT's, but that's more about fun for me.
PN: Onto the Sky Poker UK tour, you made the final table last time, just how tough was it?
Norman Pace: Yes I made the final table off my own back last time out in Edinburgh. I have actually played all these events, the standard was quite low at first but as more people are hearing about it, it's getting a lot tougher. I had a really tough table last time out, with APAT champions and a few pros, who presumably thought there was a lot of dead money out there. There won't be many fish at DTD, that's for sure.
PN: Finally, We have to ask – would you prefer a WSOP Bracelet or the Stonk to get rereleased and go triple platinum?
Norman Pace: We'll, both would be plus EV, but I would have to say the bracelet. I know a lot of people might think 'oh dear, another celebrity discovering poker' but I did identify it as a beautiful game a long time ago. You certainly do have to earn your spurs in this industry, but I think people realise now I am not in this for the short term.
If you want to play in the £220 SPUKT Main Event at DTD in Nottingham with Norman for FREE then we are giving away a seat away in our freeroll on the 4th of April and a further seat will be up for grabs in May. All you have to do is sign up a new account via our Sky Poker links and earn 250 Sky Poker Points, you will also be eligible for a £500 sign up bonus. For more information, check out our freeroll section for more details.