Mike Sexton - Poker Legend Mike Sexton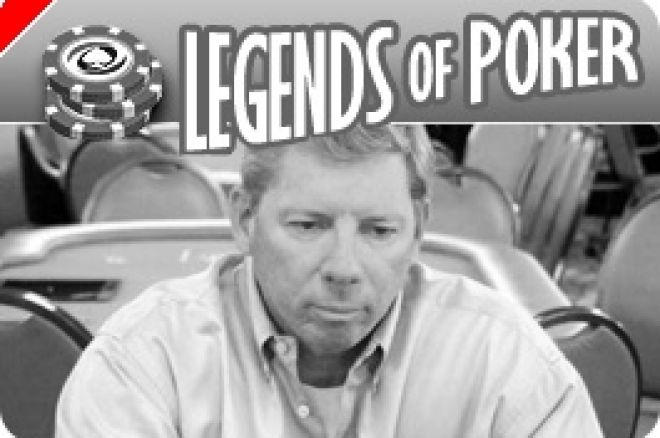 Mike Sexton
was born on September 22nd, 1947, in a small town called Shelby in the State of Indiana. We know Mike Sexton as the commentator of the World Poker Tour, but there is a long preceding history before he became the face of the international poker circuit.
The youth of Mike Sexton takes place in the American lowlands, where it soon becomes apparent that Mike is a gifted sportsman. There is a lot of talent in the Sexton family, and Mike and his brother both received full scholarships as gymnasts at the university of Ohio, something that wasn't very common in those days. During his time at university Mike would play card games like gin rummy and poker almost on a daily basis.
A good start
Mike came into contact with poker for the first time towards the end of elementary school when he learned the game from his friend Danny Robinson. This Danny Robinson later grew up to become one of the world's best Seven Card Stud players. A good basis was therefore laid right from the start and Mike Sexton was completely sold on this interesting game.
The years at university go by and Mike is starting to realise that he has a lot more insight and feeling for the card games that he and friends are playing during their free time than he had initially thought. By playing regularly with Robinson, Mike quickly reached a skill level which enabled him to easily beat the homegames during that time. The talent Mike inherited from his family becomes apparent, seeing as his father had already spent most of his life playing bridge and was quite a profitable player. After spending almost every day of his studies playing poker and bridge, Mike did eventually end up graduating from university.
After completing his studies, Mike joins the army and is stationed in Fort Bragg in North Carolina. After his two-year enlistment was up, Mike was offered a job as a teacher at a dance school. Besides being a dance teacher Mike starts working for the new company of an old friend who sells articles at military bases in North and South Carolina. The years go by and Mike spends more and more time playing in the local poker games where all variations are being played. After getting divorced from is wife and losing his job his poker career takes off and hasn't ended to this day.
Life as a professional
In the following eight years, Mike Sexton plays in all the interesting live games in the greater surrounding area, making a nice profit in the process. In 1985, Sexton moves to Vegas at the age of 38 to make a living as a professional poker player. Mikes great advantage when starting to play in Vegas is that he is very skilled in all poker variations, seeing as in Carolina it was very common to play a mix of all games. In Vegas, however, the demand for games was so high that each game got it's own table. Mike therefore picked out the best games he could find and managed to climb up the limit ladder. At this time he also started playing various poker tournaments aside from just cash games.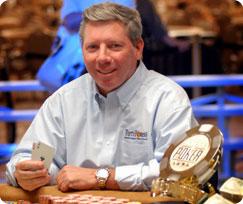 It doesn't take long for Mike to enjoy his first successes in tournament poker, and in 1989 Mike Sexton wins his first and only WSOP bracelet to date in a Seven Card Stud hi/lo event. Until this day, this was Sexton's most important victory, who sees a bracelet as the most coveted prize in poker, just like many other poker players. In the years to come Mike reaches numerous other final tables during WSOP events but never manages to secure his second bracelet.
During his time in Vegas Mike also comes into contact with all the big poker players walking around at that time and he becomes close friends with players like Doyle Brunson and Stu Ungar. When the latter started suffering from a severe alcohol- and drug-addiction, Mike did his best to try and help Ungar with his problems.
As time went by, Ungar's addictions became more and more severe, finally ending with his death on November 22nd, 1998. His death came as a great shock to the entire poker world, but for Sexton the loss was especially hard to bear. At Ungar's funeral, Sexton and 5 other close friends are the ones carrying the coffin and Sexton pays his last respects to Ungar by speaking on behalf of the poker world.
The ambassador of Poker
In the following years Mike Sexton starts spending more of his time organising poker tournaments, which eventually results in him setting up the Tournament of Champions. The idea of a tournament which features all the tournament winners of the past year comes from another sport that Sexton is very fond of…golf.
Unfortunately for Mike Sexton, the Tournament of Champions is not very successful and after three years the event disappears from the tournament calendar. However, the failure of this event opens a new door for Mike Sexton, who becomes the face of PartyPoker and the World Poker Tour.
Starting in the year 2000, Mike Sexton becomes the face of PartyPoker and he sets up the PartyPoker Million. This tournament had a guaranteed first prize of $1 million, and players could qualify online for as little as $22. In the first year, the cruise actually costs PartyPoker a lot of money and they suffered a loss of several hundred thousand dollars. This got people thinking. The online players now knew where to find PartyPoker as a result of a big advertising campaign and in no time, PartyPoker grew to become the most popular poker room at that time. It is often said that Mike Sexton is responsible for the rise of PartyPoker.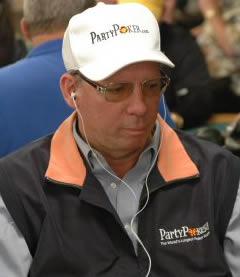 While working for PartyPoker, Mike Sexton comes into contact with Steve Limpscomb, who is busy setting up the World Poker Tour at that time. A series of big tournaments with large buy-ins should be a success on TV, and due to his success with PartyPoker, Mike Sexton is the man for the job. Without any real expectations as far as success went, PartyPoker signed a one-year sponsorship deal with the World Poker Tour, resulting in Sexton appearing during many commercial breaks as the face of PartyPoker.
Meanwhile, the World Poker Tour has turned into a huge success and Mike Sexton is still the face of the international poker tournaments. Together with his colleague Vince van Patten, Sexton makes sure that the viewers at home get a clear picture of the action without being overloaded with difficult situations that would make watching a lot more uncomfortable. Mike Sexton always tries to give an objective view without criticising players for making certain moves.
Over the years Mike has produced numerous memorable sayings during the World Poker Tour shows, but some of the most well-known are undoubtedly: "May al your cards be live and your pots be monsters" and "The name of the game is No Limit Texas Hold'em, the game that takes a minute to learn but a lifetime to master".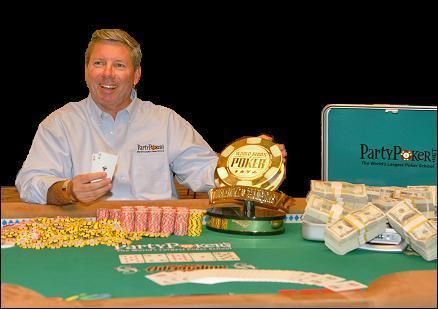 In 2006 there is a one-off Tournament of Champions event, organised as a part of the World Series of Poker, and Mike sexton ended up winning the tournament. The first prize of $1,000,000 is Sexton's biggest win ever, even though he donated half of his winnings to charitable organisations. During the last World Series of Poker, Mike beat a tough field to reach the final table of the $10,000 Pot Limit Hold'em event. Unfortunately for him he had to watch Nenad Medic take down the event, but he still took home nearly $250,000
Mike Sexton currently lives in Las Vegas, Nevada, but due to his job that requires him to travel all over the world, he is seldom at home. His total poker winnings to date amount to $3.703.443,- and with his 44 cashes at the World Series of Poker he currently ranks 12th on the all time leaderboard.