Matt Broughton - Interview with Sky Poker Presenter Matt Broughton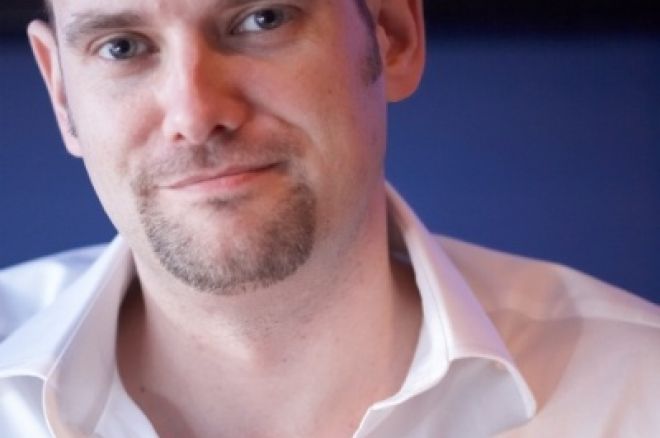 Like many of his colleagues at Sky Poker analyst
Matt Broughton
has many feathers in his cap. A former poker magazine editor, author, player and presenter and now it would appear musical parody writer. Matt has recently gained cult status in UK poker circles for musical send ups of well known UK players, to the tune of recent chart hits. Thus far the Devilfish, Simon Trumper and Lucy Rokach have been the subject of his ditties. We caught up with him to find out what prompted these tunes (Which you can hear for yourself at the bottom of this page) and to discuss the upcoming Sky Poker UK Tour.
Pokernews: So, the truth is out, the poker gig is purely a way of forwarding your music career?
Matt Broughton: LOL! Nah, it was one of the amazing accidents that i never really thought anyone besides a handful of people would see. I've been in bands since I was about 18, and you can hear me singing and playing (if you REALLY want to) at myspace.com/wasteronline. Needless to say our drunken plans to 'do Wembley' fell by the wayside when real life took over. The Bastard.
PN: The Lucy Rokach song was the first and possibly most popular one, what prompted you to write it?
Matt Broughton: I was asked to do a voice-over for the EatMyStack podcast, and among the stuff I was asked to do they included "give your thoughts on the Lucy Rokach interview" that was part of that particular cast. In all honesty she just sounded REALLY miserable; moaning on about all these aggressive young players ruining her time at the tables, and having best part of nothing positive to say about anyone playing poker online. I didn't really want to say nothing, but it was hard to say ANYTHING without just going: "gosh, she sounds bitter".
Anyway, entirely coincidentally I'd had a comedian called Chris Cohen as a guest on Sky Poker's The Club, and he had found some fame on YouTube making up a song about ex-England Manager Steve McClaren. It just struck me that if I did 'my thoughts' in musical form it would seem more 'tongue in cheek' and less offensive. And that was it; the subjects in the song are just what she spoke about, just put to music in an amusing way!
PN: Did you always want to do musical send ups of poker players or did something spark it?
Matt Broughton: It was a total accident and not anything I'd ever considered. I've written a bit of comedy in the past, and been writing songs since I was 18, but never put the two together before.
PN: Have you heard back from the Devilfish/Lucy/Simon on what they think of the songs? Surely you don't want to anger the Devilfish?
Matt Broughton: I've never actually spoken directly to Lucy but have heard from friends that she is fine with it. I think people know they are just meant as a bit of fun and not meant to truly cause offense. I've met and played with Lucy a few times and she seemed entirely charming to be honest. Simon is a splendid chap, and I'd worked with him back on Poker Night Live and we always had a good rapport so I was sure he'd be fine with it. I spoke to him recently and he was so fine with it they even asked to put up the video on the DTD web site.
Devilfish was a much more tricky one as it was something specific - i.e. his hair. I knew that that was the one song of the three that could be taken personally, so I wrote to him saying "If you even vaguely insulted, just say and I'll take it down". He initially tortured me with some jokey/threatening emails, but we eventually spoke on the phone and he went from saying he'd break my neck so asking if I'd write him a song! I think he suddenly realised this thing was becoming slightly 'cult-y' and started enjoying the attention. I'm sure Dave has been REALLY insulted by far more intimidating people than me in his time. He is well-known for his sense of humour so I never really doubted he'd take it on the chin, otherwise I just never would have done it (I'm not stupid you know!)
PN: Have you got any more in the pipeline? Do you take requests?
Matt Broughton: No more planned, simply because they were never planned anyway! Lucy and Simon were as a direct result of the podcast work, but then Eatmystack went from podcast to a live radio show, so they weren't needed any more. People kept asking what was next, and its only after I spent an evening at a party chatting to Devilfish and staring at his hair that I thought that might make people chuckle just because everyone ALWAYS says: "What is up with Dave's hair?" People are still asking all the time and making requests. The current top spots are Tikay and Durrrr. A WEALTH or material there for sure.
PN: What comes first, the person you want to sing about or the song you want to parody?
Matt Broughton: They kinda of come together to be honest. With Lucy and Simon I knew it would be them for the podcast, and once Lucy's was going to be "Bitter bitter bitter" etc the Rhianna song was obvious, and Trumper being "Stuck in Nottingham" was also an easy one. As for "That's not his hair" it was really just what people were saying, and along came the Ting Tings!
PN: Do you fear a Matt Broughton song hitting the internet soon in retaliation? How would that song go?
Matt Broughton: Well funnily enough Devilfish originally offered me 1000/1 on any amount that I could pick a random hairdresser in any town and we would go in to prove it was his hair. Then he said I would have to send him a picture of me so he could write a song about me. I got very excited at the thought of Devilfish writing a song about little old me, but all he managed was a kind of child-like attack on my forehead, which was disappointing. He then asked if I would write a song slagging myself off that he could record. Needless to say I declined this 'kind' offer. Strikes me the obvious target would be the little goatee beard, but then again I guess I can just shave that off. If things had got out of hand with Dave I was going to suggest a heads-up best of three poker game where the loser had to shave off all their hair. In case he ever fancies it I'll even throw in the goatee for free!
PN: Finally, we'll be seeing you at the SPUKT Grand Final in June, are you looking forward to that?
Matt Broughton: Yeah - I've not been to a SPUKT since Brighton which is a shame. I enjoyed that A LOT, but then Sky created this 'dream team' of Norman, Tikay, Michelle and Richard, so all the proper presenters and analyst never got to go any more . We'll be rolling out the big guns (i.e. myself and Dan Lobb) for the grand final as there's only so long you can listen to Richard's awful jokes and look down Michelle's top. It probably sounds a bit sad but I love meeting the Sky players simply because they are so enthusiastic, happy and not encumbered by the bitterness that comes to seasoned poker players who've had their aces cracked a million times.
If you want to play in the £220 SPUKT Main Event at DTD in Nottingham with Matt for FREE then we are giving away a seat away in our freeroll on the 4th of April and a further seat will be up for grabs in May. All you have to do is sign up a new account via our Sky Poker links and earn 250 Sky Poker Points, you will also be eligible for a £500 sign up bonus. For more information, check out our freeroll section for more details.
The Lucy Rokach Song
The Simon Trumper Song
The Devilfish Song