Join the Fab Five and go to GUKPT London for Free with Littlewoods Poker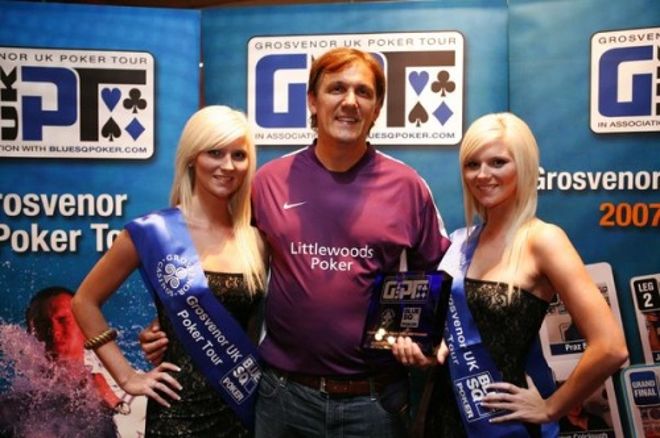 We have news of a very exciting promotion from Littlewoods Poker today. You can become part of the 'Fab Five' and go to the GUKPT London Main Event on March the 26th with one of the best omens in the game, two GUKPT Main Event Champions. The Fab Five consists of three lucky online qualifiers, GUKPT Cardiff Champion Michael Greco and GUKPT Bolton winner Tony Cascarino. What better way to prepare for one of the premier stops on the UK calendar than having two of the tours biggest success stories by your side?
One package is already gone but there are still two more up for grabs in qualifying tournaments tomorrow (Saturday the 14th of March at 16:00 GMT) and next week (Saturday the 21st of March at 16:00 GMT). In order to enter these qualifiers, you can either buy-in for $100+$10 or you can win that seat for free by first meeting a certain criteria that will prove you have the skill and resolve to become part of the Fab Five. You can win your seat for free one of three ways:
Cash Game Artist - Being able to handle a deep stack is necessary for running well in a GUKPT Main Event, so cash game players who accumulate 55 FFPs will be eligible for the Fab Five Qualifiers.
Insane Genius - Mastering Sit and Go tournaments is one way to put yourself in with a chance at the final table, so anyone who either comes 1st in three SNGs or plays in at least ten with a buy-in of $10 can qualify for the Fab Five this way.
Mr Greedy - Naturally the best tournament players also need to apply for this great promotion, so anyone who plays in two high stakes tournaments ($100,000 Deepstack Challenge or $20,000 Guaranteed) can make the grade that way.
If you can (or already have) met one of the above criteria between the Sunday to Thursday of the week before the Saturday's qualifier, you will be eligible to play these qualifiers for free. If you don't you can always buy-in on the day for $100+$10. The winner of each Fab Five qualifier will win a £1,500 buy-in, accommodation, transport and spending money for the GUKPT Main Event in London from March 26th to 29th. Add to that a £200 first deposit bonus and getting the support of Michael Greco and Tony Cascarino, and you have one great value promotion from Littlewoods Poker.