7th Irish Poker Classic Announced, More Results from the GUKPT + more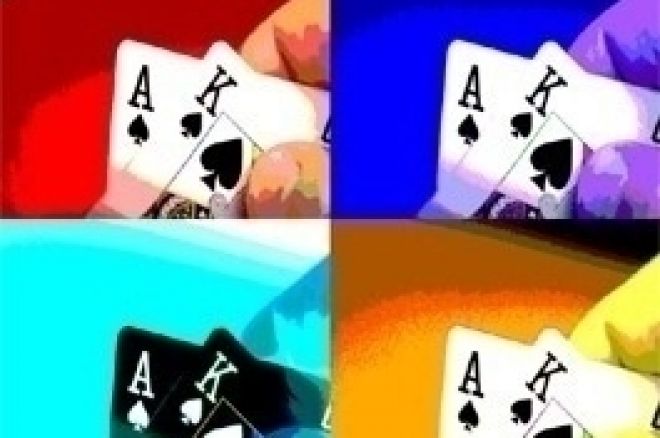 Seventh annual Irish Classic Poker Festival returns to Cork this August
News of one of the first big, post Vegas, summer festivals now as the very popular Irish Poker Classic is back. Last year Rob Taylor walked away with the spoils and this year it looks like it is going to be a credit crunch busting affair. The deep stack (15,000 stack with 75 minute blinds) main event has a reduced buy-in of €1000+€100 this year but is still guaranteeing €100,000 in the prize pool.
The venue is once again the Macau Sporting Club in Cork which is currently holding €50+€5 and €100+€10 rebuy satellites to the main event every Thursday. Online satellites to the main event will be announced soon on a number of poker networks. Last year 167 players including Annette Obrestad made it to the festival and this year they are expecting even more.
Ken Corkery, tournament coordinator, said, "Last year saw record numbers at the festival, including overseas players, and with the reduced buy in this year designed to combat recessionary woes we're confident we can make the festival even bigger and better."
The full schedule looks like this:
Aug. 10 Mega super satellite no-limit hold'em freezeout €100 +€10
Aug. 11 PLO €200 + €20 with 2 re-buys/1 re-buy or 1 Add-on
Aug. 11 Ladies event no-limit hold'em freezeout €100 + €10
Aug. 12 Mega super satellite 1 re-buy or 1 add-on at €50 - €100 + €10
Aug. 13 Day 1A €100,000 guaranteed main event freezeout €1,000 + €100
Aug. 15 €250 + €25 charity event no-limit Texas hold'em freezeout €250 + €25
Aug. 16 €200 + €20 pub challenge no-limit Texas hold'em freezeout €200 + €20
More Results from the Vic
More from the big festival at the Vic this week now, and two more of the lucraztive side events have played down to a winner in the GUKPT. The £500 PLO Double Chance attracted 78 players and saw Richard Ashby make his second Omaha final of the week. It was eventually won by Garry Mills who netted £13,200 and a seat in the Champion of Champions event.
1st - Garry Mills - £13,200
2nd - Vach Nankoosing -£9,000
3rd - John Burberry - £5,700
4th - Tony Phillips - £3,500
5th - Frank Pini - £2,700
6th - Sharbel Koumi - £2,100
7th - Arkady Kielman - £1,600
8th - Richard Ashby - £1,200
160 players took part in the £200 No Limit Rebuy event and it was a star studded final table. Dave Colclough looks like he could be the Marc Goodwin of 2009, as he made another final table as he has done in every GUKPT festival this year. Another in form man, James Akenhead, managed a 4th place finish notching up another big result for the HitSquad. But it was an up and coming Richard Kellett, who recently went deep in EPT Dortmund, who won the £26,350 and seat in the Champion of Champions event.
1st - Richard Kellet - £26,350
2nd - David Courtney - £15,200
3rd - David Colclough - £10,900
4th - James Akenhead - £7,400
5th - Bruno Fernandes - £5,650
6th - Kerry Taylor - £4,350
7th - Helge Stjernvang - £3,500
8th - Gino Desiena - £2,600
9th - Michael Ellis - £2,200
Today sees the Heads Up Final between Tom Bentham and Richard Gryko take place, before all eyes are on the main event which starts tomorrow.
Results Courtesy of Blue Square
Ten Luckiest and Unluckiest Towns in UK Revealed
Poker players are a superstitious breed and Virgin, the people behind the Virgin Poker Festival, have compiled a study of where the luckiest and the unluckiest towns in the UK are found. They analysed over 100,000,000 seperate wagers to see just where the winning and losing punters in the UK preside. St Albans is by far the luckiest whereas Belfast is its pole opposite as the unluckiest place to gamble. Brighton and Luton both make the top 4 luckiest, which is interesting as they are home to two of the busiest poker scenes in the UK. Bolton, London and Manchester all also make the top 5 (Meaning 5 of the top 10 are popular stops on the GUKPT).
The full lists are below if you want to see where you should be upping sticks and relocating to, but don't forget it's all nonsense really:
Top 10 luckiest towns in the UK
1. St. Albans
2. Sutton
3. Brighton
4. Luton
5. City of Manchester
6. South West London (SW postcodes)
7. Torquay
8. Bolton
9. Harrow
10. Stevenage
Top 10 unluckiest towns in the UK
1. Belfast
2. Perth
3. Newport
4. Salisbury
5. Motherwell
6. Darlington
7. Dudley
8. Aberdeen
9. Doncaster
10. Colchester