Sunny Chattha - Interview with Sunny Chattha the GUKPT Walsall Champion Sunny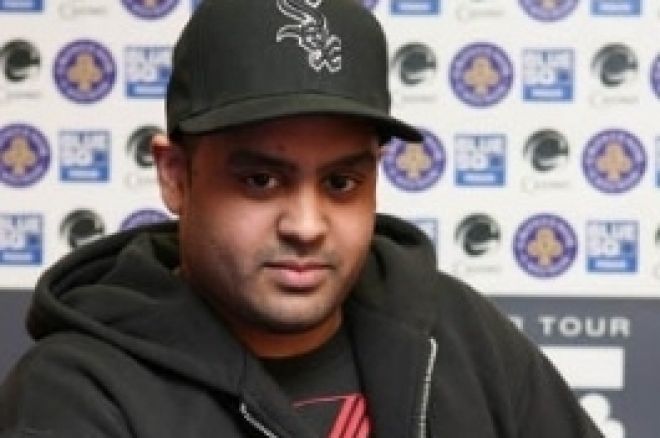 Poker is a very lonely game at times, there is very little in the way of team events available and it is almost always you against the world when you are at the table. There are very few poker groups, the most notable here in the UK and possibly the entire world being the Hendon Mob, but a new group is emerging to contest that crown. The Hit Squad, which features James Akenhead, Karl Mahrenholz, Charles Chattha and Praz Bansi, has been tearing up the UK and world poker scene for a few years now. Last weekend it was the turn of
Sunny Chattha
to bring home the gold for this impressive team of young UK players, when he won the Grosvenor UK Poker Tour Walsall Main Event:
"Everyone just said keep going, you have to make a GUKPT final table sooner or later, I really wanted to make the final in Plymouth (when Julian Thew won and my brother Charles came 2nd) so I could be on TV with my bro. That one I came 11th and it really hurt. Blackpool in November was a big field and I played amazingly for 3 days and I came 11th again, that reallllly hurt. The other times I came like 17th and 20th I didn't really have a stack and I didn't really play that great around the final 2 tables but I never gave up hope"
With all those near misses, did he the feel the pressure as the final table bubble approached in Walsall?
"I have to admit I am a pretty fearless player, and don't get phased by bubble/money jumps etc but when there was 10 players left I reallllly wanted to make the final and had a healthy 450k stack(300k average) and I promised myself I wouldn't play any big pots till the final, the next thing I knew Dinh Doat Le raised under the gun 5 handed and I find AA in the BB and he has KK and I'm in a 900k pot for my tournament life. Last year I would have lost that but when my AA held, I think I knew I would win the tourney."
The GUKPT is getting bigger and bigger and tougher and tougher, just how much does this title mean to Sunny Chattha?
"Yeah it's a big deal for me, everyone wants to win a GUKPT Main Event, my aim at the start of the year was cash for 750k, win a major EPT/WPT/WSOP event and win a GUKPT, so I am glad to have got that off the list. I think the GUKPT will continue to grow, a lot of new blood like the young internet kids are starting to play them, they are getting much harder to play in."
The HitSquad are really making their mark on the UK Poker Circuit, so how did they form and where did the name come from?
"Well my brother and James have known each other for ages (we all live on the same road) and they started going to the Gutshot Club. That's where they met Praz in 2005, and me and Karl started going at end of 2005 and that's where we all met. The name was a weird one, we all went on a trip together to St Kitts at the end of 2006 and I forgot who came up with it, basically was just a joke at first"
"We used to play the small London comps together and then Chaz and Praz went on a Vegas expedition and got the lot then we all got confidence and started playing UK ranking competitions and the like, we went most places together and would discuss hands together a lot."
No one member of the Hit Squad really outshines another, as they have all had their successes in poker, so does one member taking down a major tournament create a hunger for the rest of the group?
"Oh without a doubt, we all love each other to win but it makes us more hungry and we perform better. In the last 2 weeks me, James and Karl have made 8 final tables in Birmingham and Walsall. Praz is on holiday at the moment and he wishes he was here to share the form"
With all the members on a hot streak, they must be forced to come up against each other quite a bit?
"Yes many times, my brother and I were heads up in the 1k in Blackpool at the end of 06 and that was really weird (Sunny won)....and we have played lots of hands against each other. We don't soft play but we don't go out to outright bluff each other (unless it's a small fun comp) basically if we are on the same table and have big hands it's going in regardless"
Praz Bansi and Karl Mahrenholz did the same thing, coming 1st and 2nd respectively in the first GUKPT Bolton and that feat was nearly replicated last weekend when Sunny and James Akenhead were both at the final table together:
"It was good to be on final with him obviously, of course I wanted to win and he obviously he wanted to as well, we both wanted another HitSquad heads up, that would have been sick. It was shame to see him go in 7th – but as soon as he was out everything felt a whole lot easier."
So this certainly isn't the last we have seen of the HitSquad, it is very likely just the beginning, so should we all be starting our own poker gangs?
"It's always good to have your mates there with you, to talk about hands and generally just motivate each other. Although we are the HitSquad we have a lot of very good friends that we hang around with on the circuit that helps a lot. Players like Sam Trickett, Paul Jackson, Neil Channing and Jeff Kimber are all great players and great friends. The HitSquad has about 150 honorary members now"
Pictures Courtesy of Blue Square