Brits Exit Final Table Early as Iceman1278 Takes Down the PokerStars.net Sunday Million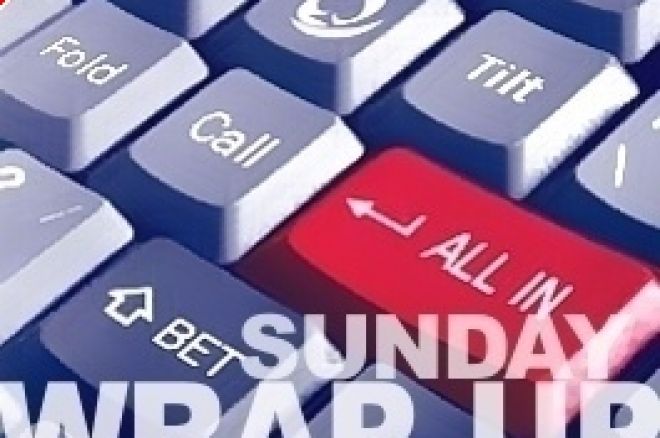 How many of you had a barbeque this weekend? The first touch of sunshine here in the UK and we are all out in the garden, I know I was. All hyped up and excited from the sun, players took to the cyber tables last night in their bid to win big. Win big they did, well some of them anyway. Here are some of the big winners and the hands they won with.
Sunday Warm Up – PokerStars
4312 players sat down at 17:45 GMT to take part in this Sunday Warm Up at PokerStars. Mad.afurable was the first player to leave the final table, closely followed by sebure who lost his


to the big slick of MJOS.
Aces would be the demise of the next two players; schokonugget got all in pre-flop with pocket kings and was called and beaten by the aces of bechis. Schokonugget was out in 7th place. KAMUK000 tried to draw to a flush with


on a



board but ran into the rockets of icallseat3 no spade arrived meaning KAMUK000 was out in 6th place.
Shabbyglass was the player out in 5th when he got all in pre-flop with


vs. the


of an ace fell on the flop with no help from the turn or river it was goodbye shabbyglass. The exact same pair of 8's was to knock out the next player. Bechis was way behind with


when he was called by MJOS who had pocket jacks


.



was the flop, leaving MOJOS with few outs, which he didn't hit leaving him out of the game in 4th place.
Shaarrrp was out in 3rd place when his pocket fours lost a coin flip when icallseat3 called with


and hit an ace. A very fast Heads Up was all over when bechis pushed all in pre-flop with


and icallseat3 called fast with his pocket tens. Bechis did flop a 5 but it changed nothing and no more help came for him sending him out in 2nd making icallseat3 this week's Sunday Warm Up winner.
Final table results:
1: icallseat3 (Henderson), $111,249.60
2: bechis (cc), $77,616.00
3: Shaaarrrp (Arlington), $51,744.00
4: MJOS (Sydney), $43,120.00
5: shabbyglass (Madison), $34,496.00
6: KAMUK000 (Odense), $25,872.00
7: schokonugget (Bad Homburg), $17,248.00
8: sebure (LH City), $10,780.00
9: mad.afurable (Jena), $6,985.44
Sunday Million – PokerStars
Iceman1278 beat 8000 players this week as 8001 entered, making a prize pool of $1,600,200. Here is how he owned the final table. Kendog39 was the first player to be kicked off the final table when he went all in on a



flop with pocket fours and was beaten by bayleesmom who flipped up AA. Needless to say kendog39 finished in 9th place.
Rockets struck again soon after, pokerbrat13 went all in pre-flop with


, iceman1278 called with AA. Pokerbrat13 lost the hand and was out in 8th place. Next it was JLande's time he went all in pre-flop with


and was called by Brendan42 who showed


. An uneventful board sent JLande away in 7th place.
Players were slowly kicked to the cyber rail until there were only three left. Brendan went all in pre-lop with pocket 4's


and was called by TheCronic420 who showed jacks


, TheCronic made a full house and Brendan42 slipped away in 3rd place with $89,611.20.
Heads up seemed to go on forever with neither player wanting to be second, but both still playing and fighting for that to spot. Below is a clip of the final hand.
Final table results:
1: Iceman1278 (Chilliwack), $196,024.50
2: TheCronic420 (O HI), $132,176.52
3: Brendan42 (St. Albert), $89,611.20
4: bayleesmom (goodwater), $72,809.10
5: WhatArunAA (3 hit wonder), $56,807.10
6: vietcong01 (La Coruña), $40,805.10
7: JLande (Italy), $28,003.50
8: pokerbrat13 (Pickering), $18,402.30
9: kendog39 (Bristol), $11,201.40
Sunday Two Hundred Thousand – PokerStars
It took a little over 8 hours for the 29478 players to take their positions and finish this tournament. Sandla was the eventual winner adding over $28k to his bankroll. British player BTpokerface just missed the final table, taking 11th place and $1,473.91 a very nice return on the $10+1 buy-in!
Final table results:
1: sandla (wien), $28,004.11
2: kvlse (KIEL), $20,634.61
3: kvikvi (Örebro), $14,739.01
4: highdro420 (South Lake Tahoe), $11,791.21
5: pakeman (Düsseldorf), $8,843.41
6: nofearoutlaw (Long Beach), $5,895.61
7: Jahalmighty (Welzow), $4.421.71
8: coxquinn (Bangkok), $2,947.81
9: hawkzoom (Fagenes), $2,210.86
Celebrations all round for the imminent summer and this week's winners.