GUKPT London Starts Today + More Poker News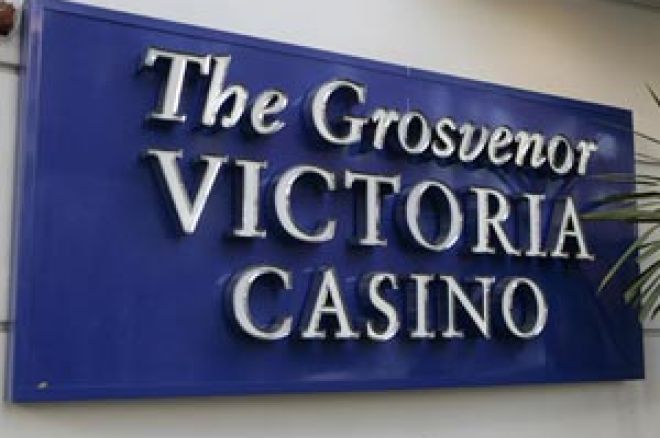 The GUKPT London Starts Today
Today is the start of the biggest Grosvenor UK Poker Tour Festival so far this year, the
GUKPT London
at the Vic. Last year online pro Ketul Nathwani took down one of the biggest GUKPT fields and prizes ever when he defeated 424 other players for the £119,780 first prize. This time it looks set to be just as big, if not bigger, as the main event is now £1,500+£75 instead of the standard £1000+£60 (Everything's more expensive in London anyway plus this is the home of some of the biggest players in the UK).
This is also one of the longest and more unique stops on the tour, with 11 days of action and special events including a Omaha Hi/Lo and the big Heads Up event, there will be some real action at the Vic over the next two weeks. We'll bring you all the action as it happens and below is a full schedule of events:
Thu 19 - Wed 25 Mar at 3.00 pm £ 2,500 + 125 Heads-Up
Thu 19 - Fri 20 Mar at 8.00 pm £ 300 + 30 No Limit Hold'em
Fri 20 - Sat 21 Mar at 8.00 pm £ 500 + 50 Omaha Hi/Lo Double chance
Sat 21 - Sun 22 Mar at 6.00 pm £ 500 + 50 NLHE Double chance
Sun 22 - Mon 23 Mar at 6.00 pm £ 500 + 50 PLO Double chance
Mon 23 - Tue 24 Mar at 8.00 pm £ 200 + 20 NLHE Rebuy
Tue 24 - Wed 25 Mar at 8.00 pm £ 300 + 30 NLHE 1 Rebuy or add-on
Wed 25 Mar at 8.00 pm £ 250 + 25 Supersatellite to Main Event
Thu 26 - Sun 29 Mar at 2.00 pm £ 1,500 + 75 NLHE - Main Event
Sun 29 Mar at 4.00 pm £100+ £10 No Limit Hold'em Bounty event.
Liv Boeree joins the Pokernews Cup
Absolute Poker pro and top UK player Liv Boeree has confirmed she will be going to the Pokernews Cup in Austria which starts this weekend. The European Ladies Champion is on a good run of form lately, which includes making a final table at the Aussie Millions and told us she is looking forward to the event:
"I am so excited to be going to the PokerNews Cup to represent Absolute Poker," said Boeree. "A week of skiing and poker in the Austrian Alps? What more could I ever want?"
Absolute Poker have sent two Pokernews readers to the Alpine Cup for free with very generous $8,500 packages and they continue to add extra value for our readers with a $500 sign up bonus. Stay tuned for all the latest news from the Pokernews Alpine Cup!
London Poker Circuit Merge Day 1A and 1B
The first ever London Poker Circuit event has had a shaky start with several last minute changes, the latest one being an announcement that day 1A and day 1B will be merged after listening to player feedback. In the place of day 1A (Today) there will now be a £100 rebuy tournament starting at 8pm and the £1000 main event will now take place on Friday. There will also be STT satellites to the main event starting today at 6pm. All events take place at the Kensington Close Hotel in London.
Last night GUKPT champion Michael Greco took down the £300 side event and Mark McCluskey won the £200 event the previous night.
PartyPoker Extend Million Dollar Hand
The feedback has been tremendous for the Million Dollar Hand Promotion on Party Poker so they have decided to extend it by five days. Every 15 PartyPoints a player notches up earns them a card in a 5 card poker hand and there are cash prizes up to $1 million for any made hands. The promo will now run until the 27th of March and as of yesterday cash had been paid out for a staggering 22,841 pairs, 2581 two pairs, 1184 three of a kind, 202 straights, 136 flushes, 75 full houses,15 four of a kind and 2 straight flushes (The latter earning $5000 a time for the lucky punters, anyone who makes a Royal Flush gets a cool million).
A Party Poker spokesman said: "This promotion has been phenomenally popular and we've been inundated with requests to extend it. We've listened and are adding an extra five days. So far there have been two straight flushes and some close calls with the royal flush. If a royal flush hits we pay $1 million!"