GUKPT Heads Up Round 2 Draw, _FullFlush1_ Interviewed on BBC Radio + more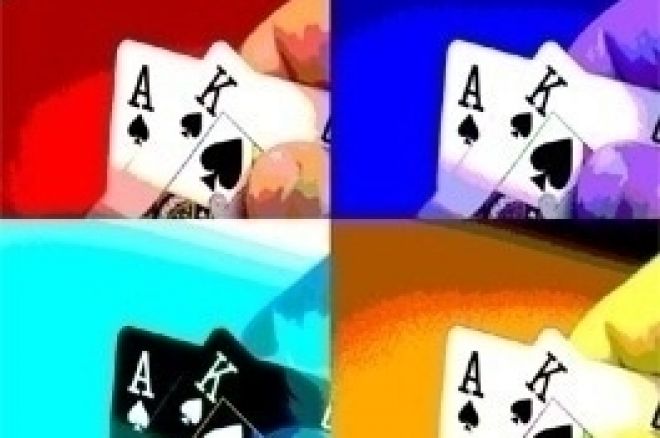 Big Names Out of GUKPT Heads-Up Event
A lot of big name UK players have been eliminated in round one of the GUKPT heads up event at the Vic in London. Favourites John Kabbaj, Neil Channing and Roland De Wolfe hit the rail, as did WPT champion Surinder Sunar. This leaves some of the best of the new breed of online players in the driving seat as they return for round two today, the draw for which looks like this, courtesy of Blue Square:
Richard Kellett v James Dempsey
Vach Nankoosing v Jeff Duvall
Richard Gryko v Markus Otto
Ketul Nathwani v Tom Bentham
The most interesting match is probably Ketul Nathwani vs Tom Bentham, both men are highly regarded online heads up cash players and both have had a lot of punters betting on them (Nathwani is also the reigning GUKPT London champion) and the winner of that match will likely be the favourite to win the tournament. Richard Gryko and Tom Bentham are now the joint favourites at 4/1, with Nathwani just behind them at 5/1.
Elsewhere the £300+£30 opening side event was a complete sell out hours before it started (The final of which is being played today) and the Omaha Hi/Lo starts today and is expected to be big too.
_FullFlush1_ interview on BBC Radio 1 Extra
The UK online sensation that has been tearing on the high stakes games on Full Tilt Poker known as _FullFlush1_ was interviewed this week on BBC Radio 1 Extra on the Ace and Vis show. It seems odd that the first known interview of this controversial UK poker figure was on a radio music show rather than a poker medium, but it did finally confirm that the name behind the alias is indeed that of Luke Schwartz of London. Most of the interview Schwartz sounded like Ali G (Which heightens my belief that he probably actually went to a posh school) but thankfully I am down with the kids so I can describe the majority of it.
Amongst other things he talked about his excellent 2009 so far (He claims to have won $2 million on Full Tilt Poker but most tracking databases have him closer to $1 million), how he prefers heads up games over ring because of fears of collusion and naturally what _FullFlush1_ interview would be complete without him berating some of the best players in the world?
"There's a few people in the world that will play anyone. There is me, this guy called Tom Dwan, Durrrr is a complete idiot as well then the proper millionaires like Ivey and Patrik Antonius they're the top super stars. There are probably like 5 people who will play anyone and pretty much everyone else is a scared little nit trying to get value off fish type player"
Lord knows how he got that chat ban. On balance it did sound like he was jokingly referring to himself AND durrrr as idiots, rather than just durrrr, for being prepared to take anyone else on.
Spring Poker Challenge in Southend in April
The Rendezvous Casino at the Kursaal in Southend-On-Sea will play host to a long weekend festival of poker at the start of April. The Spring Poker Challenge takes place between the Thursday the 2nd of April and Sunday the 5th. All the events are deep stack affairs, with the main event boasting a 15,000 starting stack and the side events a 10k stack. The schedule looks like this:
Thu 2nd: £30 + £ 3 reg fee Sat to main event -60min Rebuys +double add-on. 8pm
Fri 3rd:£100 + £ 10 reg fee NL Texas Holdem Freezeout. 8pm
Sat 4th: £300 + £ 30 reg fee NL Texas Holdem Freezeout (2 Day Event). 7pm
Sun 5th: £150 + £15 reg fee NL Texas Holdem Freezeout. 8pm