Colin Young wins DTD Deepstack Main Event, Pokerstars Launch UK and Ireland League + more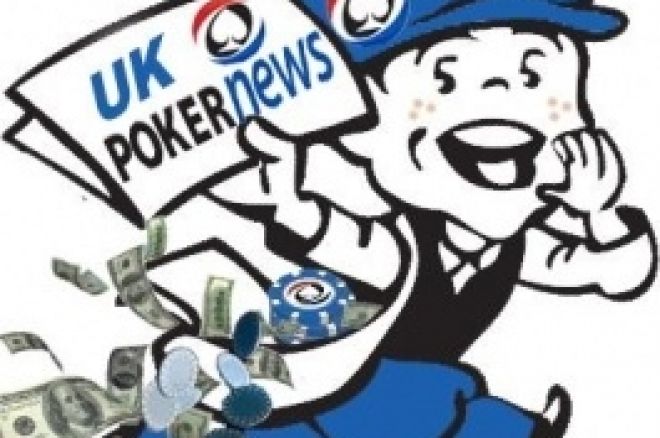 Colin Young wins DTD Deepstack Event
Another month goes by and another groundbreaking weekend for Dusk Till Dawn in Nottingham, who once again hosted an enormous £300+£30 deep stack event. 347 players, including GUKPT, EPT and WSOP winners, were in attendance for this relatively small buy-in event, smashing the £50,000 guarantee to make a £104,100 prize pool and a very rich final table.
The eventual winner was
Colin Young
, who won £30,761 for his two day stint at the tables and the final table included WSOP bracelet winner Lawrence Gosney from Leeds. Dusk Till Dawn is just getting bigger and bigger and who knows just how big these monthly deep stack events could get?
1 Colin Young £30,761
2 Hassan Irfan £17,984
3 Dipak Makawana £10,790
4 Steve Jelinek £7,572
5 Lawrence Gosney £5,679
6 Paul Newman £4,259
7 Frazer Beattie £3,313
8 Peter Renkel £2,366
9 Gurpreet Nagi £1,893

Empire March Poker Festival Begins This Week
This week the Empire Casino in Leicester Square, London, plays host to a superb looking festival. Not only is the Empire an impressive looking, James Bond-esqe venue but it also boasts a fantastic poker room with excellent facilities. This week you can sample just why the World Series of Poker Europe chooses to call it a home and in particular take a look at the very deep stack main event which is a superb structure for a £1000 competition. Supersatellites to both the main event and the £500 event are running daily from today:

Wed 11 Mar at 7.00 pm £ 200 + 20 No Limit Hold'em 5000 chips 30 minute blinds.
Thu 12 Mar at 7.00 pm £ 500 + 35 No Limit Hold'em 10000 chips 40 minute blinds.
Fri 13 Mar at 7.00 pm £ 100 + 10 No Limit Hold'em 2 rebuy's in 60 minutes or 1 rebuy +1 add-on 3000 chips 30 minute blinds.
Sat 14 - Sun 15 Mar at 4.00 pm £ 1,000 + 50 No Limit Hold'em 15000 chips 60 minute blinds.
Sun 15 Mar at 7.00 pm £ 50 + 5 No Limit Hold'em Unlimited rebuy's for 90 minutes + 1 Super add-on 2000 chips 20 minute blinds
Rupinder Bedi Makes Sunday Million Final
Last year's GCBPT Nottingham champion and friend of UK Pokernews Rupinder 'George' Bedi proved his mettle on the online felt last night, by coming 7th in the Pokerstars.net Sunday Million, the biggest weekly online tournament in the world. The Leicester poker player has notched up one or two big results on Pokerstars.net lately but this one surely has to be the most notable. George won $28,413 and outlasted 8,111 other players in the process.
Pokerstars Launch UK and Irish Poker League
More reasons to play at Pokerstars.net now as the biggest poker room in the world is launching a new poker league exclusive to UK and Irish players. Every time you cash in a tournament you score points, which are added to your leader board score, at the end of the month the top 100 players will be rewarded with $300 for free.
The best thing is that these leagues are also aimed at new players, which means it won't cost you much to compete in the leagues. You can play in any or all of the leagues and still get $300 for finishing in the top 100 of all of them. There is a $1 buy-in division, an FFP division where you buy-in for 25 FFPs at a time and a play money division – so you literally can start your bankroll up from zero now courtesy of Pokerstars.net.
Devilfish does a Simon Cowell
Now for one of the odder poker news bytes of the week, which are becoming quite a staple part of these daily round ups of late. Usually when you used the words 'talent spotting' in the same breath as Dave 'The Devilfish' Ulliott you are referring to whichever cocktail waitress is distracting him from the action on his poker table, but this time he is turning his hand at judging a local talent competition in Hull. Talent Trail 2009 will see hundreds of hopeful singers, dancers, musicians and comedians battle through 16 heats before performing at Hull City Hall where the Devilfish will judge the winner. The competition will also raise money for the Echoes Foundation set up by Claire Stockton, whose son Finlay has an undiagnosed brain disorder. She aims to raise enough money to open a one-stop centre for children with special needs.
The Devilfish is quite a talented musician in his own right and commented "I've always loved performing myself and there's nothing better than standing before an audience and have them shower you with acclaim so DevilfishPoker.com is very happy to support budding Buddy Holly's and part-time Tina Turner's. The fact that it supports a very worthy in the Echoes Foundation is fantastic and hopefully we can find a new Leona Lewis or Rhydian Roberts. I'll be helping judge the final so watch out Louie Walsh and Simon Cowell – there's a new kid on the block!"