Neil Channing Launches BlackBelt Poker, Norwegian Poker Championships to host Open Events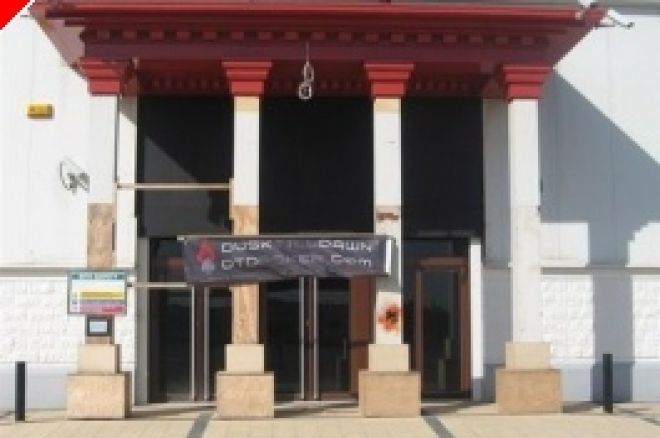 Neil Channing Launches BlackBeltPoker
There is a real buzz on the UK scene at the moment and its all around a new venture from defending Irish Open Champion Neil Channing. Although he is not known for his online poker prowess (Being one of the top live players in the UK) he is launching a new online mentoring and staking venture called BlackBelt Poker. It looks like the venture is going to be all things to all men with their own poker room, social networking, online training and many more things. But the real interest point has to be a series of online 'grading' trials where he has invited some of the best players in the UK to become a sponsored professional.
About 40 top UK players including GUKPT champions Sam Trickett, Jerome Bradpiece and Sunny Chattha will be taking the 4 week intensive trials and 8 will emerge as 'Brown Belts' – which will see them win an exclusive sponsorship deal which includes a $20,000 all inclusive package to the WSOP. Other players that don't quite make the grade but impress will become 'Blue Belts' and win sponsorship to UK events, with a chance to progress to Brown Belt later.
The project is still in its early stages but with so many big UK names involved and with Neil Channing as the Mr Myagi, this is surely some very exciting times for UK poker. We will surely see a sea of 'BlackBelt Poker' logos across card rooms in Europe in the very near future.
PartyPoker Million Dollar Hand off to a Stormer
The Party Poker 'Million Dollar Hand' promotion only started last week and it has already dished out $50,000 to lucky winners. Every 15 PartyPoints you earn also gets you a card in a five card poker hand, and if you make a pair or better then you win a cash prize, the best of which being a cool million dollars for a Royal Flush. So far the poker room has dealt out 3916 pairs, 424 two pairs, 203 three of a kind, 32 straights, 23 flushes, 13 full houses and 6 four of a kinds. No straight flushes yet but still plenty of time between now and the 22nd of March, when the promotion ends.
A Party Poker spokesman said: "We only have the figures for the first 48 hours at the moment but we're pleased with the positive feedback this promotion has received from players. Importantly, we haven't been on the phone to our insurers yet as a Royal Flush hasn't hit but we've still got until the 22nd March to walk the tightrope!"
Norwegian Poker Championships to Feature Open Events for UK Players
After such a fun packed and well spirited festival last year, it was a bit of a disappointment to hear that the Norwegian Poker Championships at Dusk Till Dawn in Nottingham would only be open to Norwegians this year. Thankfully Cardroom Manager Simon 'Aces' Trumper has confirmed that a large number of Open events will now be included in the weeklong festival, so UK players can play with their Scandi counterparts once again. The usual £300+£30 deep stack event will be replaced with a £250 event with the same structure, which will surely be just as big as the monthly event is getting.
This is superb news because the Norwegian Poker Championships was a brilliant festival where both UK and Scandinavian players got on like a house on fire last year and some of the antics at the bar and the tables were legendary. Since then, there have been waves of Scandinavian players making trips to DTD every month and it would have been a shame to exclude UK players entirely from the event (Other than obviously the cash games).
The full schedule looks like this:
Monday 30th March
2pm $400 Limit 5000 chips 45 minute clock. Cap 108 Norwegians only
8pm £75 No Limit 5000 chips 30 minute clock. Open Event
Tuesday 31st March
2pm $600 Double Chance PLO 3000 + 3000 30 minute clock. Cap 108 Norwegians only
8pm £75 No Limit 5000 chips 30 minute clock. Open Event
Wednesday 1st April
2pm $2750 Heads Up 20,000 chips WSOP structure Cap 64 Norwegians only
8pm £25 No Limit 3000 chips 24 minute clock. Cap 162 Open Event
8.15pm £20 No Limit Rebuy Super Satellite 2000 chips 10 x £330 seats guaranteed. Open Event
Thursday 2nd April
2pm $1000 Main Event Day 1a 10,000 chips 1hour clock , 10 levels played .270 players Norwegians only
3pm $4550 Horse 10,000 chips 60 minute clock WSOP-E structure. Cap 24 Norwegians only
8pm £50 No Limit 4000 chips 24 minute clock. Cap 81 Open Event
Friday 3rd April
2pm $1000 Main Event Day 1b 270 players Norwegians only
8pm £75 No Limit 5000 chips 30 minute clock. Cap 63 Open Event
8.15pm £25 No Limit 3000 chips 24 minute clock. Cap 72 Open Event
Saturday 4th April
2pm $1000 Main Event Day 2
4pm £250 Deepstack No Limit 10,000 chips 45 minute clock 2 day event. Cap 180 Open Event
8pm £50 No Limit 4000 chips 24 minute clock . Cap 81 Open Event
Sunday 5th April
2pm $1000 Main Event Final Day
2.30pm £250 Day 2
8pm £75 No Limit 5000 chips 30 minute clock. Open Event
8.15pm £25 No Limit 3000 chips 24 minute clock. Open Event