Big wins for bundy604 and RoxmorE in Sunday Tourneys.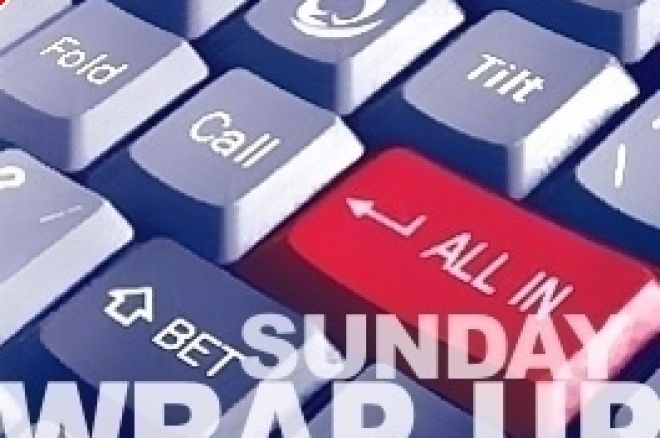 My weekend was filled with drama, excitement and emotion so by Sunday I was completely exhausted and grateful for the opportunity to relax while watching the big Sunday night tourneys. How wrong I was...
Three quarters of a million dollars guaranteed is enough to get anyone a little excited. 4722 players turned out for their chance of taking away a piece of that tasty prize pool and 675 did just that. It was at the final table that the drama and emotion really kicked in though.
First out was scarer who lost with


vs. the pocket nines


of PiKappRaider, the board came





. The next big hand came when HustlerGrune went all in pre flop with


and was called by bundy604 who showed


,
Bullets were fired again a little while later when profontaine went all in with


bundy604 instantly called with


, the flop



gave profontaine a little hope and some more outs, but alas the turn and river fell


sending profontaine out in 5th place.
Eham5 and bundy604 eventually managed to extract everyone else's chips and they were finally heads up. Eham5 had a huge chip lead though and I can't imagine that bundy604 ever imagined he could win it at that point. He didn't give up though, he fought and fought, doubling up over and over again. Eham5 must have got scared because when they were about even in chips they decided to make an even split deal, they both agreed and $10k was left over for the winner.
The final hand came when bundy604 went all in with


Eham5 called with


an ace fell on the flop left Eham5 praying for a miracle. There was no miracle this time making bundy604 this week's champion.
Final Table Results:
1: bundy604 -$120,883.20
2: Eham5 - $84,523.80
3: homanga - $56,286.24
4: scarface0928 -$47,220.00
5: profontaine - $37,776.00
6: PiKappRaider - $28,332.00
7: HustlerGrune - $18,888.00
8: skrabukes - $11,332.80
9: Scarer -$7,366.32
This week's big one started just over guarantee with 7,651 players with their eyes on the first place prize of $187,449.50. With 1170 places paid though there was a lot more worth fighting for.
The clock changes set the game back an hour but that only fuelled passions seeing players fall fast before Shot_Money66 burst the bubble giving matiaz28 just over $300. Not bad for a few hours of fun!
It was obvious that some players were playing for the win though and AmirSF was holding a solid chip lead going into the final table with ILIOS72 hot on his toes. The final table line up looked like this:
AmirSF - 16,537,563
ILIOS72 - 11,082,025
HuBaer582 - 10,358,200
ikszoorn - 9,335,186
detroitj6 - 8,962,244
RoxmorE - 6,109,522
MarleyGroup - 5,773,913
Coconut Soda - 4,649,782
matt1269 - 3,701,565
RoxmoreE started as he meant to go on doubling early taking detroitj6's chips and giving him the title of short stacker in return but he wouldn't get the first chop. The first from the final table was Marley Group finding him self all-in and all out finding himself in a classic race with high cards against a mid pair.
The next player out was matt1269 finding himself all in with


against the remaining chip leader AmirSF holding an affordable


. The board payed off for the big stack rolling out





giving Amir two pair and the pot. I'm sure matt isn't too disappointed with his 8th place cash a couple of bucks short of $17,600!
Amir wouldn't hold the chip lead though and action on the final table seemed fast and as usual some deals were made before getting to heads up.
RoxmorE was the player looking good with 50,321,108 in chips over AmirSF's 26,188,892 still plenty of chips with only a double up meaning a complete switch in position. He might have been trying to portray the image to do this when he pushed all-in with


over a seemingly weak and limping RoxmorE who called with his pocket 6's. The board began to roll out and there was no king or seven in sight. It eventually ended with the river making the final board look like this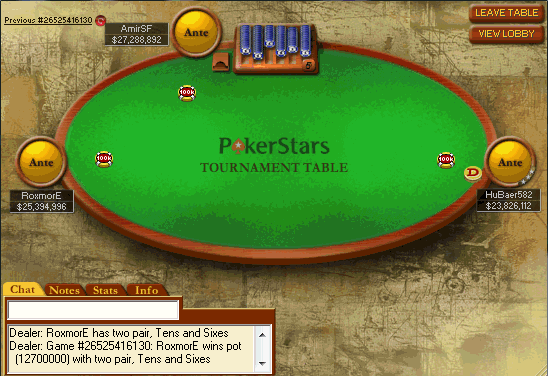 Final table results:
1: RoxmorE -$187,449.50
2: AmirSF -$126,394.52
3: HuBaer582 -$85,691.20
4: ILIOS72 -$69,624.10
5: detroitj6 -$54,322.10
6: ikszoorn - $39,020.10
7: Coconut Soda -$26,778.50
8: matt1269 - $17,597.30
9: MarleyGroup -$10,711.40
Congratulations to all this week's winners. Don't forget its April fools day tomorrow! See you all next week.