UK player ace_cider Wins BIG on PokerStars + more Sunday Tourney Action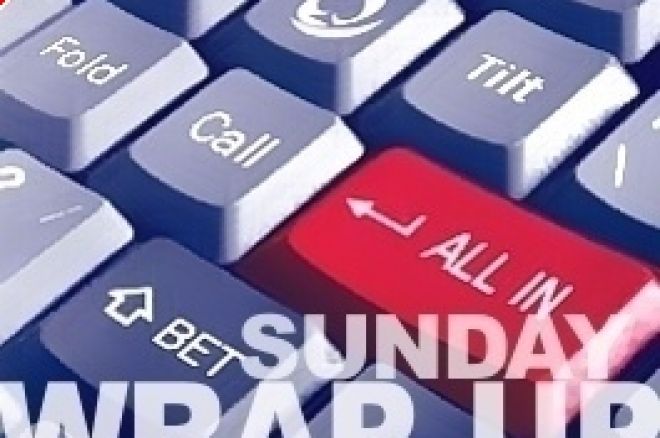 Thousands of players turned out this Sunday to take part in the St David's day poker tournaments. Clad with leeks and daffodils (ok I just had a Daffodil, but still...), I was rooting for the Welsh whilst watching in awe while literally millions of dollars were won.
Here are the results.
Sunday Warm Up – PokerStars
Every player obviously wanted to cash in this game but it was frtk who really shone out, fighting his way through player by player, never losing sight of the top spot and the $114,508.80. His first final table victim was Lephiloufou who went all in after frtk's huge raise. Lephiloufou had


while frtk showed pocket 9's. Frtk won the hand and send Lephiloufou on his way in 9th place.
His next victim was Papijuno who went all in pre-flop with


, frtk called with


no action from the board forced Papijuno to ship all his chips to frtk. Carelo was one of the few players not to be knocked out by frtk; he was in fact out in 7th place by and217.
Frtk, not happy that someone else had taken some of the chips took out the next 4 players, totally dominating the table and showing amazing skill and heart. Then he was heads up with dippedydawg after punishing and217 and sending him off to lick his wounds in 3rd place. The final hand saw dippedydawg with pocket 7's all in and frtk with


an



flop left dippedydawg searching for a 7, but neither of them showed up and he was out in 2nd place. Leaving frtk with the $114,508.80, the 1st place status and a great story to tell.
Final table results:
1: frtk (Szekesfehervar), $114,508.80
2: dippedydawg (aalborg), $80,066.70
3: and217 (erre arra), $53,318.16
4: SpotLIGHT19 (Holiday), $44,730.00
5: tilkk (Lohja), $35,784.00
6: unhÒoKed (Radebeul), $26,838.00
7: Carelo (Nijmegen), $17,892.00
8: papijuno (CologneCity), $10,735.20
9: lephiloufou (ajaccio), $6,977.88
Sunday Million – PokerStars
8664 hopefuls entered this mega tourney last night, creating a prize pool of over $1.7 million. StefanProdan took down first place after 11 hours and some strong negotiations.
Upon entering the final table it was Bob Vitis and wywrotX who had the chip leads, not for long though as jbrown04 and StefanProdan soon took over. Jbrown04 made first increased his chip stack by knocking out the short stack – Vincent Eley. Vincent Eley pushed all his chips in pre-flop and jbrown04 called. Cards on their backs showed Vincent Eley with


and jbrown04


, no help from the board sent Vincent Eley packing in 9th place. Almost the exact situation happened again with the next shortstack – G6Dragon. IRENE666 raised and G6Dragon came over the top and went all in. G6Dragon showed


while IRENE666 flipped over


, Again no help from the board and G6Dragaon was fired from the table in 8th position.
Next out was Princess480 who left the game in 7th place after she got all in pre-flop with


and was called by StefanProdan called with


, a ten fell on the flop but no Jack or miracle and Princess480 was out.
The next few players fluttered away and when there were only four players left they decided to make a deal. After much discussion and shameless begging on the part of wywrot6 a deal was reached and play resumed for the $30k that was left behind for the winner. It got a little frantic with the shortstacks presumably thinking double up or leave. wywrotX did the latter and left in 4th place, then Bob Vitis did tried the same thing and ended up 3rd leaving the final two players heads up.
Heads up was more sensible as both players had their eyes on the $30k. StefanProdan eventually took it down and is this week's Sunday Million winner. Congrats Stefan.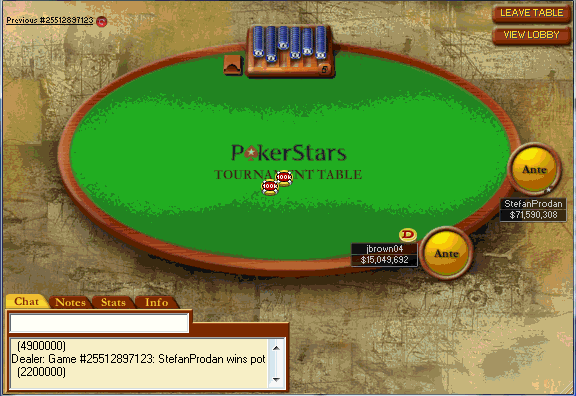 Final table results:
1: StefanProdan (Raleigh), $209,842.08
2: jbrown04 (Lincoln), $141,223.20
3: Bob Vitis (Pointe-Claire), $96,170.40
4: wywrotX (Brampton), $77,976.00
5: WlkRambo (GDANSK), $60,648.00
6: IRENE666 (Neustadt), $43,320.00
7: Princess480 (Atlanta), $30,324.00
8: G6Dragon (Menasha), $19,927.20
9: Vincent Eley (Romford), $12,129.60 - GO UK!
Sunday Two Hundred Grand – PokerStars
This giant tournament had 30286 players this week all wanting in on the action for a mere $11. 4270 of them go their slice of the prize pool, and the final nine made thousands of dollars as the first place stood at $28,771,71. It took less than 9 hours for the winner to gather all the chips. Patriotic celebrations are in order as it was one of our very own UK players who took the top spot and the cash! Congratulations to ace_cider from London for winning and showing us we can all win big.
Final table results:
1: ace_cider (London), $28,771.71
2: Padraig (Middletown), $21,200.21
3: slame74 (lamarque-pontacq), $15,143.01
4: TeamShizzz (hollywood), $12,114.41
5: Hjobbi (kópavogur), $9,085.81
6: grimeball69 (Chicago), $6,057.21
7: Kim Larsen (Århus C), $4,542.91
8: D-Bais007 (Travis AFB), $3,028.61
9: ldddg (Tartu), $2,271.46
Congratulations to this week's winners, especially UK winner ace_cider.