THE_ALPACA takes down PokerStars Sunday Million + more Sunday Wrap-Ups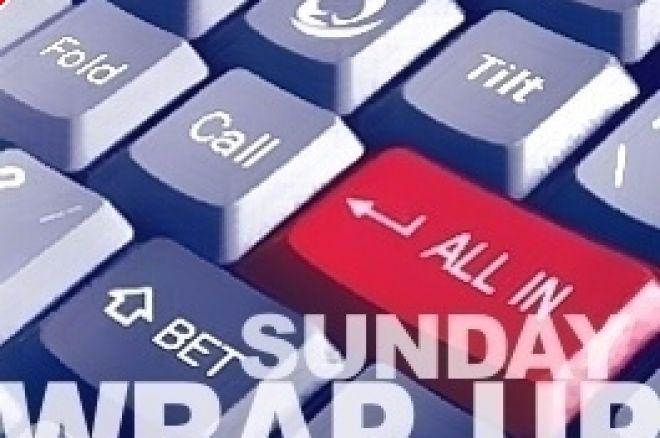 When I said last week that I could be bringing you the news from under 6ft of snow, I was actually only joking. But here I am reporting for you from under a huge amount of the snowman ingredient. A vast amount of trains, buses, shows and schools in London and all around the country have been closed this week. But all us poker players are far tougher than that; skidding our way through the ice to get to our trusty cardrooms. What makes things even better for us is that we can still pick and choose from the widest range of games imaginable and play them from the comfort of our own homes. It seems everybody did just that this weekend as these tourney's far exceeded their guarantee's making phenomenal prize pools.
Kicking us off this week is the $750k guaranteed tournament, the Sunday Warm Up. 4394 players enrolled creating an $878,800.00 prize pool. The game lasted 10 hours and with only 5 players left they decided to try and make a deal but kamizen obviously didn't want a deal or didn't have his chat box open because he didn't reply and so no deal could be made at that point. Much to the other 4 player's frustration play continued.
The players joked that they would have to quickly knock kamizen out if they wanted to make a deal, but it was pro-tilt77 who went out in 5th place. From the cutoff pro-tilt77 pushed all in preflop with his short stack, trying to win the blinds or double up. Pro-tilt77's stack was so small that Big4aday called his all in with


, pro-tilt showed


- the flop came



- turn

, pro-tilt77 just needed to avoid a 10 or 4 to double up his short stack but when the river fell

, it was all over. Pro-tilt77 took away $35,152.00 for his efforts.
It was awhile before anyone else was to leave, but eventually cballs25 chip stack got so small that he had to go. He had just nearly doubled up twice by pushing all in preflop and stealing the blinds. Third time was not lucky for cballs25, this time kamizen had already raised - cballs went all in and kamizen quickly called. kamizen showed


while cballs2 flipped over almost certainly his best hand in awhile


. An ace flopped and no king or miracle came for cballs. Sending him packing in 4th position.
Out in 3rd place was kamizen, his stack had dwindled away. He raised preflop only for Big4aday to re-raise all in kamizen called turning over


- Big4aday showed us


- the flop came



, now only a jack or runner runner spades could save kamizen. No such luck with


turn and river, giving Big4aday a full house.
Now that kamizen was out of the way a deal could be discussed and the two heads up players took the opportunity straight away, choosing to go with the chip chop deal. Play resumed for the final 10k and the 1st place status. Watte played an extremely impressive game slowly pulling all the chips over to his side of the table. Eventually poor battered down Big4aday pushed all in pre-flop with


at the worst possible time as Watte typed "gl" and called turning over


- board





did absolutely nothing for Big4aday who was out in 2nd place. Watte was this week's winner after some fascinating play he finally took down the Sunday Warm Up with two speeding bullets.
Final table results:
1. Watte - $96,678.55*
2. Big4aday - $95,778.65*
3. kamizen - $52,728.00
4. cballs25 - $43,940.00
5. pro-tilt77 - $35,152.00
6. D1rtyR1v3r - $26,364.00
7. KrownKickin - $17,576.00
8. bergeroo - $10,985.00
9. wynnkid - $7,118.28
*two way chip chop
Sunday Two Hundred Grand - PokerStars
This is a great game that anyone can play and so they did 30,000 of them making a staggering $300,000.00 prize pool for only $10 +1 buy in. 4270 of these players managed to make the money this week with the first place finisher taking $28,500.00! After fighting their way through thousands of players the final table was suddenly in sight. After IzNoG0od went out in 5th position, play really got frantic.
Pinkman33 got into a pre-flop raising battle with jspiess, they both ended up all in and the cards were on their backs. Pinkman33 had


vs. the


of jspiess.



gave Pinkman33 all the 5's and either of the remaining 8's as outs and the turn -

gave him all the tens as well. But sadly for Pinkman33 the river was the

, Pinkman33 was booted to the cyber rail in 4th place.
Next out was BiffyClyro2 was 2nd in chips until he lost a pre-flop all in with


vs. jspiess


, jspiess hit a queen and typed "wow" but we all knew he really meant "YESSS!" as that hand made him chip leader. The very next hand BiffyClyro2 tried to make his chips back by getting all in with


only to be slammed down by Andy6464 who quickly called his all in with


. The flop fell with a Q but no further luck for BiffyClyro2 sent him on his way.
Heads up was pretty fast and the player's stacks were pretty even. jspiess took a slight lead over Andy6464 just before the final hand was played. jspiess made a small raise pre-flop and Andy6464 called,



was the flop that caused all the fireworks. jspiess saw this flop and immediately went all in, Andy6464 then immediately called. We were only left imagining the cards the players could have until they were on their backs for the world to see. jspiess showed


, while Andy6464 had


an open ended straight draw. Unfortunately for Andy the turn and river were blanks


, sending him home in 2nd place. jspiess was the winner collecting the $28,500.00 for his $11 stake and a only a few hours work, congratulations jspiess!
Final table results:
1: jspiess - $28,500.00
2: Andy6464 - $21,000.00
3: BiffyClyro2 - $15,000.00
4: Pinkman33 - $12,000.00
5: IzNoG0od - $9,000.00
6: catanfan - $6,000.00
7: plato399 - $4,500.00
8: Sage Manic - $3,000.00
9: btmpr_tpkckr - $2,250.00
The Don of all the weekly guaranteed poker tournaments is the Sunday Million at PokerStars and this week was even bigger than usual with 8748 players entering. A gigantic prize pool of over $1.7m was created and the first place prize was $211,876.56. It took just under 11 hours before all the prizes were won. With a whopping 1260 places paid there is definitely a great shot at cashing in this game.
THE_ALPACA is this week's winner playing an amazing game right from the start and the final table was no different. THE_ALPACA kicked out most of the final 9 players taking their chips at the door. Although it was hartwith who knocked out $uBzEr0-AK who would leave the final two players ready for their heads up match. $uBzEr0-AK got all in preflop with


to be quickly called by hartwith who showed AA. A board of





meant $uBzEr0-AK was out in 3rd place.
Hartwith tried his hardest and even gained a chip lead over THE_ALPACA for awhile, but THE_ALPACA was having none of it and fought back hard. The pair finally ended up getting all in preflop, hartwith showing a pretty


while THE_ALPACA had a slightly more practical


- the flop came



leaving hartwith with only another seven as an out but the turn and river -


ended that fantasy. hartwith finished 2nd for $142.592.40. THE_ALPACA is not a name we will forget in a hurry.
Final table results:
1: THE_ALPACA - $174,501.47*
2: hartwith - $99,707.25*
3: $uBzEr0-AK - $69,581.45*
4: ADZ124 - $107,432.21*
5: gimmedat717 - $96,668.08*
6: crminalface - $87,389.30*
7: sln112 - $30,618.00
8: cannibal23 - $20,120.40
9: mozitas - $12,247.20
*six way chop
Congratulations to all this week's winners. See you all next week when everyone will be recovering from Valentines day and trying to get some love into their bankrolls.