huztlercrew Wins the Sunday Million + More in our Sunday Wrap-Up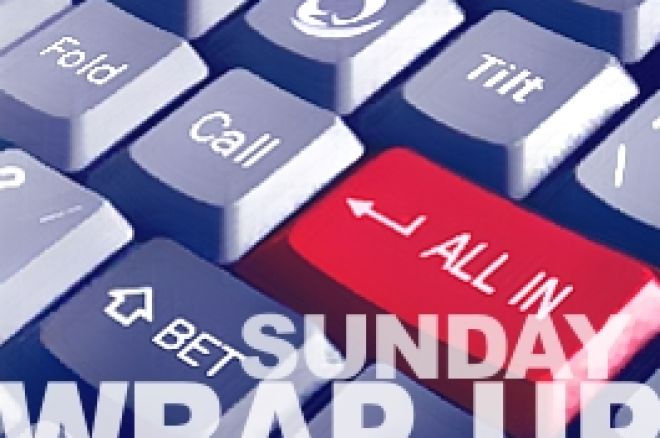 What a beautiful night. All cosy in my nice warm house, I was watching poker games on my laptop while snow was falling outside my window.
This morning though I admit I was tired and practically snowed in, but it was worth it! I'm sure 'huztlerCrew', 'TennCrane' and 'wurevolution' have woken up thinking it's a pretty great morning, if they have even managed to sleep at all!
[B]Sunday Warm Up - PokerStars[/B]
We all need a bit of warming up this week, and the Sunday Warm Up is the perfect tourney to get our hearts racing. Last night's game saw 4068 players enter and a first prize of over $100k. Fast paced is what I would call the final table action. stockcar99 was the first player out though with pocket 3's pushing all in preflop to be called by Beund2 who turned over


, the flop



left Beund2 with way too many outs, which he hit, the turn fell

, no 3 on the river meant stockcar99 was out in 9th position.
The very next hand djalminha was out and they just kept dropping like flies until there were only four players. They tried to make a deal but wurevolution wasn't having any of it, so play continued. Beund2 was next to meet his fate, Wurevolution had raised and Beund2 went all in. Cards turned over and Wurevolution had


whilst Beund2 was holding


Beund2 only hit a pair of 's and was knocked out of the game in 4th position.
MagicDeal was next out pushing all in pre-flop with


wurevolution called with


neither player hit a thing, so wurevolution took the hand down and kicked MagicDeal out of the game in 3rd place. Heads Up began with wurevolution having pulse time very dominated chips wise. Pulse time was tough though and held his ground for a long time. But it didn't matter how tough in the end, as pulse time finally went out in 2nd place after going all in with 2nd pair on the flop only to find that wurevolution had already made two pair. wurevolution obviously called, no magic happened on the turn or river and MagicDeal was out 2nd place taking a nice $73,224 consolation prize. wurevolution is this week's Sunday Warm Up winner!
Final table results:
1: wurevolution - $105768.00
2: pulse time - $73224.00
3: MagicDeal - $48816.00
4: Beund2 - $40680.00
5: propell - $32544.00
6: MikeKB878 - $24408.00
7: farooo263 - $16272.00
8: djalminha - $10170.00
9: stockcar99 - $6996.96
Sunday Two Hundred Grand - PokerStars
At only $10 + 1 to buy in this game really is accessible to so many players and with over 2k players entering, the prize pool always becomes huge.
The game lasted about 8 hours and it was TennCrane that finally took away that first prize of $26,364.01, pretty nice return on $11 I'd say!
Final table results:
1: TennCrane - $26364.01
2: darou - $18454.81
3: BMlocal73 - $13182.01
4: ankltpr - $10545.61
5: xxsiggixx - $7909.21
6: 111777 -$5272.81
7: MauriLP - $3954.61
8: TheRealDeCoy - $2636.41
9: dwl1313 - $1977.31
The first Sunday Million in February has proven to be very prosperous for huztlercrew and his homies, he finished first in the Sunday Million and took away $184,819.80.
There was a massive hand where MCLegend made a huge stack when there were only four players left. Putting in a preflop raise only to be re-raised by FRfr1111, who went all in. MCLegend thought about it and called. When the cards were flipped FRfr1111 knew he had a good chance of winning with his


vs.


but the flop fell with sirens blaring out as



Frfr1111 knew it was all over. MCLegend had flopped quads making him the new chip leader FRfr1111 could only sit there in sadness waiting to be kicked off the table in 4th place.
A deal was then discussed BodogAri said "Look I have over 1 million in winnings just on this site alone, give me 117k and I wont be greedy" MCLegend with his new big stack replied "I'm not giving up 4k", they finally agreed on giving up 1k each to shortstacked BodogAri and play resumed for the remaining $30k.
BodogAri was surely happy with his deal as he went out a few hands later with


vs. huztlercrew's


.
Heads Up lasted only a few minutes, huztlercrew with his new chip lead slowly chipped away at MCLegend until MC tried to fight back and went all in preflop. MCLegend showed


huztlercrew had called and turned over


, the board rolled out





, huztlercrew had hit a pair of fours and is this weeks Sunday Million winner.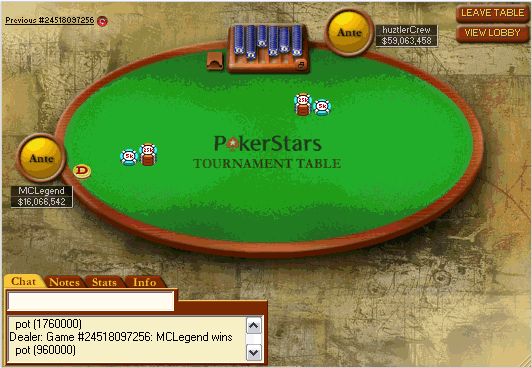 Final table results:
1: huztlerCrew - $184819.80
2: MCLegend - $125166.58
3: BodogAri - $84145.60
4: FRfr1111 - $69119.60
5: youjizz - $54093.60
6: Kripp85 - $39067.60
7: niuniu09 - $26295.50
8: kiaser - $17279.90
9: freakypokerd - $10518.20
Well the snow has now settled and it's still coming down, so next week I might be bring you the news from under 6 feet of snow. Good luck at the tables everyone!