The Sky Poker UK Tour Rolls On, $1 Rebuy to the Irish Open + more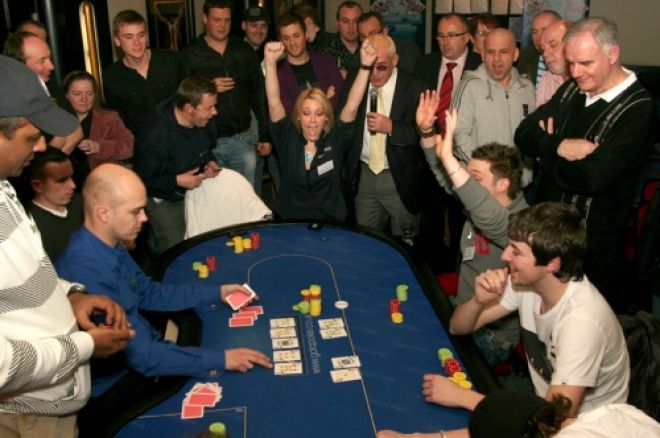 Sky Poker UK Tour Half Way Through its Sell-Out Events
Sky Poker completed the 3rd leg of their increasingly popular Sky Poker UK Tour (SPUKT) last weekend at the Maybury Gala Casino in Edinburgh, with celebrity analyst Norman Pace making the final table. First place went to local poker player William Stafford who won £1755 and along with the top ten, will qualify for a seat in the Nottingham final in June worth £220.00 each.
The next leg, taking place at Aspers Casino in Newcastle on the 7th of March, has already sold out but you can start qualifying for the Swansea event now on Sky Poker. The event will take place on Saturday 9th of May at Aspers, Salubrious Gate. 130 places are up for grabs for this added value tour, as well as the chance to play with the TV analysts like Norman Pace and Trevor Harris, and you can qualify for as little as £2.65. In addition to the £5,000 GTD prize pool and as in previous legs Sky Poker are also giving the top 10 players a seat into the £25,000 GTD SPUKT Grand Finale, worth £220 each, which will be held at Dusk Till Dawn in Nottingham on 13th & 14th of June 2009.
$1 Rebuy to the Irish Open
Paddy Power Poker are once again raising the bar in qualifying for their flagship tournament, the Irish Open. On Tuesday February the 10th, a $1 rebuy tournament is taking place with a package to the €3,500 main event plus $500 for expenses is at the end of this credit crunch busting tournament. Additionally, the winner will be eligible to participate in the poker room's €100,000 Sole Survivor qualifier promotion. That's potentially a chance to turn 50p into a life changing sum of money.
The poker room also schedules a Spank My Ace Freeroll for February 14th featuring a $500 prizepool and three Big C Stalker bounty tournaments with a $100 bounty awarded to the player who knocks Ciaran 'Big C' O'Leary out of each tournament.
"Paddy's Cheap Date will allow one of our players to experience the excitement of big-time poker at Europe's premier tournament" said Eric Booth, Head of Poker at Paddy Power Poker. "They'll also have a shot at taking down the €100,000 Sole Survivor package – every poker player's heart's desire!"
Two High Profile Cases of Theft to Play Online Poker in the UK
Two quite astounding stories have come out this week, in which people have been convicted of theft in order to supplement an addiction to online poker. What makes these stories remarkable is that they have both come from high profile figures one wouldn't normally associate with a severe gambling addiction.
Christopher Proudfoot, a finance and credit controller from Scotland has been convicted of embezzling £936,452.32 from his employer over three years to fund playing online poker. Proudfoot went on the run after Highland Network uncovered the extent of his fraud and has since pleaded guilty.
Even more amazing, Jayne Prewitt, the former mayor of Carlisle, has been convicted of stealing £38,000 to try and cover up losing £60,000 playing online poker. She stole the money from a bar she worked in and the 1994 mayor told the court she was close to suicide after her obsession with the game. She then went on to secretly remortgage her house by forging her husband's signature before stealing from the South End Constitutional Club.
Both Proudfoot and Prewitt are expected to face a jail term.