The Big Game III on Channel 5 Tommorow + more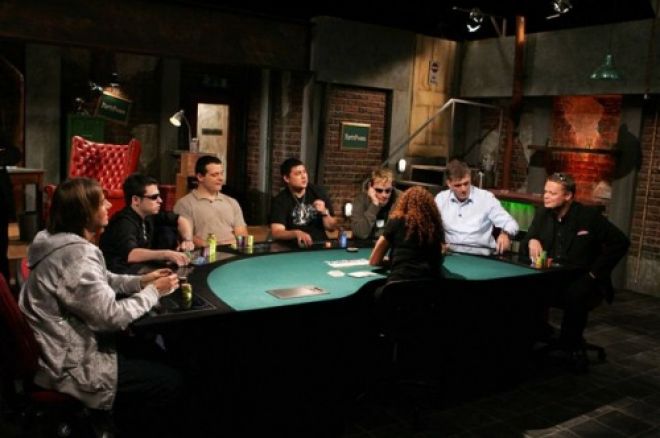 Poker Den Cash Game on TV Tommorow
Last year, the Party Poker Big Game II was the best home grown poker show of the 2008. The 24 hour cash game featured a healthy mix of overseas starts and UK players, online and live specialists. The action was sick, fast and occasionally beer fuelled and it really captured the really dark seedy side of cash poker....in the best possible way.
Now this fantastic UK cash game offering is back, the Big Game III is this time a 36 hour affair with poor old Jesse May commenting on the action from start to finish. Starting the game is Roland de Wolfe, David Williams, Sammy "Any Two" George, Chris Parker, Neil Channing, Jennifer Tilly, Robert Williamson III and Iliodoros Kamatakis.
The show begins its run on Wednesday 18 February/Thursday 19 February at 00.05 on Five in the UK and we urge you sky plus or set your timers for this amazing event because it really is the nuts.
Public Don't Trust Online Poker?
Despite the fact that online poker is getting bigger and bigger regardless of a recession, a recent survey published by mobile gaming firm Probability claims that the general public do not entirely trust online poker. 50% of respondents didn't trust online poker rooms, with 33% of them not believing that the online card shuffler was truly random. Others were concerned that their money was not being held safe or that a site employed the use of Bots.
Charles Cohen, CEO of Probability, said "We don't have any axe to grind on this issue. In fact, the reverse is true - a healthy poker industry is good for us because the more people who are comfortable with playing remote poker the more business there is for us to shoot for. Some 50 per cent of players surveyed by the Great British Poker Survey said they did not trust the online poker sites. A third said they did not trust them at all. Those figures are striking and came as a surprise even to us. There is clearly an issue here that the industry needs to address."
Pokerstars Launch SCOOP
There is no doubt that the Pokerstars.net WCOOP is the biggest and best online poker festival in the world, but the only problem was that there was only one of them and we all wanted more. Thankfully we don't have to wait much longer because a second festival has been announced, which hasn't officially been named yet but we believe has the working title SCOOP (Spring Championship of Online Poker).
This event is by no means a second WCOOP, as that is a once a year special event, but this series is offering something a little unique. It runs between the 2nd and 12th of April with $30 million guaranteed. The unique part of the festival is that there will be 22 'events' but three tournaments running simultaneously for each, a small, medium and high buy-in event. For example, the first event is a no limit rebuy event, which will have a $5.50, a $55 and a $530 event running alongside each other.
What a brilliant innovation from Pokerstars, offering literally something for everyone and players can play all three of an event if they so wish. The low stakes guys will love it because they also have a big online title to go for and the fields will be massive, the mid stakes guys will have a much more affordable schedule to play in and the high stakes players will be able to compete in the events they always wanted to play online every day.
The full schedule looks like this:
Event 1 - 2 April 2009 @ 14:30 ET - NL Hold'em with Rebuys [6-max]
* 01-L: $5.50 buy-in, $50,000 guaranteed prize pool
* 01-M: $55 buy-in, $200,000 guaranteed prize pool
* 01-H: $530 buy-in, $500,000 guaranteed prize pool
Event 2 - 2 April 2009 @ 16:30 ET - PL Omaha Hi/Lo
* 02-L: $11 buy-in, $25,000 guaranteed prize pool
* 02-M: $109 buy-in, $50,000 guaranteed prize pool
* 02-H: $1,050 buy-in, $200,000 guaranteed prize pool
Event 3 - 3 April 2009 @ 14:30 ET - PL 5-Card Draw
* 03-L: $11 buy-in, $25,000 guaranteed prize pool
* 03-M: $109 buy-in, $100,000 guaranteed prize pool
* 03-H: $1,050 buy-in, $200,000 guaranteed prize pool
Event 4 - 3 April 2009 @ 16:30 ET - NL Hold'em [2X Chance, turbo]
* 04-L: $16.50 buy-in, $100,000 guaranteed prize pool
* 04-M: $162 buy-in, $300,000 guaranteed prize pool
* 04-H: $1,575 buy-in, $1,000,000 guaranteed prize pool
Event 5 - 4 April 2009 @ 14:30 ET - NL Hold'em Shootout [10-max]
* 05-L: $16.50 buy-in, $100,000 guaranteed prize pool
* 05-M: $162 buy-in, $150,000 guaranteed prize pool
* 05-H: $1,575 buy-in, $150,000 guaranteed prize pool
Event 6 - 4 April 2009 @ 16:30 ET - PL Omaha [1R1A, 6-max]
* 06-L: $22 buy-in, $50,000 guaranteed prize pool
* 06-M: $215 buy-in, $200,000 guaranteed prize pool
* 06-H: $2,100 buy-in, $400,000 guaranteed prize pool
Event 7 - 5 April 2009 @ 14:30 ET - H.O.R.S.E.
* 07-L: $109 buy-in, $250,000 guaranteed prize pool
* 07-M: $1,050 buy-in, $500,000 guaranteed prize pool
* 07-H: $10,300 buy-in, $750,000 guaranteed prize pool
Event 8 - 5 April 2009 @ 16:30 ET - NL Hold'em [2-day]
* 08-L: $33 buy-in, $250,000 guaranteed prize pool
* 08-M: $320 buy-in, $1,500,000 guaranteed prize pool
* 08-H: $3,150 buy-in, $3,000,000 guaranteed prize pool
Event 9 - 6 April 2009 @ 14:30 ET - FL Triple Draw 2-7
* 09-L: $22 buy-in, $25,000 guaranteed prize pool
* 09-M: $215 buy-in, $100,000 guaranteed prize pool
* 09-H: $2,100 buy-in, $200,000 guaranteed prize pool
Event 10 - 6 April 2009 @ 16:30 ET - NL Hold'em [Heads-Up Match Play]
* 10-L: $16.50 buy-in, $50,000 guaranteed prize pool
* 10-M: $162 buy-in, $300,000 guaranteed prize pool
* 10-H: $1,575 buy-in, $500,000 guaranteed prize pool
Event 11 - 7 April 2009 @ 14:30 ET - Mixed Hold'em [6-max]
* 11-L: $33 buy-in, $50,000 guaranteed prize pool
* 11-M: $320 buy-in, $300,000 guaranteed prize pool
* 11-H: $3,150 buy-in, $800,000 guaranteed prize pool
Event 12 - 7 April 2009 @ 16:30 ET - 7-Card Stud Hi/Lo
* 12-L: $22 buy-in, $25,000 guaranteed prize pool
* 12-M: $215 buy-in, $50,000 guaranteed prize pool
* 12-H: $2,100 buy-in, $150,000 guaranteed prize pool
Event 13 - 8 April 2009 @ 14:30 ET - FL Razz
* 13-L: $22 buy-in, $25,000 guaranteed prize pool
* 13-M: $215 buy-in, $100,000 guaranteed prize pool
* 13-H: $2,100 buy-in, $150,000 guaranteed prize pool
Event 14 - 8 April 2009 @ 16:30 ET - NL Hold'em [6-max]
* 14-L: $55 buy-in, $250,000 guaranteed prize pool
* 14-M: $530 buy-in, $500,000 guaranteed prize pool
* 14-H: $5,200 buy-in, $1,250,000 guaranteed prize pool
Event 15 - 9 April 2009 @ 14:30 ET - 8-Game
* 15-L: $44 buy-in, $25,000 guaranteed prize pool
* 15-M: $425 buy-in, $150,000 guaranteed prize pool
* 15-H: $4,175 buy-in, $250,000 guaranteed prize pool
Event 16 - 9 April 2009 @ 16:30 ET - 7-Card Stud
* 16-L: $33 buy-in, $25,000 guaranteed prize pool
* 16-M: $320 buy-in, $100,000 guaranteed prize pool
* 16-H: $3,150 buy-in, $150,000 guaranteed prize pool
Event 17 - 10 April 2009 @ 14:30 ET - NL Hold'em [1R1A]
* 17-L: $33 buy-in, $150,000 guaranteed prize pool
* 17-M: $320 buy-in, $500,000 guaranteed prize pool
* 17-H: $3,150 buy-in, $1,000,000 guaranteed prize pool
Event 18 - 10 April 2009 @ 16:30 ET - PL Omaha
* 18-L: $55 buy-in, $50,000 guaranteed prize pool
* 18-M: $530 buy-in, $300,000 guaranteed prize pool
* 18-H: $5,200 buy-in, $1,000,000 guaranteed prize pool
Event 19 - 11 April 2009 @ 14:30 ET - FL Omaha Hi/Lo
* 19-L: $55 buy-in, $50,000 guaranteed prize pool
* 19-M: $530 buy-in, $150,000 guaranteed prize pool
* 19-H: $5,200 buy-in, $400,000 guaranteed prize pool
Event 20 - 11 April 2009 @ 16:30 ET - FL Hold'em [6-max]
* 20-L: $55 buy-in, $25,000 guaranteed prize pool
* 20-M: $530 buy-in, $200,000 guaranteed prize pool
* 20-H: $5,200 buy-in, $400,000 guaranteed prize pool
Event 21 - 12 April 2009 @ 14:30 ET - NL Hold'em [Heads-Up Match Play]
* 21-L: $270 buy-in, $100,000 guaranteed prize pool
* 21-M: $2,600 buy-in, $300,000 guaranteed prize pool
* 21-H: $25,500 buy-in, $800,000 guaranteed prize pool
Event 22 - 12 April 2009 @ 16:30 ET - NL Hold'em Main Event [2-day]
* 22-L: $109 buy-in, $1,000,000 guaranteed prize pool
* 22-M: $1,050 buy-in, $3,000,000 guaranteed prize pool
* 22-H: $10,300 buy-in, $5,000,000 guaranteed prize pool