WSOP 2009 Tickets - Poker 770 and PokerNews Wants to Send You!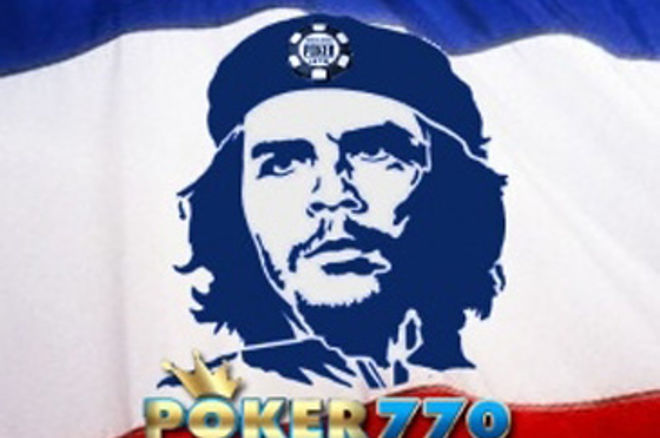 Entry is free, it's guaranteed and it could win you a lot of money so listen up: PokerNews and the online poker room
Poker 770
are launching a revolutionary series of poker tournaments entitled the "
Revolution Package
." The idea is simple: participate in the tournament for free and re-buy your chips if you get eliminated!
These unique online PokerNews tournaments will take place each week on Poker 770 and offer the winners at least one free entry with expenses paid for a tournament of the World Series of Poker 2009, the biggest tournament in the world, to be held in Las Vegas.
These revolutionary online tournaments are open to everyone and present several choices to the players.
Every player has the choice to:
1) Play the tournament for free.
2) Take one rebuy for $20, no rake.
3) Take two rebuys for $40, no rake.
$3,500 in prizes guaranteed, and up to 17 WSOP entries per tournament.
The money generated by the re-buys from the "PokerNews Rebuy Freerolls" will go completely towards the $3,500 WSOP 2009 packages. For example, if the tournament generates $14,500 in rebuys, four packages will be awarded of $3,500 each.
Any extra amount under $3,500 will be awarded in cash as per the standard payout distribution of the poker room.
Revolution Package Tournament Possible Scenarios:
-0 Rebuys: $3,500 WSOP 2009 Package guaranteed by Poker 770
-175 Re-buys: 1 $3,500 WSOP 2009 Package
-350 Re-buys: 2 $3,500 WSOP 2009 Packages
-525 Re-buys: 3 $3,500 WSOP 2009 Packages.
-1750 Re-buys: 10 $3,500 WSOP 2009 Packages
And so on…..
Look no further; this is an exceptional offer. The structure is unique and the prizes are amazing. It's a revolution in the world of poker –appropriately called the "Revolution Package." You could be the next player to win a trip to the 2009 WSOP!
What is Included in a $3,500 Package from Poker 770?
- One seat at a $1.500 tournament of the World Series of Poker in Las Vegas.
- $2.000 to be used to pay for travel costs and accomodations.
What are the dates and times of the "Revolution Package" rebuy free roll at Poker 770?
Sunday, February 22 2009 at 19:00 on Poker 770. This is set to take place every Sunday for weeks to come!
How can I participate in "Revolution Packages" on Poker 770?
If you want to try out this novel concept, simply go to Poker770 and download via our link, make a new account and deposit $40 (if you want to rebuy). You can rest assured that it'll be worth it; a plane ticket, a swanky hotel and a dream tournament are waiting for you if you qualify.
PokerNews and Poker770 perks: First Deposit Bonus of 100% up to $500.