Luton Casinos's - Circus Casino, G Casino - UK Poker Destinations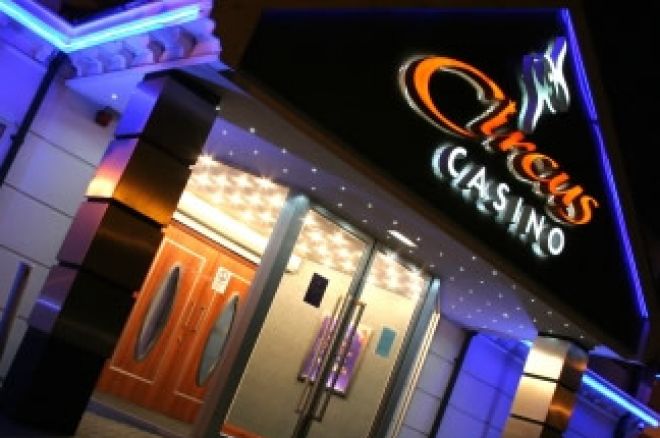 Ask a lot of the locals and they will tell you that the best thing about Luton is the airport, which is both a joke about the readiness people have to leave the industrial town and also a comment on the impressive volume of low cost flights to and from Luton from all corners of the world. Luton is not the most exciting place in the world, but it certainly has one of the liveliest poker scenes in the UK.
The Circus Casino doesn't command the market share of the Luton poker community, but it is getting a lot better and has been host to a handful of smaller buy-in poker festivals around once a year. The venue itself is a modern luxurious building, and with the Circus Casino chain starting to assert itself a little more on the UK live and online circuit, we can expect the festivals to start coming in quicker succession. The card room runs competitions 4 times a week but its best perhaps to wait until the last Sunday of the month when they have a very good value £100 double chance tournament with guaranteed prize money. The Circus Casino can be found Skimpot Road, Luton, Bedfordshire LU4 0JB and their current weekly schedule looks like this:
Tuesdays: £25 NLH TB F/O, 10k chips
Wednesdays: £10 NLH R/Bm 1.5k chips, 75 mins
Saturdays: £25 NLH 1xR/B, 4k chips
Sundays: £40 NLH Bounty F/O, 7.5 chips
Last Sat of month: £100 NLH D-C F/O, £1,500 gtd1st prize
But the home of poker in Luton is without doubt the G Casino. Like all other G Casinos, this is an impressive venue with modern and luxurious surroundings akin to a nightclub, excellent service and a spacious poker room with 22 tables. Cash games and tournaments run daily, with superb tournament staff and a thriving local community. Because Luton is just off the M1, a lot of players from London and the Midlands have made the G Casino their regular haunt because of the ease to get their coupled with the amazing community spirit.
The G Casino is also the venue for a huge number of poker festivals every year, most notably regular APAT events as well as one of the most popular stops on the GUKPT calendar. On top of a 9 day GUKPT festival, it is also the choice of venue for the Champion of Champions event at the end of the year. This means that all serious poker players of any buy-in preference should find themselves at least once in their poker tenure, and they can expect a professionally organised and deep structured event when they do.
There are about four festivals a year, including the popular Christmas Cracker, but outside of those they have one of the most varied and well structured weekly schedules in the UK:
Mondays: (8pm) £50 NLH F/O
Tuesdays:
(7pm) £10 PLH R/B (Rookie Night) & (8pm) £20 PLO R/B & (10pm) £20 NLH TB F/O
Wednesdays:
(8pm) £50 PLH 1xR/B
Thursdays:
(8pm) £20 NLH R/B
Fridays:
(8pm) £75 NLH F/O
Saturdays:
(3pm) £10 NLH R/B & (8pm) £20 NLH F/O
Sundays:
(6pm) £100 NLH F/O & (9pm) £20 NLH TB F/O
The one thing that really needs emphasizing, only so you don't make this mistake when you go, is that for some reason the G Casino in Luton is one of the few venues in the UK that insist on wearing smart footwear, no trainers, so make sure you take a pair of loafers with you. Don't let that put you off as it is one of the best places in the Country to play poker. The G Casino Luton is at 35 Park Street West, Luton, LU1 3BE