Lovejoy Aiming for 3rd Win at the Venetian, UK Player Tearing up the Nosebleed Games + more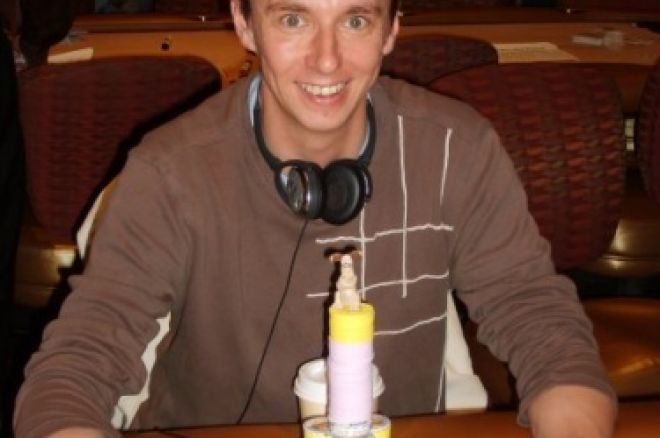 O'Leary at Venetian Main Event Final Table
We brought you the news last week that UK player and deepstack specialist
Kevin 'Lovejoy' O'Leary
was making waves at the Venetian Deepstack Extravaganza in Vegas, having won two of the side events outright and was on course for the player of the series award. Well, he looks on course to at least pick up that award and many more besides, because he has just made the final table of the $2500 main event. He already has scooped more than $70,000 in his first two wins this month and will surely be adding a hefty chunk to that later on today when the final table plays out (as well as the Player of the Series prize if he can come 8th or better) and what a great result this would be for both O'Leary and UK poker in general if he pulled off a big win.
How O'Leary has been slipping under the radar for so long is beyond us, he has not only won 5 big deepstack events in Vegas but is also the GUKPT heads up champion. We wish him the best of luck going into today and watch out UK circuit, we have an inform player making his way back home soon.
GUKPT Walsall Side Events Results so Far
Remember that the GUKPT isn't like other festivals, and winning a side event is almost as big as a main event because of the Champion of Champions seat that comes with it. The first three results are in, with a few big names just falling short of that coveted seat in the £100,000 freeroll at the end of the year. New author John Hewston just missed out in 3rd for the £150 event and Dave Colclough, who won the PLO event last month, came 2nd in the £100 rebuy, which will stand him in good stead on the GUKPT leader board:
GUKPT Walsall side event results, courtesy of Blue Square
£100 NHL Rebuy
63 players
Total Prize Pool of £14,500
1st - Essy Jahanpour - £5,140
2nd - David Colclough - £3,480
3rd - Joseph Grech - £2,180
4th - Cornelius Cronin - £1,300
5th - Darshan Sami - £1,020
6th - M Shakoor - £800
7th - D Lissner - £580
£150 NHL Freezeout
128 players
Total Prize Pool of £1,920
1st - Michael Nicholas - £6,090
2nd - Jonny Hewston - £3,940
3rd - Kevin Ho - £2,690
4th - S Sandhu - £1,680
5th - M James - £1,200
6th - P Ruddy - £960
7th - Hoang Tran - £770
8th - P Smith - £580
9th - Tom Mcready - £380
£200 NHL Freezeout
180 players
Total Prize Pool of £36,000
1st - Andrew Probyn - £11,250
2nd - H Griffiths - £7,200
3rd - R Figg - £4,860
4th - G Button - £3,060
5th - Greg Hunt - £2,160
6th - W Shalid - £1,800
7th - M Annis - £1,440
8th - S Eggleton - £1,080
9th - K Sidhu - £720
Who is _FullFlush1_ ?
That's the question on the lips of most of the online community, but in particular the UK contingent. This is the online alias who has made an appearance at the nosebleed games on Full Tilt Poker and has made a profound impact since he has been there. Not only has he been crushing the games and taking on all comers, he has been relentless in the chat box; berating his opponents and making the antics of Ziigmund in the chatbox seem timid. He has been seen making crazy bluffs, amazing call downs and even has paid an opponent $10,000 every 30 minutes to stay at the table with him.
And he is from the UK.
It's about time we had someone representing the UK at the nosebleed tables on Full Tilt Poker especially one that is making such a statement of intent to the high stakes community. The common consensus is that _FullFlush1_ is Luke Schwartz, a young online player from London. We'll be keeping an eye on his antics in the coming weeks and months and try to learn about this new addition to the big online games at Full Tilt Poker.