Ladbrokes Million Dollar Rake Race Part 2, Casino Exhibition Brawl + more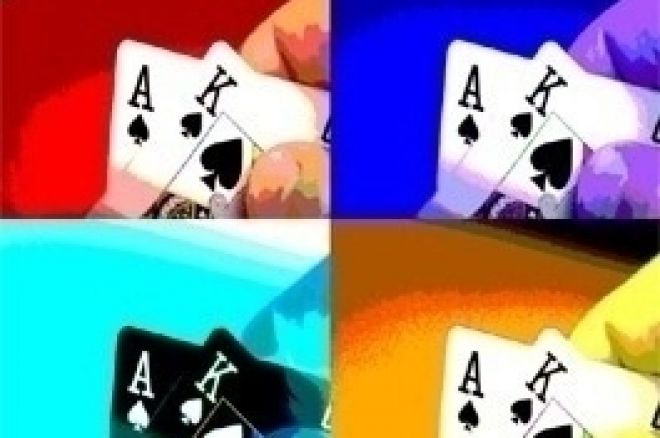 Ladbrokes Rake Race Rolls On
The first of four $1,000,000 rake races is over at Ladbrokes Poker, with a new one starting yesterday. The top 3000 rakers all shared the spoils of a massive million dollar prize pool and you can do the same in February, March and April. zacke-nr1 was the lucky player to rake the most, with over 6000 points he scooped the $25,000 first prize. The thousands of other winning 'Rakers' on Ladbrokes Poker will receive sums ranging from $3,000 through to $100 on the popular poker site.
Edward Ihre said: "I haven't seen much mention of the $1,000,000 offer on the forums, but I can't say I'm that surprised - it's amazing, unrivalled value for players
and the stakes get higher the further up the Leaderboard table players finish. The last thing they want is for us to talk about the promotion and the information be common knowledge, as it'll mean even more competition."
Unlike a lot of other rake race promotions, this one provides a very realistic shot of winning a decent amount of money no matter what your volume of play is. You might not be able to win the $25,000 first prize without putting in some serious graft, but you can certainly pad that bankroll whatever level your level of play is. On top of whatever you win, how about an exclusive Pokernews bonus of $750 when you join Ladbrokes Poker today.
Liverpool Winter Festival This Week
The very appropriately named Liverpool Winter Festival is scheduled to take place this week at the Circus Casino at Queen Sq., Liverpool L1 1RH. Satellites start on Wednesday with the first side event on Thursday and then throughout the weekend, with the three day £500 double chance main event starting on Friday:

Wed 4 Feb at 6.00 pm £ 30 + 3 Satellite to Main Event Semi-Freezeout.
Thu 5 Feb at 6.00 pm £ 100 + 10 No Limit Hold'em Freezeout.
Fri 6 - Sun 8 Feb at 6.00 pm £ 500 + 50 No Limit Hold'em - Main Event Double Chance. Day 2 starts 7pm, Day 3 starts 2pm. 10,000 x 2 chips and 60 minute levels.
Sat 7 Feb at 2.00 pm £ 200 + 20 No Limit Hold'em Freezeout.
Sun 8 Feb at 6.00 pm £ 50 + 5 No Limit Hold'em Semi-Freezeout.
Poker Affiliates Brawl in London
Last week the Casino Affiliate Programs (CAP) exhibition took place in London. The event saw affiliates for poker and casino businesses meet up to share ideas, make contacts, sell new products and generally spend a week on the sauce on company money. If the world of corporate poker sales sounds boring to you, it was spiced up last week when a number of altercations took place between rival industry figures.
The details are very sketchy and naturally differ depending on whom you speak to, but from what we can gather, Steven Corfman, the son of GPWA President, Michael Corfman, was manhandled by three security guards in a hotel lobby and 'kneed' and 'shouldered' by them. Soon after, one of the co-organisers of CAP was said to have challenged one of his business rivals to fight outside with him. The catalyst for all of this is regarding an online poker room that has been late paying some of their affiliates.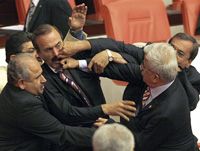 The image of a bunch of suited casino affiliates scrapping outside a hotel is quite a comical one to a poker player, who would suggest they should have maybe agreed to settle their differences at a table instead. It's not the best advert for the gambling industry, especially as the legality of online gambling is continually debated across Europe with the detractors speaking out on gambling being immoral in their eyes, and hopefully incidents like these will be avoided at future events.