Jennifer Harman - Poker Legend Jennifer Harman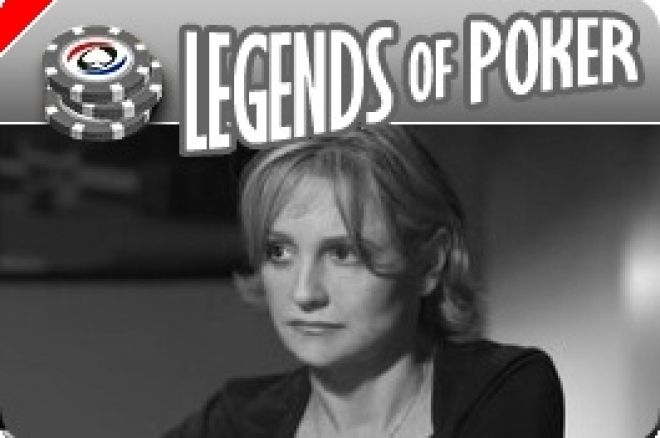 Jennifer Harman
, one of the best female poker players of all times, was born in Reno, America, on November 29th, 1964. She spent her youth in Reno, the city famously known as "the biggest little city in the world". Growing up in Reno immediately establishes a direct link to gambling and other games, seeing as Reno is the second biggest gambling city in America after Las Vegas.
The Harman family lived in a very average district and her father had to work hard to look after his family. When Jennifer was eight years old she came into contact with poker for the first time; her mother taught her the basics and Harman fell in love with the game straight away. The Harman family was always up for a game of some sort. All kinds of board games were played regularly and it didn't take long for Jennifer to acquire a competitive attitude.
Jennifer came into contact with poker at such a young age because her dad would often organise homegames. She soon started watching her father during the games and quickly understood what was going on at the table. Apart from watching her dad play during his homegames, she learned the game from her mother. Jennifer's mother loved all sorts games and enjoyed dealing while Jennifer and her cousins were playing card games.
As Jennifer got older and her father's homegames started taking place outside the house due to her mother's kidney disease, Jennifer started playing herself, again learning a lot about the game from her mother. Jennifer and her sister made sure that their mother took her medicine on time and made it to the hospital for her dialysis. The provider of the family wasn't often there for the young girls, who matured very quickly as a result of having to take care of their sick mother. During these times it was unusual for Jennifer to accompany her father when he went to play poker, but when she did he would let her play every now and then. Seeing as most of the other players were very bad, once in a while Jennifer managed to win back the money her father had lost.
When Jennifer was 16 years old her mother received a new kidney and as a result of complications during the transplant her mother's body rejected the new kidney and it became clear that her mother would not be considered for a new kidney. The news that her mother wasn't going to be around for much longer had a huge impact on the family, but it didn't stop Harman from using her fake ID card to go play in the local card clubs. Harman ended up in a very bizarre Limit Hold'em game that was played 13 handed at a huge table. Despite the weak opposition, Harman found it hard to play profitably because most of her opponents took the game a little bit more serious than her father's friends used to do.
At the age of 17, Jennifer's mother died as a result of her kidney disease. For Harman this meant that she would only have very sporadic contact with her father, who didn't invest a lot of time in his relationship with his daughters. Her mother's illness keeps playing a vital role in Jennifer's life, as she herself also suffers from a kidney disease, as a result of which she always remained relatively short and always vulnerable. In the course of the years, a number of transplants are necessary to improve Harman's life, but this doesn't keep her from pursuing her big hobby – playing poker.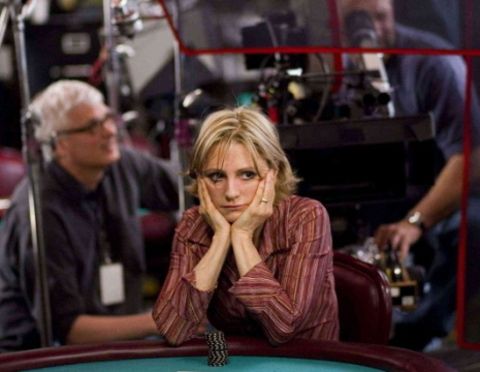 As soon as Jennifer graduated from high school she decided to go study biology at the University of Nevada. While many other poker players decide to dedicate their young years to poker, Harman finished her studies while working in restaurants and hotels to make enough money to play in the poker games of her choice. After she successfully graduated from university she decided to go to Los Angeles to work as a waitress, but this didn't last very long. Harman was made aware of the juicy cash games in the Bicycle Casino which quickly made her quit her job as a waitress and fully concentrate on poker. Within the next two year Harman was able to make a nice profit from playing cards which she later decided to invest in her own company. Harman's own business was no success what so ever, and only one year later she was relying on poker again to make her money back.
After Harman was able to borrow some money from a friend she started playing the mid-stakes Limit games in Las Vegas. She quickly made a name for herself in the poker circuit and managed to climb up the limit ladder. After keeping this up for a while and even taking a shot at the $200/$400 Limit games, everything started going wrong for a period of time, and in 1993 she was as good as broke again. Because of Jennifer's good performances in the months before, a good friend decided to lend her $50,000 to get her back on her feet again. Not a bad investment, as Jennifer has never looked back since.
After having built up a nice bankroll from all the cash games she played, Jennifer starts playing tournaments every now and then. During the mid-1990's the fields at the World Series of Poker might not have been as large as they are today, but finishing 6th in a $2,500 Pot Limit Hold'em Event could still be seen as an great performance. Noticeable about this event was that Barbara Enright ended up winning the event, and the third woman at the table, Lucy Rokach, ended in 3rd place, probably making this one of the most successful WSOP events for women ever, apart from the ladies event of course. In the years to come Jennifer managed to secure some more cashes, including a win in a No Limit Event at the Commerce Casino and a Limit tournament during the Orleans Open.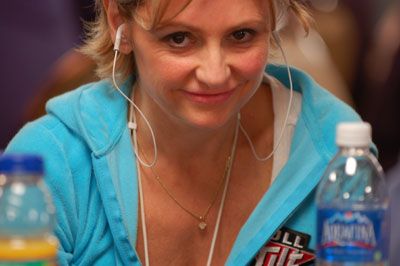 Harman's big breakthrough came in 2000 when she managed to win her first bracelet for a poker variation that was completely new to her at the time – No Limit Deuce to Seven Triple Draw. The tournament had a buy-in of $5,000 with the possibility for one rebuy. Before the tournament started she was playing a Seven Card Stud event where she hit the rail just before the start of the other tournament. Howard Lederer hands her a piece of paper with the hand rankings and positions on it and the rest is history. Harman takes down the tournament and wins her first bracelet, together with $146,000 in prizemoney.
After only a single small cash at the WSOP 2001, Harman is back in action at the World Series of Poker the following year to take down the $5000 Limit Hold'em event and secure her second bracelet and $212,440 in cash. The field she had to compete against was filled with big names like Allen Cunningham (7th), Humberto Brenes (6th) and Farzad Bonyadi (4th), but Harman played her own game and suddenly became the most successful female poker player in the World Poker Circuit. To this day there is no female poker player who has managed to win two WSOP bracelets.
But Harman doesn't only do well at the World Series. In 2004 she received $300,000 for her 4th place at WPT Five Diamond World Poker Classic, finishing behind Daniel Negreanu and runner-up Humberto Brenes. Only 6 moths later she brings home another big cash, this time after finishing 2nd in a World Series Circuit event for $383,840.
For someone with two bracelets and numerous big cashes in important poker tournaments, there is always a new challenge in form of a cash game. Harman has been playing in "The Big Game" in Bobby's Room in the Bellagio Hotel for years now. She is the only female player amongst poker greats like Doyle Brunson, David Benyamine, Phil Ivey and Patrik Antonius and has no problem keeping up. She is also able to take the huge swings of up to one million dollars a session thanks to her bankroll she has been able to build up over the past years.
Harman deserves a lot of respect for her poker performances over the past years, but even with a resume like Harman, one thing still stands out. Together with other poker pro colleagues, Harman was part of "The Corporation", a group of poker players that put their bankrolls together to take on multi-billionaire Andy Beal. In numerous sessions with incredible swings they played games like Limit Hold'em with blinds of $100,000/$200,000. These heads-up games became legendary, also because Beal was trying to prove a point that every poker player has a limit when it comes to money. "The Corporation" was obviously not impressed and managed to get players like Phil Ivey, Ted Forrest, Doyle Brunson and Chip Reese to join in. The fact that Jennifer was part of the team for this massive game says enough about her skills as a poker player and the money she has won so far.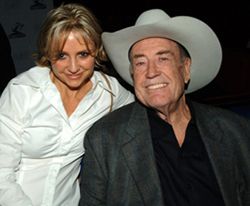 In 2004 Jennifer receives a new kidney for the second time, which forces her to miss most of the WSOP 2004. While recovering from her operation, she spends most of her time writing a piece about Limit Hold'em for the new edition of Doyle Brunson's book 'Super System'. It is no surprise that Doyle chose Harman to write this piece, seeing as he considers Harman to be one of the best all-round poker players he has ever sat across at a poker table. You can't really get a bigger compliment than that as a poker player.
After having completely recovered from her transplant, Harman sets up the "CODA – Creating Organ Donation Awareness", an organisation that aims to create awareness for the use of organ donation in America.
Jennifer Harman currently lives together with her husband Marco Traniello and is the mother of twins. She still regularly plays in "The Big Game" in the Bellagio and online she can found playing on Full Tilt Poker as a member of Team Full Tilt.