Sunday-Wrap-Up - Ferl0k wins record Sunday million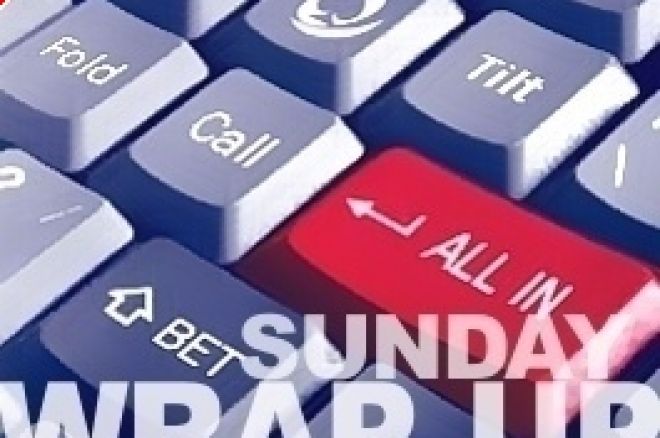 Valentines weekend and PokerStars were certainly sharing the love. As part of their '25 billion bash', the Sunday Million and Warm Up guaranteed tournaments were even bigger this week with guarantees of $2.5m and $1.25m! There was a record turnout from the players and some major action as you would expect.
13267 players took to the cyber felt to play the million this week. PokerStars had upped the guarantee to $2.5 million and it found all kinds of players showing up to take part. Most final table deals take awhile to be agreed on when there are a few players involved, but this week was so long even the players were getting bored. It was worth it in the end though.
7 players left and the deal was being discussed. In the end they agreed a chop where all 7 players got over $100k each. A deal well worth the wait, even if it was a bit agonising to watch. With all players excited about their prizes (and some still a little annoyed with pokthemonkey who was the one holding the deal up.) play continued. But as the process had taken so long, a lot of the players were frustrated and so play didn't resume in the manner you would expect for a $2.5m game.
Happy with their deal and glad to finally be playing poker again, the game got a bit wild with all-ins everywhere. GreenEyes017 in particular getting trigger happy with the all in button. The game sped up a lot due to the abundance of all-ins
Somal was knocked out in 4th place by GreenEyes017 when his


, got trampled by


when the flop fell



and nothing else came to Somal's rescue. The very next hand GreenEyes017 was all in again this time with


but he was put in his place by ferl0k who showed


, GreenEyes lost the hand and his huge chip stack.
Lots more all-ins from GreenEyes017 he was obviously going to get caught eventually and he did with pocket 5's when ferl0k called him and flipped over pocket 8's, ferl0k flopped a fullhouse. The chat box was all lit up with GreenEyes chat "STANDARD WAY I RUN" "NEVER ENDS" which had me laughing for quite awhile.
Heads Up seemed to go on forever, as there was still the extra $30k that had been left aside for the winner, neither player wanted to go without a fight. Both players did indeed put up a great fight, the chip lead was never with one player for long. Eventually the final hand came when pokthemonkey raised preflop ferl0k re-raised and pok called. The flop fell all diamonds



. pokthemonkey put in a bet and ferl0k called so fast that I didn't even get a chance to see what the bet was but it was about a pot bet. Next card

- check, check. River

I at this point lost connection just for a second to come back and find both players all in. pokthemokey I gather had tried to buy it as he was showing


, ferl0k on the other hand wasn't and proudly flipped over


and promptly won the game.
Final table results:
1: Ferl0k - $286,567.20
2: pokthemonkey - $194,759.56
3: GreenEyes017 - $135,323.40
4: Somal - $108,789.40
5: TakenItEasy2 - $82,255.40
6: aurora446 - $55,721.40
7: A6540 - $45,107.80
8: Jay094 - $29,187.40
9: DaMith - $18,573.80
PokerStars 25 billion promotion certainly got people excited as 6241 players entered the warm up this week. Chuck2003 was the first player to leave the final table, he was knocked out by wandsworth who got lucky with


vs. Chuck2003's


, they were all in on the flop and the turn was a devastating

, no ace arrived and so Chuck2003 was out in 9th place.
wandsworth kept hold of his chip lead for a while but was fighting with Mug 1515 to be the leader. This next hand though left wandsworth looking like the mug he raised preflop and Mug 1515 called the flop fell



, wandsworth bet out and Mug 1515 raised. Wandsworth made a move and went all in with


- Mug 1515 called and showed


. Turn

, river

meant wandsworth was no more as he left in 5th place.
Finishing 3rd was Patrolman35 who shoved all his chips over the line preflop with


his suicide wish came true when oscarleon called with


. The board rolled out





oscarleon won the hand. Heads Up and the final two players made a 50/50 deal each taking half of the remaining prize money with $20k left over for the winner. The final hand came with both players getting all in pre-flop with small pocket pairs, oscarleon showing 2's


while Mug 1515 had 5's. Mug 1515 hit another 5 on the flop to make a set and won the game. I can't imagine he is feeling much of a mug now with about another $140k sitting in his account.
Final table results:
1: Mug 1515 - $156,875.00
2: oscarleon - $106,875.00
3: Patrolman35 - $71,875.00
4: varbut - $59,375.00
5: wandsworth - $46,875.00
6: philipoo - $34,375.00
7: OllowainTim - $22,500.00
8: pierrott77 - $15,000.00
9: chuck2003 - $8,750.00
Sunday Two Hundred Grand – PokerStars
The most accessible tournament on PokerStars for players everywhere, the $200k guaranteed, attracted enough players to hit the tournaments 30,000 player maximum this week, boosting the prizepool to a sexy $300k. This massively overflowing prizepool made a first prize of $28,500, for just 10 bucks!
Congratulations go to the tournament champion Caps001! Who commanded the final table eventually taking it from TIFFHONGAN who made it heads up and took an equally amazing $21,000 for second place.
Final table results:
1: Caps001 - $28,500.00
2: TIFFHONGAN - $21,000.00
3: Nedfryst - $15,000.00
4: mamatias - $12,000.00
5: mingo14 - $9,000.00
6: gers63 - $6,000.00
7: charliepup1 - $4,500.00
8: Miss Melody - $3,000.00
9: dougmanct - $2,250.00
Congratulations ferl0k, Mug 1515, Caps001 and all this week's winners and thanks for an entertaining evening.